Inside Kaitlyn Bristowe And Artem Chigvintsev's DWTS History
Right after their Bachelor/Bachelorette seasons wrapped, Sean Lowe, Chris Soules, Nick Viall, and Hannah Brown joined Dancing With the Stars. Kaitlyn Bristowe, the 2015 Bachelorette, joined DWTS in 2020 — five years after her reality TV debut. That seems a bit random, but it actually isn't at all. In fact, Kaitlyn participating in DWTS and getting partnered with Artem Chigvintsev is a special, full-circle moment.
In 2017, Whitney Bischoff, who befriended Kaitlyn while they were on Chris' season, tweeted, "why does a bachelorette never get this gig @BachelorABC?!? I wanted to see @kaitlynbristowe shake her tail feather!" That's when Kaitlyn revealed, "Actually I was offered it, had the contract & Mike Fliess [sic] told me I wasn't allowed. He said he didnt want people wanting fame after his show." Kaitlyn was referring to Bachelor creator/producer Mike Fleiss. When Fleiss tweeted, "@kaitlynbristowe has my total support if she wants to appear on DWTS," Kaitlyn responded, "Thanks I'll get right on that opportunity 2 yrs ago. I wonder what changed your mind?" along with an eye-roll emoji.
Following that mini Twitter feud, Kaitlyn told ET, "I am a dancer and wanted to do it, [my then-fiancé] Shawn [Booth] wanted me to as well," sharing that Shawn "even wrote Mike emails" hoping to get Kaitlyn on the show. The Bachelorette alum claimed, "I told Mike it was my passion. I was told Shawn should be my only passion."
Kaitlyn and Shawn split, but at least she got to pursue her dance passion years later.
Kaitlyn Bristowe made peace with Mike Fleiss after her 'Dancing With the Stars' invite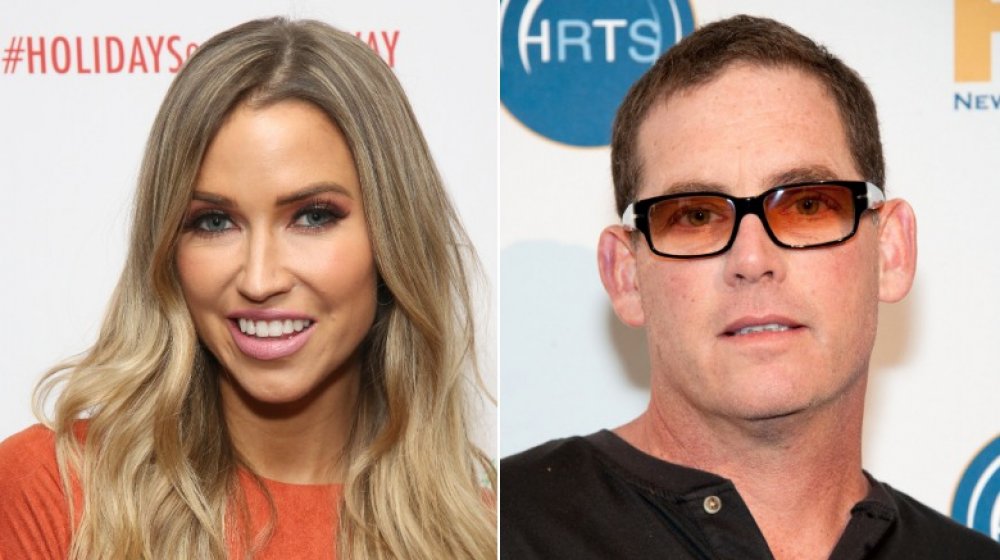 Walter Mcbride, Amanda Edwards/Getty Images
In June 2020, Kaitlyn Bristowe and boyfriend Jason Tartick appeared via video chat for an interview with Chris Harrison during an episode of The Bachelor: The Greatest Seasons – Ever. All episode long, the host teased a surprise, which is standard Bachelor build-up, typically with an anticlimactic finish. However, Chris truly surprised everyone when he invited Kaitlyn to be a part of Dancing With the Stars. There was no mention of Kaitlyn's previous remarks, but fans who followed along were well-aware of her history of almost being on DWTS.
In a follow-up interview with Entertainment Tonight, Kaitlyn praised fans for "rallying" behind her dream to get on the show. She revealed, "I actually emailed Mike Fleiss this morning and [ABC executive] Rob Mills, just saying, 'It's been a long few years. We've had some miscommunications, if you will, and I just wanted to say thank you [for] giving me the opportunity.'" She added, "[Fleiss] said that he was so happy to hear from me and he would love to have a conversation. And I think we're friends now."
In that same interview, Kaitlyn said that Derek Hough was her "dream partner," but he hadn't competed on the show since Season 23, which aired in 2016. She remarked, "I just feel like they're all incredible. They have to be to be on that show. So, my [new] dream partner could be just whoever they put me with."
Kaitlyn Bristowe and Artem Chigvintsev were supposed to be on Dancing With the Stars in 2015
Although Kaitlyn Bristowe didn't name Artem Chigvintsev as her "dream partner" before they got paired together on Dancing With the Stars in 2020, they were actually supposed to dance together following her season of The Bachelorette. In September 2015, Artem announced via Instagram, "Due to last minute casting changes, I will not be competing with a celeb this season. But don't worry, I will still be dancing with the pros in the ballroom." The dance pro didn't share any specifics in that post. However, he connected the dots years later when he spoke to ET in August 2020.
Artem told the outlet, "I know Kaitlyn's been announced as one of the contestants on the show and there's a funny story behind it." That's when he revealed, "She was supposed to be on one of the seasons before, and she was supposed to be my partner." He added, "So, we need to correct the course of history... fingers crossed, we'll see what happens." In addition to revealing that his fiancée Nikki Bella podcasted with Kaitlyn and said she wanted him to dance with Kaitlyn, Artem admitted, "If anybody would ask me who I would wanna be partnered with, I would say Kaitlyn."
The pairings were kept under wraps until Season 29 started airing on Sept. 14, 2020. That's when fans learned that Artem's wish came true. He's partnered with Kaitlyn, getting great scores every week.