Does Javi From Teen Mom 2 Have A Past With This Love After Lockup Star?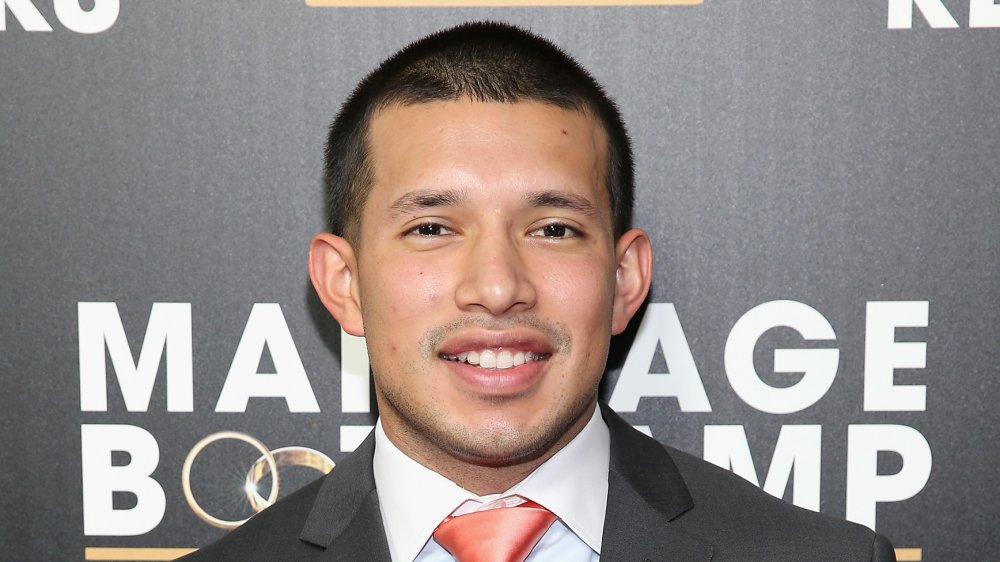 Bennett Raglin/Getty Images
Oh boy. There are some majorly dramatic headlines about Teen Mom 2 alum Javi Marroquin. First things first: His ex and baby mama, Kailyn Lowry, spilled some major details on the Teen Mom 2 episode which aired on Oct. 13, 2020. Kailyn said that Javi told her he wanted to sleep with her, according to Hollywood Life. She also noted that she had texts from Javi with sentiments of the same nature.
The major problem was that Javi was with his fiancée, Lauren Comeau, at the time. (Lauren is also the mother to his youngest son, Eli.) The duo got engaged in June 2019, according to People. Since Kailyn's news, it appears that Lauren has left Javi, according to The Ashley's Reality Roundup.
To discuss all of this, Javi jumped on Instagram Live on Oct. 19, 2020 to share an emotional video with fans and followers, per the outlet. In response to this video from Javi, Lacey Whitlow, a star from the reality TV show, Love After Lockup, dropped a shocking tweet. According to The Ashley's Reality Roundup, Lacey used to work as a webcam model and she claims it was during this period that Javi reached out to her. Keep reading to hear what she had to say.
Love After Lockup star claims Javi Marroquin used to message her
Love After Lockup star Lacey Whitlow tweeted on Oct. 20, 2020 that Javi Marroquin used to try to connect with her when she worked as a webcam model. Lacey said: "Lmao he's always been a player! He use to watch me LIVE on webcam and would snap chat video himself all while in a relationship!! I'm not surprised.... he's just sorry his baby momma put him out on National TV." She added of Javi: "[H]e played himself."
When others on Twitter asked Lacey for more details, she seemed to confirm that Javi sent her pictures of his genitals. Lacey also tweeted: "Girl I'm telling you this was b4 I was on tv, I was just a chaturbate cam model... Lmao... I'm sure I'm not the only one... but he was trying to get me to meet him, such a creep." 
However, Javi came back with responses to Lacey's claims and, according to In Touch Weekly, he says he doesn't even know who she is. Here's what went down.
Javi Marroquin says he doesn't even know who Lacey Whitlow is
Javi Marroquin is hitting back after Love After Lockup star Lacey Whitlow tweeted to her followers that Javi used to message her while he was in a relationship.
Javi claims that these accusations are false and that Lacey is just looking for clout. According to In Touch Weekly, his responses were captured by the Instagram account Teen Mom Shade Room, where he said: "And I just had to look up this person's IG to know what she even looks like. I wouldn't have even entertained this in 2015 or whenever she's claiming."
Javi followed this up with another comment: "I don't even know who that is. Or even what show that is. Look, I f***ed up 100 percent and I'll take blame for that, but these random people trying to get clout ain't cool. Don't kick someone when they're down. Don't hurt more people for no reason. Not cool."
Since Javi mentioned the year 2015, we did a little digging to see who he would have allegedly been dating at the time. According to The Ashley's Reality Roundup, he didn't meet Lauren Comeau until July 2017, so these allegations don't involve her. In fact, it seems possible that Javi was actually with Kailyn Lowry during this time, since they didn't file separation papers until December 2015, according to the outlet. However, Javi denies these claims, so as of now, it's a social media "he said, she said."