Jonah Hill And Beanie Feldstein's Relationship Explained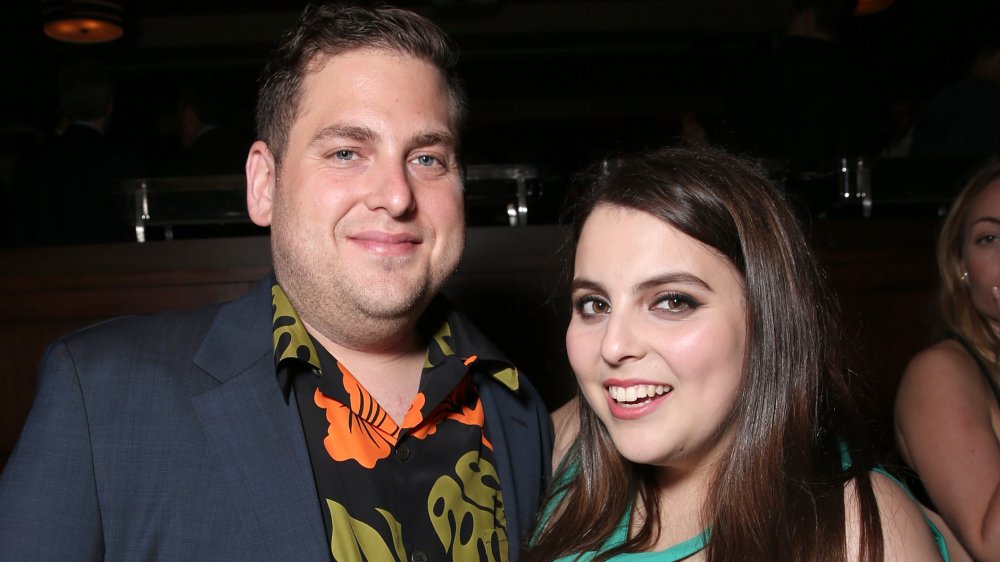 Todd Williamson/Getty Images
Movie star Jonah Hill and actress Beanie Feldstein are both super talented and funny — and as it turns out, they're also related! Hill rose to fame in 2007 for his hilarious role in Superbad, before landing other comedic roles in movies like Knocked Up, Get Him to the Greek, and 21 Jump Street. But the actor proved that he isn't only about the laughs, landing more dramatic roles in films like The Wolf of Wall Street and Moneyball, both of which earned him Academy Award nominations.
Feldstein is newer to the Hollywood scene than Hill, but still has her own impressive résumé with hilarious performances in the films Neighbors 2: Sorority Rising, Lady Bird, and most notably Booksmart, which earned her a Golden Globe nomination. But how are the two accomplished stars related? Well, Hill's real name is Jonah Hill Feldstein, making Beanie Feldstein his little sister!
The famous siblings, who are little less than 10 years apart, seemed destined for Hollywood from the beginning. According to Insider, their mother was a costume designer and stylist, and their father worked as a tour accountant for the band Guns N' Roses. Their late older brother, Jordan Feldstein, was also in the entertainment industry, working as a manager for the band Maroon 5 and singer Robin Thicke before his death at age 40 in 2017. 
Jonah Hill and Beanie Feldstein are siblings and best friends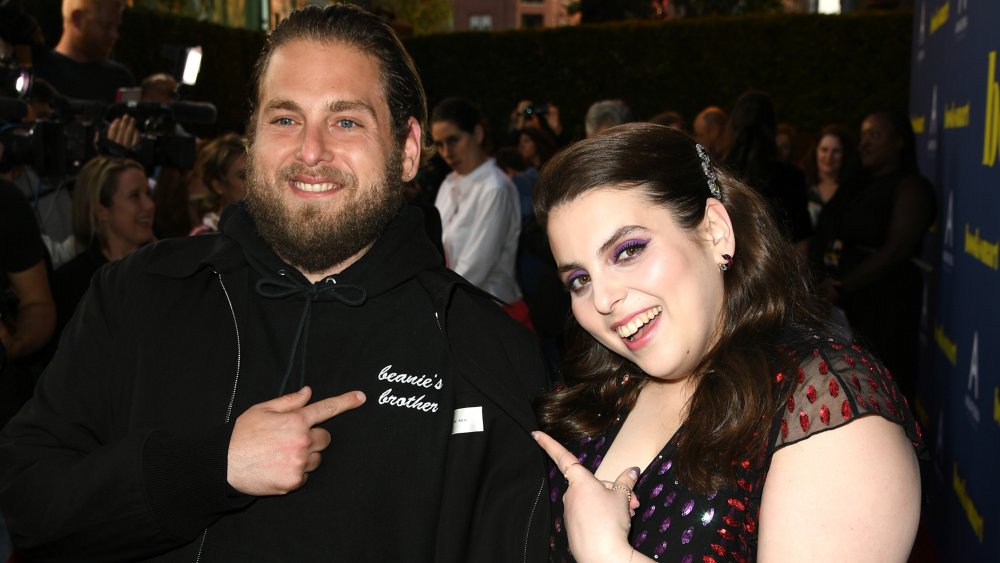 Kevin Winter/Getty Images
While some fans may not have known Beanie Feldstein is related to Jonah Hill, the War Dogs actor has openly discussed just how proud he is of his little sister. In May 2019, he told WSJ Magazine Feldstein is his "personal hero," and "the things [he] struggles with, she had knocked down when she was 14."
Hill also doesn't hold back when it comes to "showing" his support for his sibling. Insider reported when Feldstein got a role in the Broadway rival of Hello Dolly, Hill got a "Hello Beanie" tattoo and posted a photo of it on Instagram. In another adorable, but less permanent shoutout, the 22 Jump Street star wore a sweatshirt that read "beanie's brother" while he walked the red carpet for a screening of Feldstein's Booksmart.
The How to Build a Girl actress has equal adoration for her big brother, sharing with Us Weekly that the best advice he gave her when preparing for a movie role was "no joke is precious," referring to being prepared for what ends up on the cutting room floor. Feldstein also said that Hill is her "best friend in the world" and the two are "constantly found heart-to-hearting in a corner at a family engagement."
And speaking of engagements, People reported that Hill ended his with fiancée Gianna Santos in October 2020. While the split was reportedly amicable, it's clear that Hill has his sister to lean on.