Here's Who Earned This Year's First Perfect Score On DWTS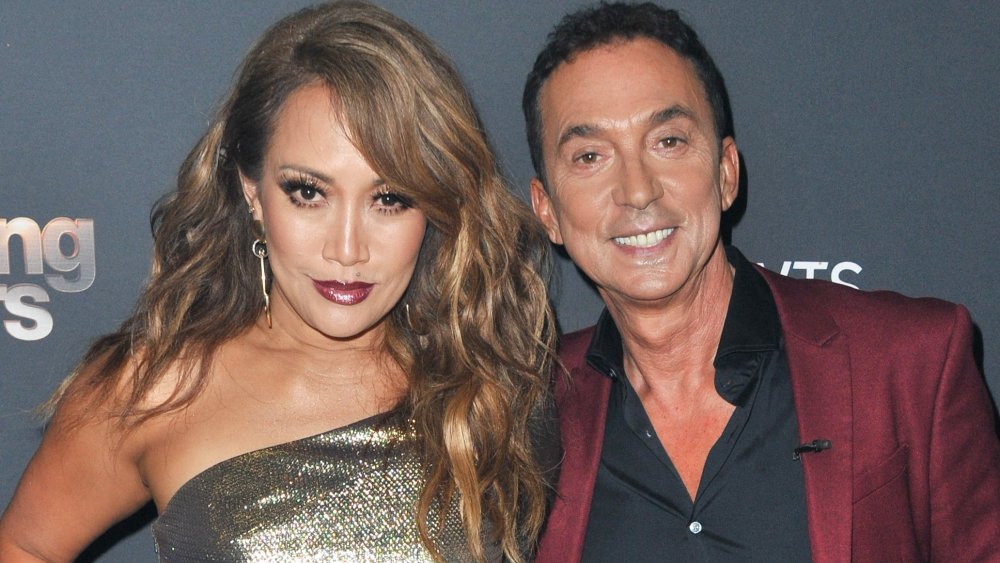 Allen Berezovsky/Getty Images
Contestants on Season 29 of Dancing with the Stars – which aired its first episode on Sept. 10, 2020 — had yet to see a perfect score until the seventh episode of the season, which aired on Oct. 26, 2020. Catfish host Nev Schulman and his professional partner, Jenna Johnson, worked their magic. According to People, the duo took on the paso doble, dancing to "Swan Lake Remix," which was inspired by the 2010 film Black Swan featuring Natalie Portman.
Schulman and Johnson chose such a dark tale because the episode's focus was a Halloween-themed Villains' Night, per the outlet. Their passion and attention to detail was mesmerizing and fans who missed their performance can watch it on Dancing with the Stars' YouTube channel.
In the comments of the YouTube video of the performance, some fans optimistically predicted that Schulman would be taking home the coveted Mirror Ball Trophy at the end of the season. "I'm calling it right now," one person wrote, "he is the winner of the competition." Others rightly noted that Johnson has been the ultimate partner for Schulman. "Let's take a moment to appreciate all Jenna's choreographies this season.. she's killing it," someone commented.
While the internet is quickly narrowing in on its favorite, let's hear what Schulman himself had to say about the perfect score.
Nev Schulman had 'swan bumps'
Nev Schulman, the host of MTV's Catfish, earned Season 29's first perfect score with pro dance partner Jenna Johnson on the Oct. 26, 2020, episode of Dancing with the Stars, according to Us Weekly. On the show's YouTube channel, one person wrote that the week before, Schulman was judged too harshly, adding that his Villians' Night performance was his way to make up for it. "[To be honest,] I felt he was underscored last week. Retribution dance," a fan commented.
Retribution, indeed. It must have been so satisfying to see 30 out of 30 from judges Derek Hough, Carrie Ann Inaba, and Bruno Tonioli (via People). And the fact that Schulman danced to the "Swan Lake Remix," which was inspired by Black Swan, speaks volumes about his own artistic history. In a clip that aired before his performance, Schulman admitted that he has seen the Swan Lake ballet "20 times," according to People, and that the ballet was a connection he shared with his dad.
On seeing his high score, Schulman said: "I think I have swan bumps," (via People). Yeah, man! That's some impressive stuff.