Inside Miley Cyrus And Ariana Grande's Relationship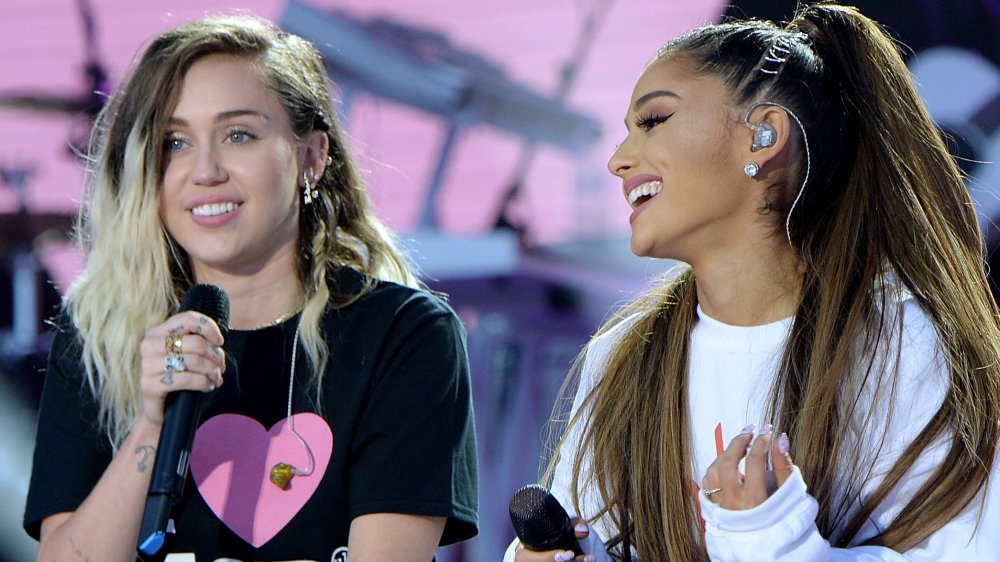 Kevin Mazur/one Love Manchester/Getty Images
Miley Cyrus and Ariana Grande have been on parallel paths for most of their lives. Both were child stars who eventually earned their own series on Disney Channel and Nickelodeon, respectively. As they grew up, they transitioned from acting to music careers, and both have had more than their fair share of personal drama aired for public consumption. As musicians, the two have collaborated a couple times. 
In 2015, they teamed up for a cover of Crowded House's "Don't Dream It's Over," which they performed for Cyrus' Happy Hippy Foundation's Backyard Sessions series and at Grande's One Love Manchester Benefit concert. They worked together again four years later, recording "Don't Call Me Angel (Charlie's Angels)" with Lana Del Rey for the 2019 Charlie's Angels remake.
Between the similar childhoods and the multiple collaborations, Grande and Cyrus seem to have struck up a friendship. While they might not be besties exactly, they do appear to have a mutual respect for each other and each other's work. The two have publicly shared support for each other on several occasions. In fact, their friendly interactions date back to at least 2014.
Ariana Grande and Miley Cyrus have supported each other for years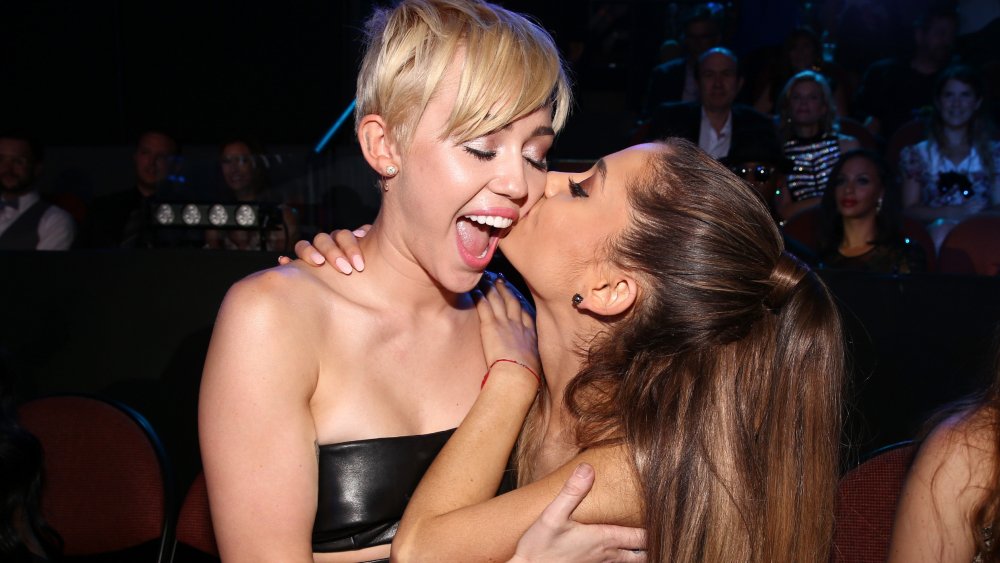 Christopher Polk/mtv1415/Getty Images
Miley Cyrus and Ariana Grande don't seem to be BFFs, but they are friends who support and respect each other. Their mutual admiration has been documented back to at least 2014, when they were photographed embracing at the MTV Video Music Awards (pictured above). After Grande won Best Pop Video at the award show, Cyrus sent her flowers, which Grande shared on Twitter, calling Cyrus "the cutest angel pie in da world." Their first collaboration, "Don't Dream It's Over," came a few months after that ceremony. Cyrus shared a throwback of the performance on Instagram in 2019, writing, "This cute a**... is my #1."
Grande has shown plenty of praise and support for Cyrus, as well. After Cyrus released "Slide Away" in 2019, her first song post-divorce from Liam Hemsworth, Grande shared a clip of the music video for the song on Twitter, writing, "this / you are so stunning. inside n out. love u." When Grande released her single "Positions" in October 2020, Cyrus praised her on Instagram (via Pop Crave), commenting "I'm obsessed" on Grande's post promoting the record. Cyrus has shown herself to be a fan before, covering Grande's "No Tears Left To Cry" in the BBC Radio Live Lounge. 
While fans may have to wait a while before they get another collaboration between the two artists, there seems to be a strong possibility they will work together again.