Here's What Darrell Sheets From Storage Wars Is Up To Now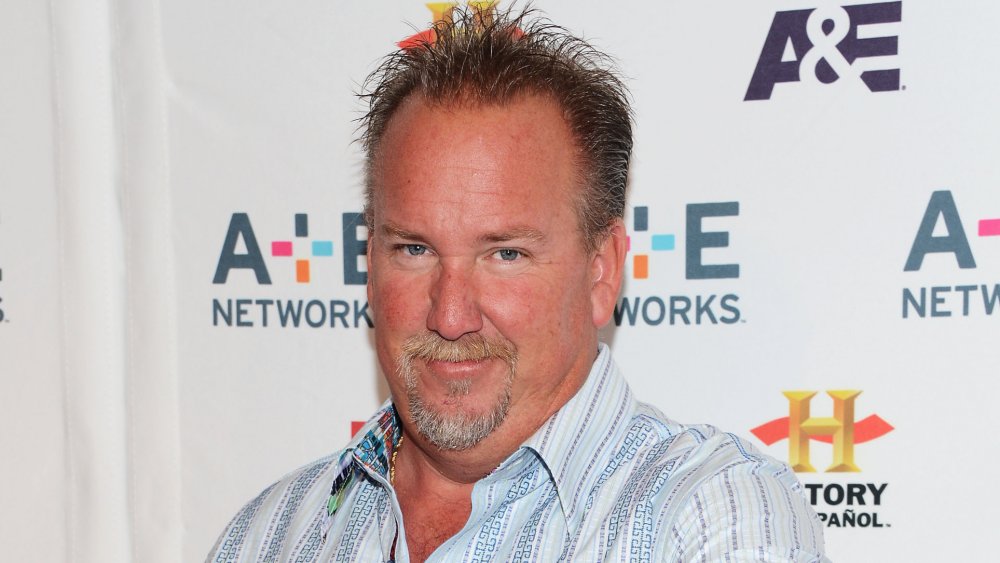 Jason Kempin/Getty Images
Darrell Sheets was a memorable character from A&E's hit series Storage Wars. Between his loud personality and booming voice as he shouted out bids for deserted storage units, Sheets stood out on the show that proved how much of a treasure someone else's trash could be.
Nicknamed "The Gambler," Sheets was known for his high-stakes risks. On Storage Wars, he went into live auctions fierce and ready for a bidding war, with high hopes in beating out the competition. His strategy was to uncover a diamond in the rough: Find a single high-value flip item that could bring in months of income, rather than spend his time on multiple low-cost items. His son, Brandon "The Sidebelt" Sheets, often followed along to assist his father and learn the tricks of the trade.
Despite Darrell leaving Storage Wars in 2017 — not to mention the show ending in 2019 — his biography is still on A&E's website. He is described as being "addicted to the 'high' of storage auctions," and after 32 years in the business, he "takes pride in the adventure and education storage buying has provided him." It has been a few years since audiences saw Darrell's competitive, sometimes crass personality, and he now lives a life away from the spotlight. Here's what Darrell Sheets from Storage Wars is up to now.
Darrell Sheets is in full retirement after a health scare
Going once, going twice! Darrell Sheets is officially retired. While he left Storage Wars in 2017, Sheets still actively sought out high-profit storage locker items to flip. That ended, however, after he suffered two "life changing" heart attacks which required major surgery in March of 2019. He documented his journey through several posts on Instagram, blaming himself for his health and urging his followers to take care of their bodies. "I am feeling better every day but with all the life changes it can be very emotional," he wrote. "Again thanks for all the well wishes." The health issues came as a surprise to many, since after divorcing his first wife in 2016, Darrell had lost more than 100 pounds through Nutrisystem.
As of this writing, Darrell is in good health, and currently lives in Lake Havasu City, Ariz. near the border of California, his native state. He resides with his girlfriend Patty Rich, who "owns a string of vineyards and restaurants," according to TMZ. His high-risk storage unit gambling seems to have paid off, because he spends his time relaxing poolside, boating, and working on his classic cars, which he posts about on Instagram along with frequent uses of the Storage Wars hashtag. In a 2020 photo of a palm tree next to a calm lake, The Gambler seems to have hit the jackpot with his retired life. "Just loving life so peaceful," he wrote.