The Creepy Gift Kanye West Got Kim Kardashian For Her Birthday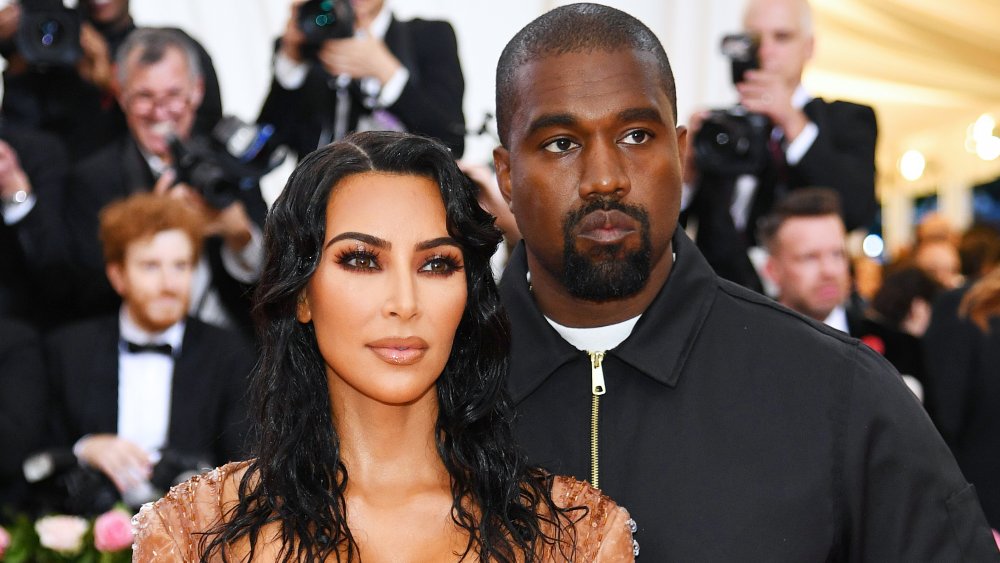 Dimitrios Kambouris/Getty Images
Kim Kardashian turned 40 on Oct. 21, 2020, and to mark the milestone, the Keeping Up with the Kardashians star threw an ultra-lavish party with her closest friends and family on a private island. Did we expect anything less even amid a global pandemic? Surely not since the KarJenners never miss an opportunity to throw a big bash. 
Page Six reported that Kim spent $1 million on "a luxurious private island resort in French Polynesia." Kim took to Instagram to share that the trip allowed her and her "inner circle" to "pretend things were normal just for a brief moment in time." The Skims mogul added, "We danced, rode bikes, swam near whales, kayaked, watched a movie on the beach and so much more. I realize that for most people, this is something that is so far out of reach right now, so in moments like these, I am humbly reminded of how privileged my life is." And the over-the-top celebration didn't end there. 
It was revealed that Kim's husband, Kanye West, surprised her with an unusual present for her birthday. Keep scrolling to find out how the rapper honored her late father by, um, bringing him back to life.
Kanye West gifted Kim Kardashian with a hologram of her late father
Kanye West went all out for Kim Kardashian's 40th birthday, gifting his wife with a lifelike hologram of her late father, Robert Kardashian. The reality star posted a video of the hologram alongside the caption: "For my birthday, Kanye got me the most thoughtful gift of a lifetime. A special surprise from heaven. A hologram of my dad. It is so lifelike and we watched it over and over, filled with lots [of] tears and emotion. I can't even describe what this meant to me and my sisters, my brother, my mom and closest friends to experience together. Thank you so much Kanye for this memory that will last a lifetime."
"You're 40 and all grown up," the hologram told Kim in the clip. "You look beautiful, just like when you were a little girl. I watch over you and your sisters and brother — and the kids — every day." It continued, "I am so proud of the woman that you've become, Kimberly, and all that you've accomplished. ... But most impressive is your commitment to become a lawyer and carry on my legacy. It's a long and a hard road, but it's worth it, and I'm with you every step of the way."
The Kardashian patriarch, who served as one of O.J. Simpson's lawyers during his murder trial, died in 2003 after being diagnosed with esophageal cancer.