The Truth About Sean Connery And Harrison Ford's Relationship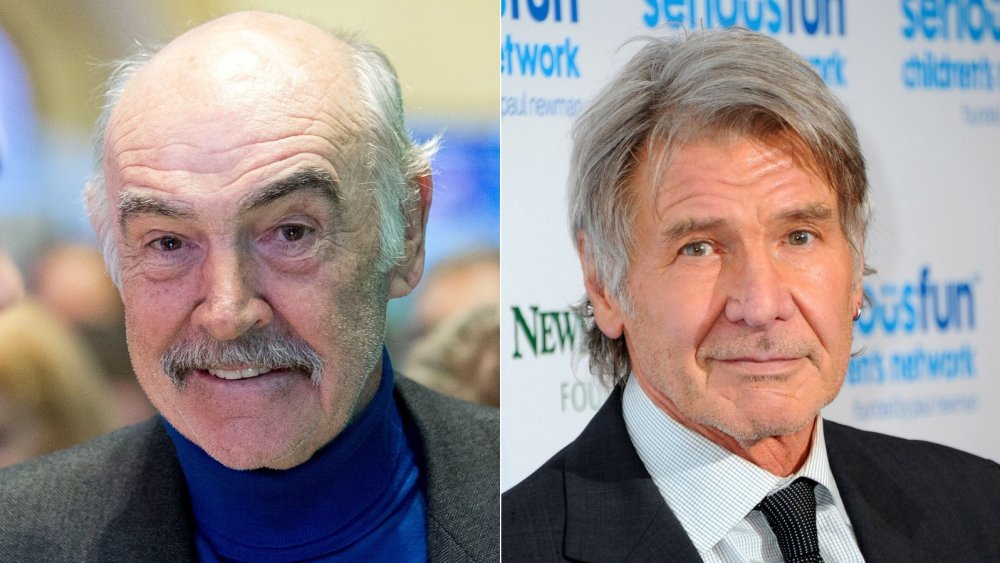 Ben Hider, Stuart C. Wilson/Getty Images
Sean Connery passed away peacefully in his sleep on Oct. 31, 2020, leaving behind an irreplaceable legacy and some of the most iconic film roles of all time. Connery is best known for playing James Bond for over two decades, but he did so much more than that. Another of his most famous roles was in the closing chapter of the Indiana Jones trilogy, The Last Crusade, where Connery portrayed the father of Indiana Jones.
The Last Crusade brought Connery into the company of series star Harrison Ford, and their relationship became far more than just a working one. Both Ford and director Steven Spielberg were unhappy with the second movie in the series, and they tried to come up with a new direction for the third film. "I did not want Indy on a headlong pursuit without a subplot that was almost stronger than the actual quest itself," Spielberg said, which is how they came up with the father-son story. 
While Ford had some slight reservations about Connery's casting (the 007 actor was only 12 years older than Ford), he was more than pleased with the final result. "Working with Sean was the pleasure that it looks to be," Ford told the Daily News upon the film's release. "He is a consummate performer and a very skilled actor."
Harrison Ford's relationship with Sean Connery lasted long after filming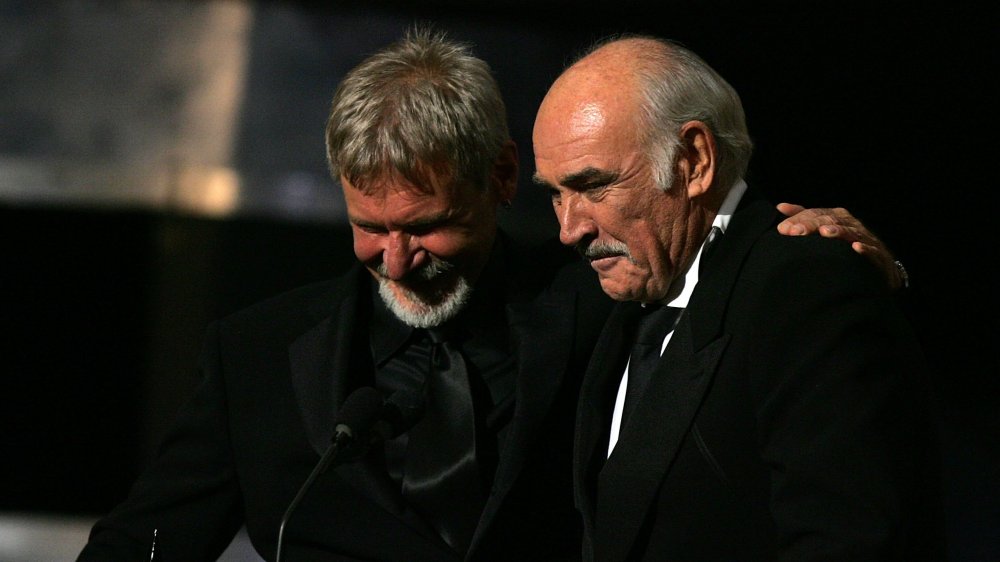 Mark Mainz/Getty Images
By 1997, Harrison Ford was still speaking highly of his time working with Sean Connery, though not without throwing in some good-natured jabs. Joking about the 12-year age gap between the onscreen father and son, Ford told Variety that it worked because "I am so much younger-looking than I really am, and he's so much older-looking than he is. But if you ask him, he'll say he acted it."
Ford also praised the additions Connery had made to the script once again, saying, "His suggestions to George [Lucas] at the writing stage really gave the character and the picture a lot more complexity and value than it had in the original screenplay." The two developed a friendship while working together, too, continuing to play tennis together. "It was a doubles match, and he and I played together. But if you ask him, he'll say I played against him. I hit him in the back with two serves, something that he's never been able to let me forget," Ford quipped.
In 2009, when Connery was receiving a Lifetime Achievement Award from the American Film Institute, Ford once again took the opportunity to praise the ideas and passion that Connery brought to The Last Crusade, and said, "John Wayne gave us the old west, Jimmy Stewart gave us our town, but you, Sean Connery, gave us the world."