Why Tori Spelling's Relationship With Tiffani Thiessen Is Done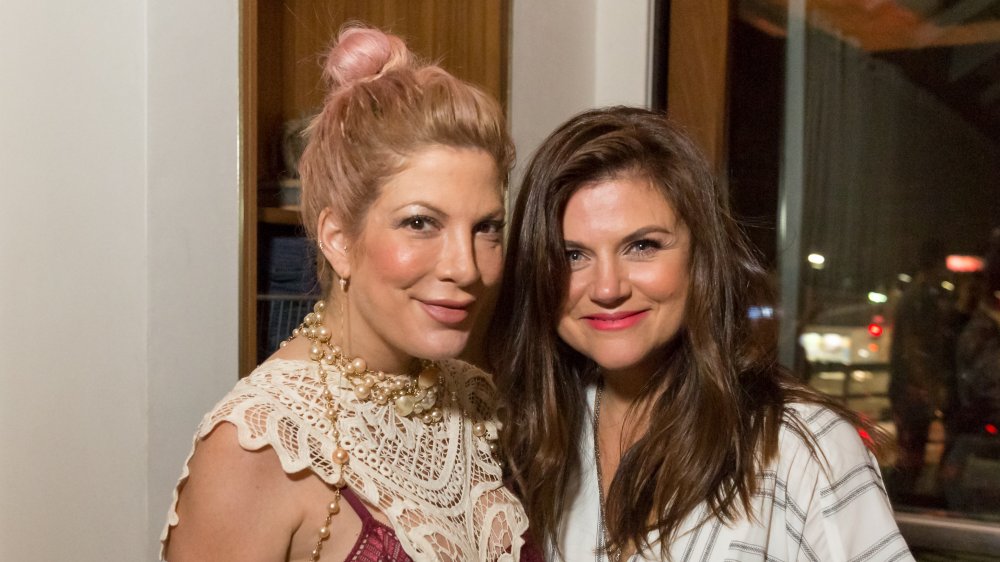 Greg Doherty/Getty Images
Beverly Hills, 90210 ran for 10 gloriously soapy seasons on the Fox network and turned the cast into household names. Tori Spelling, a.k.a. Donna Martin, was one of the series' original stars, most likely thanks to her father, the show's creator Aaron Spelling.
Throughout the years, a few cast members like Shannen Doherty and Luke Perry left the show, while new cast members were added, such as Tiffani Thiessen, Doherty's replacement. Thiessen joined the show in 1994 as Valerie Malone, the "bad girl" from Buffalo, N.Y., whose character had quite a few emotional problems and was very troubled.
The Beverly Hills, 90210 characters were involved in a slew of head-turning plotlines over the years including teen pregnancy, domestic violence, drugs, sexuality, and everything else you would expect to play out on a soap opera. While thankfully the 90210 stars' personal lives were not nearly as scandalous, there were a few issues between individual cast members, such as the post-series feud that took place between Spelling and Thiessen. Keep reading for all the juicy details.
An affair caused a rift between Tori Spelling and Tiffani Thiessen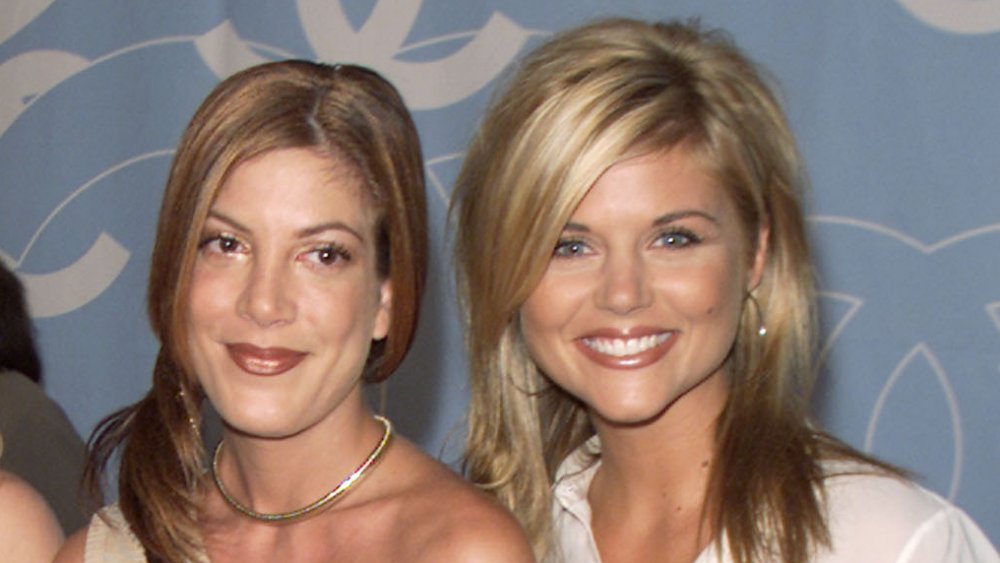 Kevin Winter/Getty Images
Tori Spelling and Tiffani Thiessen were reportedly somewhat friendly on set, and Thiessen eventually became close with co-star Jenni Garth. So, what came between Spelling and Thiessen? According to Us Weekly, the drama revolved around Spelling's affair with Dean McDermott in 2016, during her marriage to Charlie Shanian. Spelling would later marry McDermott after divorcing Shanian. Thiessen was close with Shanian and reportedly "took Charlie's side over Tori's."
Spelling's affair and wedding to McDermott turned out to be a big deal for the Beverly Hills, 90210 cast members, because in an interview on Ryan Seacrest's KIIS-FM radio show in 2010 (via HuffPost), Spelling revealed, "All my cast members hate me. We were great friends during 90210. We were friends after 90210. They all came to my first wedding." She continued, "All of a sudden I marry Dean, and I don't know what happened. I lost all my cast members."
Spelling addressed the rift during the interview by stating, "She doesn't talk to me anymore. It's my perception [that Thiessen doesn't like her], and nonetheless, it's a fun story."
How does 'RuPaul's Drag Race' factor into Tori Spelling and Tiffani Thiessen's feud?
Ron Wolfson/Getty Images
Of all the Beverly Hills, 90210 cast members, Tori Spelling remained closest to Jennie Garth. Garth and Tiffani Thiessen had a falling-out of their own. Both feuds reared their ugly heads during an appearance on RuPaul's Drag Race's third season when Spelling and Garth appeared as guest judges.
During the episode, the queens did a spoof of Beverly Hills, 90210. When it came to giving critiques to Aja, who played Thiessen's character Valerie Malone in the sketch, Garth refused to utter Thiessen's name, Entertainment Tonight reported. "As Ti... how do you say it?", Garth joked, at which point Spelling jumped in and replied, "Just say, 'That which we don't speak of.'" Talk about throwing shade!
During an appearance on Howard Stern's show in 2012, Thiessen told Stern that the women "were not very nice to me" from the very start [when she joined the Beverly Hills, 90210 cast]. Of Spelling's affair, Thiessen recalled, "It was a hard situation for everybody. "We were close with Charlie... my best friend was Charlie's roommate. It was hard." 
In 2016, Us Weekly reported that Spelling and Thiessen may have reconciled. Their children attended the same school, and the pair was seen hugging during a school picnic. An onlooker stated, "They're getting back on the path of being really close again." No word on where Garth and Thiessen stand, so there may be at least one feud still going on.