The Truth About Joe Biden's Relationship With His Grandchildren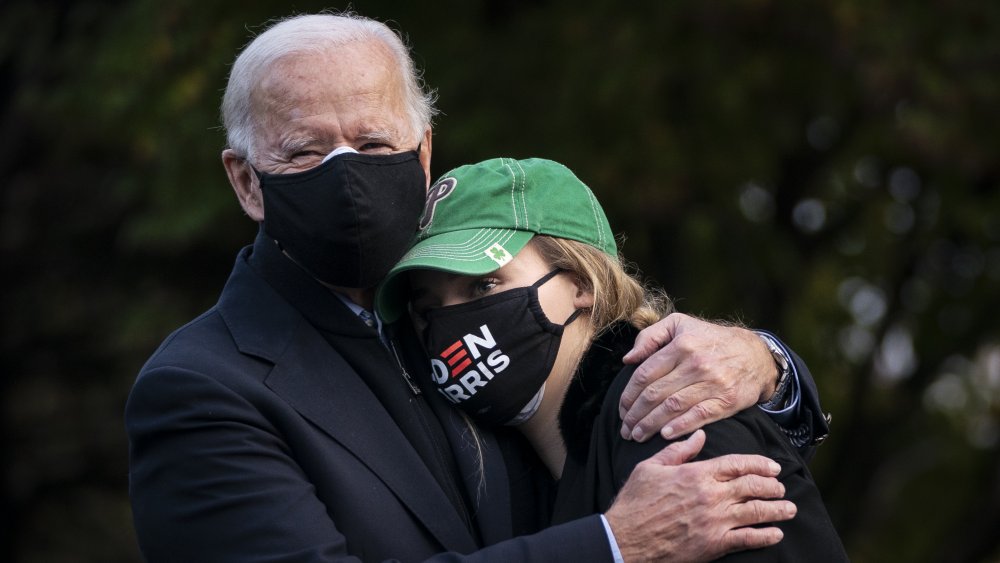 Drew Angerer/Getty Images
Former Vice President Joe Biden may be running for one of the most prestigious jobs in the world, but his role as a grandfather is equally as important to the Democratic nominee. Even on Election Day, Biden had two of his granddaughters, Finnegan and Natalie, by his side as he closed out his campaign, according to Lancaster Online. The trio attended morning Mass together at the family's church in Delaware before visiting Beau Biden's grave at St. Joseph on the Brandywine cemetery. They paid their respects to the former Attorney General of Delaware, who died of brain cancer in 2015 at age 46. Biden's first wife and Beau's mom, Neilia Biden, as well as their infant daughter, Naomi, are also buried in the cemetery. Naomi and Neilia both died in a car accident in 1972, per The New York Times.
Considering the intimacy of visiting Beau's grave ahead of the election, it's safe to say the presidential candidate is incredibly close to his granddaughters. During a CNN town hall in March 2020, Biden told Anderson Cooper that he speaks to all of his grandchildren "every single day" in the wake of the coronavirus pandemic. "We talk about everything that is going on in their day," he shared. "And talk about being home from school. And who's driving whom crazy, and so on."
Keep scrolling for more details on Biden's relationship with his grandchildren.
Joe Biden's grandchildren are his biggest supporters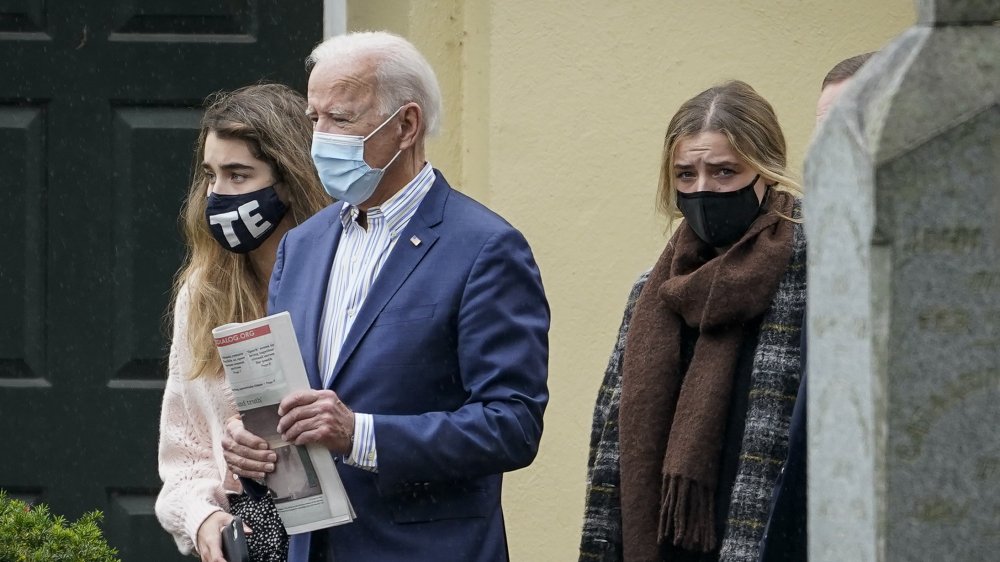 Drew Angerer/Getty Images
Joe Biden is the proud grandfather to a gaggle of grandkids. His son Hunter Biden is father to daughters Naomi, Finnegan (their mom is Hunter's first wife, Kathleen Biden), and Maisy, and he welcomed a baby girl with Arkansas native Lunden Roberts in 2018. Two years later, Hunter welcomed a son with his second wife, Melissa Cohen. As for Biden's late son, Beau, he's dad to daughter Natalie and son Robert Hunter Biden II, per Oprah Magazine. 
The Biden grandchildren are quite proud of their grandpa — in fact, they even encouraged him to run for president. "Pop told us that this election would be totally different from any other election ever," Natalie said in a video played at the Democratic National Convention in August 2020. The girls revealed that they called a family meeting to discuss his candidacy, "but really we were calling it to be like, get in that race. Hurry up!" Naomi shared. "We just knew that he had to run and we weren't going to take no for an answer," Natalie added.
No matter the outcome, it's clear Biden has a big family who loves him dearly.