The Truth About The Hymn Joe Biden Quoted During His Victory Speech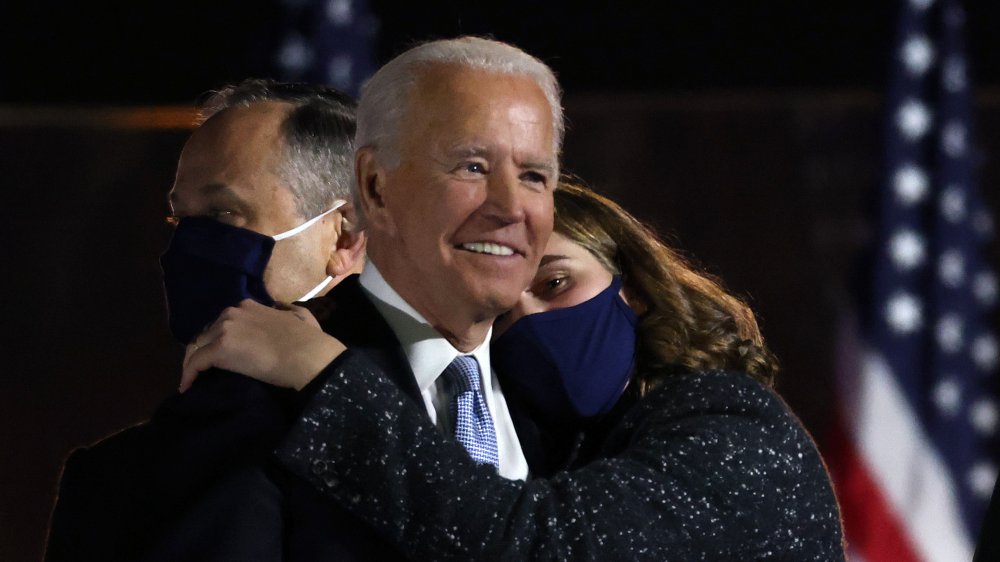 Win Mcnamee/Getty Images
On Nov. 7, 2020, President-elect Joe Biden presented his victory speech after a contentious and drawn-out election process. His oration was peppered with callbacks both political and spiritual, at one point referencing a Bible verse from Ecclesiastes and the promise that "to everything there is a season." He also paid homage to Abraham Lincoln's first inaugural address, stating, "It's time for our better angels to prevail."
During the closing moments of his statements, the freshly minted 46th President of the United States provided his audience with a spoken-word rendition of a hymn which he hoped would "bring solace" to citizens who lost a loved one during the ongoing COVID-19 pandemic. He stated that it was a favorite of his son Beau Biden, who died of a brain tumor in 2015 at age 46. The refrain of the hymn, quoted by Biden, goes like this: "And he will raise you up on eagle's wings, bear you on the breath of dawn, make you to shine like the sun, and hold you in the palm of his hand."
So what is the meaning behind the hymn? We reveal the truth after the jump.
Joe Biden honored his Catholic roots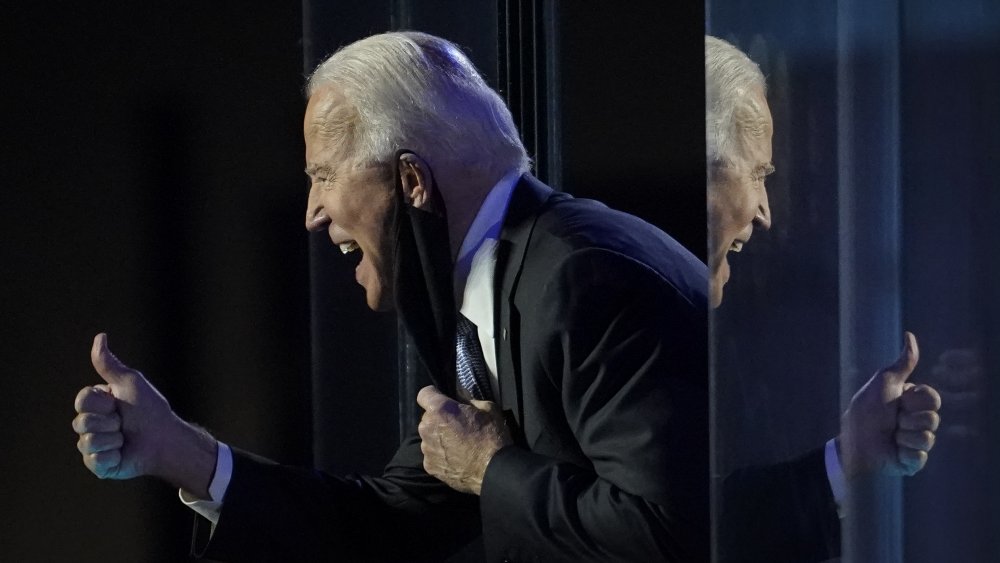 Drew Angerer/Getty Images
The song, helpfully titled, "On Eagle's Wings," is a Catholic devotional hymn, and it was written by Father Jan Michael Joncas in 1979, according to Catholic Philly. Since then, it has become one of the more ubiquitous entries in modern Catholic music ministry. "I have been amazed to find congregations singing the entire thing, because I think the verses are somewhat difficult," Father Joncas told the Pennsylvania church news service, Catholic Philly, during a 2013 interview.
The hymn's lyrics are drawn largely from Psalm 91 of the Bible, an entry in the Old Testament describing the protection and comfort offered by a loving God. Although "On Eagle's Wings" paints a cross-denominational picture of the Christian perception of God's grace, its place in the Catholic church makes it worth noting. In 244 years, Biden will represent only the second practicing Catholic voted into the White House, with John F. Kennedy preceding him in the 1960 election, per America Magazine.
The reference didn't go unnoticed in the church, as Jesuit priest and author Father James Martin took to social media to clergyman-splain the reference. "'On Eagles' Wings' is a popular Catholic hymn," he tweeted, "just mentioned by our Catholic President-elect @JoeBiden as beloved by his family. (Me too.)"