Inside Alex Trebek And Lucille Ball's Relationship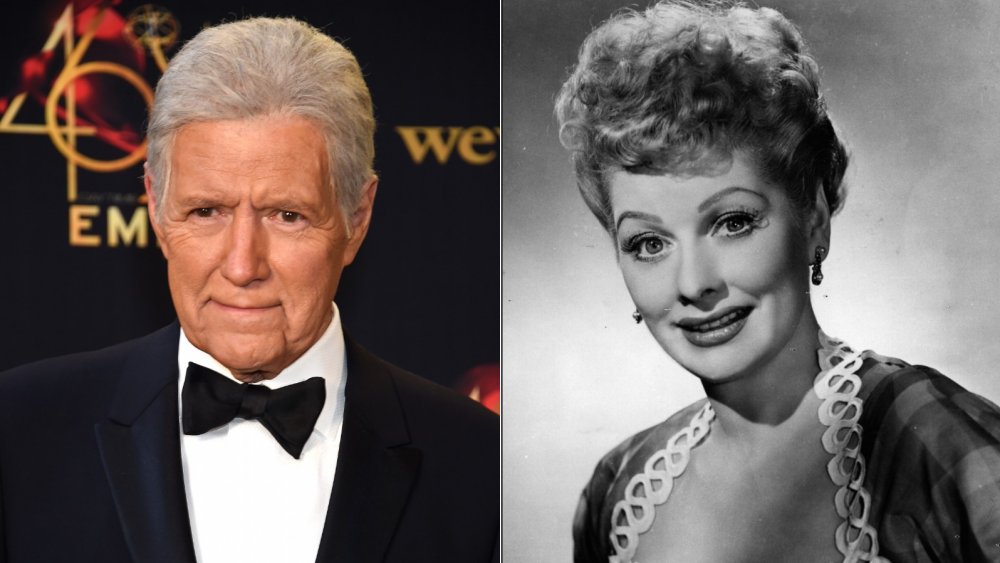 On Nov. 8, 2020, America was hit with the painful news that longtime Jeopardy! host Alex Trebek passed away following a battle with stage 4 pancreatic cancer. Trebek hosted the popular game show for 37 seasons, the most by a presenter of any TV game show (per CNN). He was beloved by fans and contestants alike and was open with them about his cancer battle from the very beginning. He fought the disease with strength and dignity 'til the very end.
Trebek will definitely be remembered for heavily contributing to the success of the show, but he was far from an overnight celebrity. What fans may not know is that Trebek would not have nabbed the gig back in 1984 without the help of a certain famous friend. Prior to Jeopardy!, the Canadian-American TV personality hosted game shows like High Rollers, Battlestars, Double Dare, Lucky Numbers, and The $128,000 Question. As he was slowly made a name for himself in the game show world, iconic actress and comedian Lucille Ball recommended him for the job of hosting Jeopardy!, and from there, his career really took off.
Read on to learn more about Alex Trebek's relationship with Lucille Ball, including how she helped him kickstart his career.
Lucille Ball helped Alex Trebek get his job on 'Jeopardy!'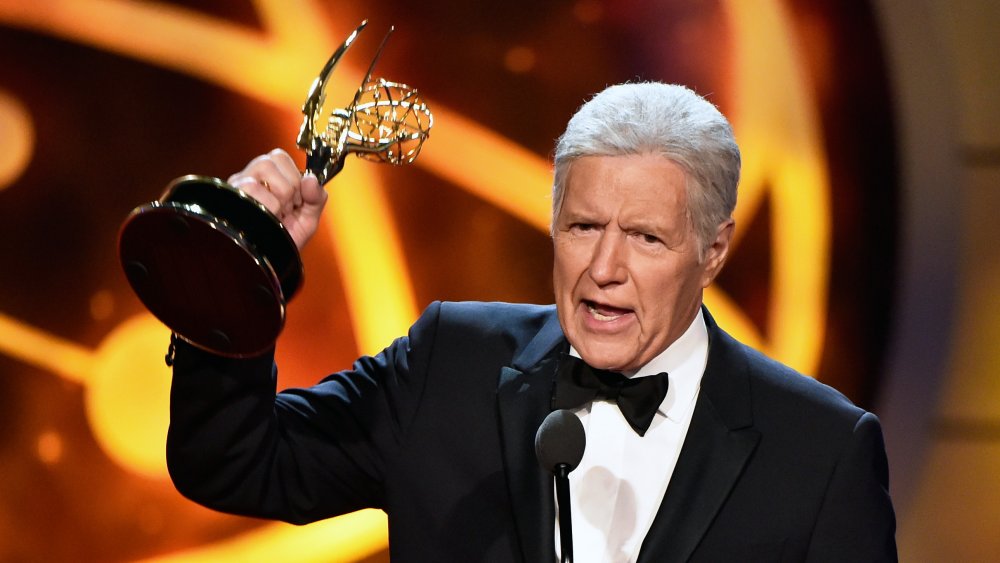 Alberto E. Rodriguez/Getty Images
Lucille Ball — the famed comedian and star of I Love Lucy — happened to be a fan of the game show High Rollers, which Alex Trebek was hosting at the time. She noticed the rising star's talents, recommending him to her friend, Jeopardy! producer Merv Griffin. Luckily, Griffin took her up on the recommendation and hired Trebek in 1984 when he rebooted the original show, per The New York Times. Trebek replaced the popular original host Art Fleming, who hosted the show from 1964-1975.
The odds for succeeding were definitely stacked against him. He admitted in an interview with the Television Academy Foundation that they "weren't certain how long it was going to last" because they were getting complaints that the material was too difficult. "Well, I told them, 'I'll ease up on the material,' and I didn't ease up on the material... Two months later, they said, 'hey you did well, it's good, it's all softened up,' and I hadn't done a darn thing," Trebek recalled. "So people started to catch on and enjoy the program."
Not only did it catch on, but eventually the show was drawing an average nightly audience of more than 15 million on nearly 200 stations, reported the Times. Ball's recommendation was clearly a good one and the show would not have had such long-running success without Trebek. It will be difficult for fans to imagine anyone else hosting, but he will always be remembered.