Inside Jimmy Kimmel's Relationship With Adam Carolla Today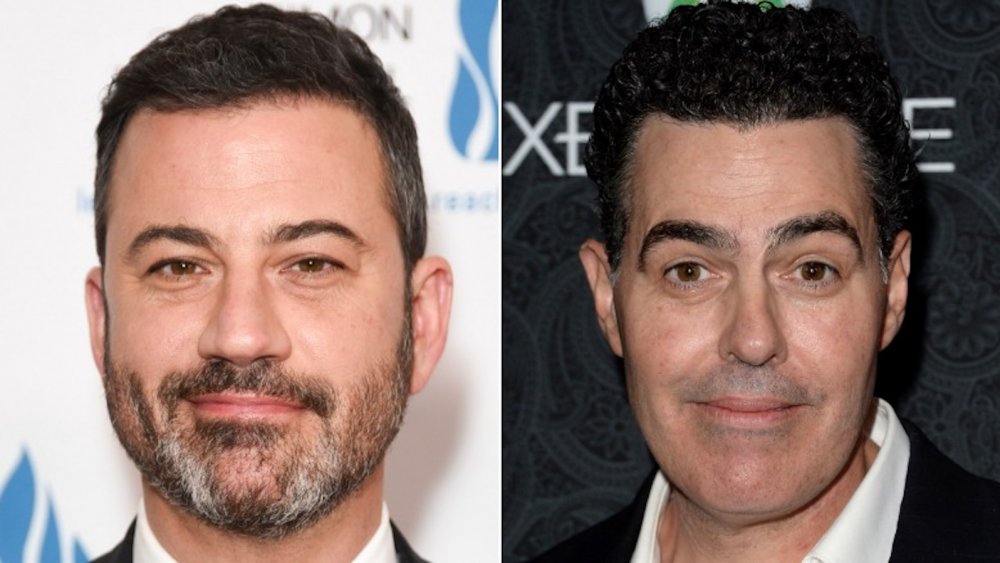 Presley Ann, Jason Merritt/term/Getty Images
Jimmy Kimmel and Adam Carolla have a famously long-lasting friendship, though they have certainly gone in their own directions. Kimmel is essentially the go-to award show host, and has helmed Jimmy Kimmel Live! for almost two decades. The comedian has been the face of the Emmys, the ESPYS, the Oscars, and the American Music Awards. It's no wonder he took a break from his talk show in June 2020 to spend time with his family before hosting the 72nd Primetime Emmys (hazmat suits, remember?).
Meanwhile, Carolla set a Guinness World Record in 2011 (via The New York Times) for having the highest-downloaded podcast ever (it was early podcast days, mind you) for The Adam Carolla Show. He's also been traveling the country on tour, as NYT put it, "examining the plague of political censorship on college campuses." Plus, he recently put out a documentary called No Safe Spaces. So yes, different directions. 
But similarly, the two — who co-hosted The Man Show, a sketch show perhaps questionable by today's standards — have both gotten themselves in trouble in 2020. The ABC late-night host apologized in June 2020 after blackface impersonations resurfaced and caused a frenzy. In his apology, Kimmel said he had "matured" since (per Deadline). Meanwhile, Carolla stirred controversy posting tweets downplaying COVID-19 (via HuffPost). Yup, there's enough hot water between them for a jacuzzi.
Have the two stood by each other since? Scroll down to see where Adam Carolla and Jimmy Kimmel stand today.
How Jimmy Kimmel and Adam Carolla are still supporting each other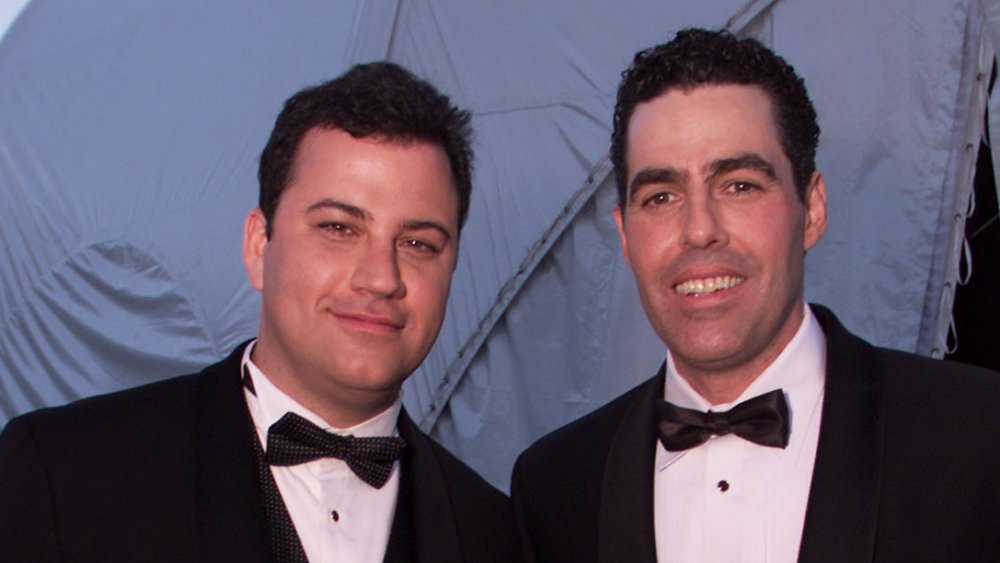 Kevin Winter/Getty Images
So, what is Jimmy Kimmel and Adam Carolla's friendship like today amidst respective turmoil? The pair still has each others' backs! According to USA Today, in June 2020, amidst Kimmel's controversy, Adam Carolla ranked him "in my top three of all-time of decent people I've ever met in my life" on his podcast. "He is the most decent person you've ever met. He is the most generous person you've ever met," Carolla said. "If everyone was like Jimmy Kimmel, we'd be living in a [expletive] utopia." 
Regarding the blackface controversy, Carolla sang a different tune. "I was saying this years ago and I meant it. Blackface is something. Doing Karl Malone is something else or doing Oprah is something else... That is not blackface," Carolla said, referencing Kimmel's celebrity impressions that got him in trouble. Hmmm.
Meanwhile, Kimmel came to Carolla's defense over his coronavirus pandemic tweets. While on The Howard Stern Show, Howard and longtime co-host Robin Quivers asked Kimmel point-blank his thoughts on his old comedy partner and pal's comments. "Here's the thing. Adam doesn't believe in shampoo or soap, okay?" Kimmel said. "He announced how many days he's gone without using it and he got a horrible case of pink eye." It was a humorous way to defend his buddy and deflect his more controversial tweets.
Ultimately, Carolla and Kimmel's friendship will probably outlast the backlash against them.