Why This Moment Between Kamala Harris And Her Great-Niece Is Going Viral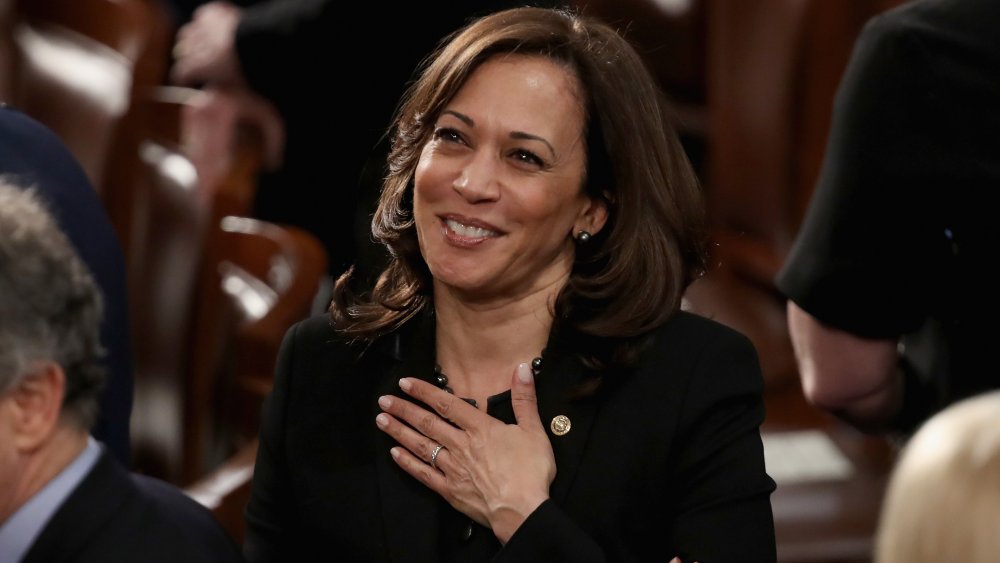 Win Mcnamee/Getty Images
Senator Kamala Harris made history on Nov. 7, 2020, when she became vice president-elect under President-elect Joe Biden. Harris is the first woman to hold the position. She will also be the most racially diverse vice president in history. As the eldest daughter of two immigrants, Harris was raised by her Jamaican father and her Indian mother in California. Culturally her childhood was a hodgepodge. In the past, Harris has spoken about attending Black Baptist church with her father, a civil rights activist, and spending summers in India with her grandparents, who were also politically active.
When Harris took the stage in Wilmington, Del., hours after the 2020 race was called, she delivered a powerful speech acknowledging her groundbreaking achievement. She paid tribute to the women of color who "fought and sacrificed so much for equality, liberty, and justice for all" and "paved the way" for her historic win. "While I may be the first woman in this office, I will not be the last," Harris said enthusiastically, "because every little girl watching tonight sees that this is a country of possibilities."
That last line was heavily quoted by outlets reporting on the story because it's obvious that Harris's words were pretty dang powerful. Days later, however, Harris went viral yet again, this time for a touching conversation between herself and her great-niece.
Kamala Harris wants her great-niece to know anything is possible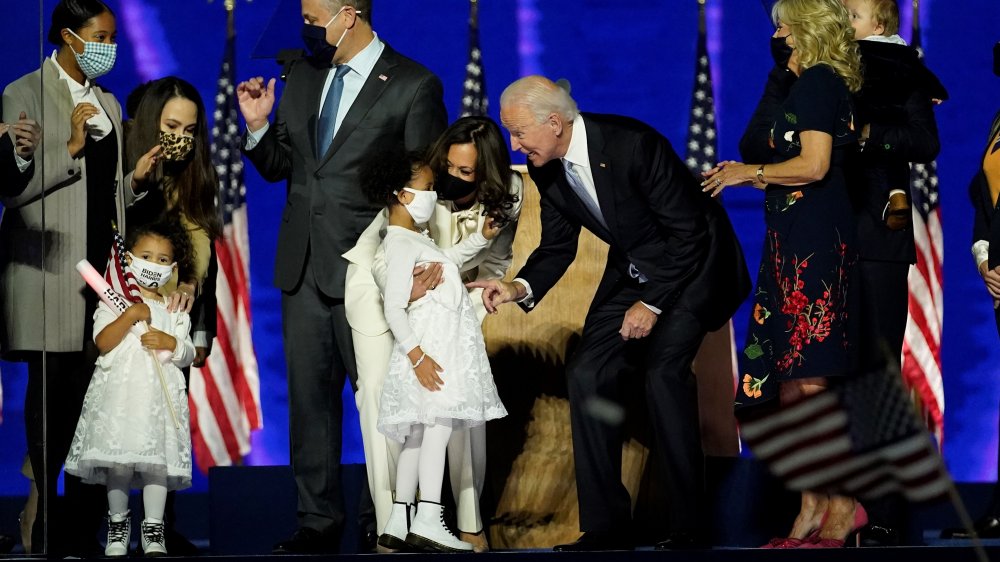 Pool/Getty Images
Vice President-elect Kamala Harris's win doesn't just represent a political shift from a republican to a democratically controlled executive branch; it also symbolizes a break in the glass ceiling that has traditionally stifled women and minorities. Harris shared that message with the nation on Nov. 7, 2020, but it's also something she's been talking about for a long time, especially amongst her nearest and dearest.
On Nov. 5, 2020, days before the election was officially called, Harris's niece Meena shared a sweet photo and video of Harris conversing with her great-niece, Meena's daughter. The video shows Harris, dressed in a pantsuit and facemask, taking a break from her busy schedule to have a chat with the little girl. "No, you could be president one day," Harris explains patiently, "but not right now, you have to be over the age of 35." The child then told the vice president-elect that she was not sure if she wanted to be the president or an astronaut when she grows up (to which we say, why not be both?).
The conversation between Harris and her great-niece is a powerful reminder of the incredible achievement Harris made by becoming vice president-elect. It's one thing to hear Harris talk about breaking into a historically racist and sexist institution when she addresses the nation, but it puts the magnitude of her victory into perspective when you hear her tell a little girl that anything is possible now — even being an astronaut and a president.