Inside Chelsea Handler And Barbara Bush's Unlikely Friendship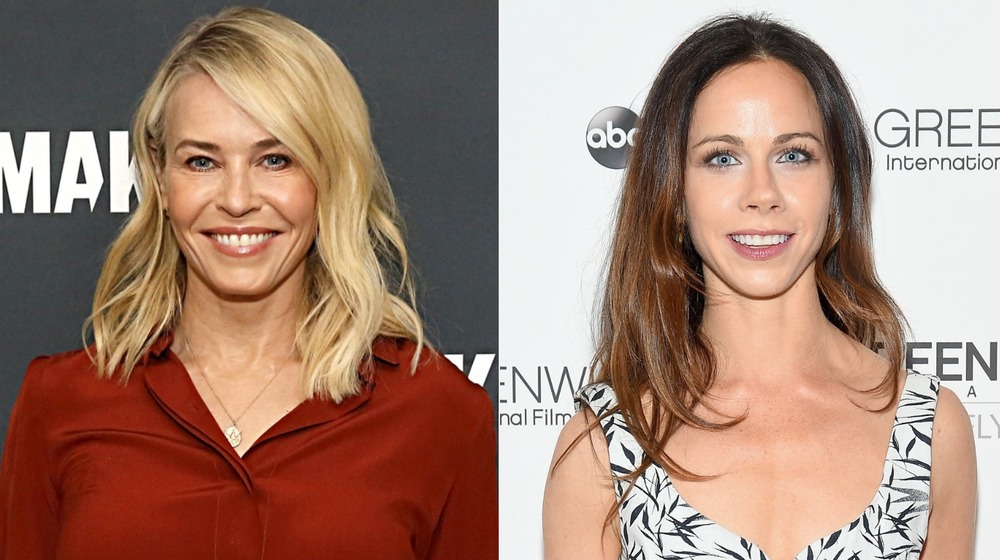 Rachel Murray, Ben Gabbe/Getty Images
Many of us live for unlikely celebrity friendships, like iconic duo Martha Stewart and Snoop Dogg. In fact, while Chelsea Handler was chatting with Stewart for Interview in October 2020, the comedian revealed she has a surprising friend of her own. The outspoken Democrat shared that she and former first daughter Barbara Bush are pretty close pals.
"Right after I filmed my special, I came up to Maine and Barbara Bush messaged me. We did Pilates a bunch of mornings together," she told Stewart while gossiping over their mutual friendship with former President George W. Bush's daughter. Although we don't usually picture Handler gallivanting around the New England countryside, she said the two are so close that she even met "Dubya" himself.
"I got a personal tour of George Bush's art collection, from him when we went to Kennebunkport. So that was unexpected," Handler said. "I tried to behave myself, so I didn't get into an altercation with him. That was challenging." As a self-proclaimed "philistine," Handler said she was at a loss for words — among other things — when the former president waited for her critique. "I think my reaction was, 'Wow, the paint is very thick.' I was very stoned when I got the tour of his artwork, so I had to keep my sunglasses on." Smoking a little lettuce before a presidential art tour given by a former president himself? Now that sounds like our girl! Keep scrolling for more details about the comedian's friendship with the former first kid. 
Chelsea Handler can be herself with Barbara Bush
Despite their vastly different backgrounds, Chelsea Handler and Barbara Bush's friendship shows that it isn't impossible to engage in civil discourse with people who may hold conflicting ideals from our own. (It is worth noting Barbara told The New York Times that she voted for Democratic presidential nominee Hillary Clinton in 2016.) While visiting with the Bush family, Handler said she went to the presidential quarters and played some pickleball — leaving politics at the door (via Interview). Prior to their New England meet up, Barbara and her twin sister, Jenna Bush, visited the comedian on the set of her show Chelsea to promote their book, Sisters First: From Our Wild and Wonderful Life. The siblings, who told People back in 2010 that they don't consider themselves Republicans or Democrats, had no problem playing by Handler's rule book when they were on her turf.
While discussing the memoir, Handler told the former first daughters, "I think your dad's cute, I've always thought your dad was cute." The sisters laughed at this admission and noted that she hadn't shared this information with them before. "Well, I didn't know how to bring it up," the comedian replied. Clearly, Handler and the Bush girls are totally comfortable around one another.