The Truth About Fantasia Barrino And Antwaun Cook's Relationship
Fantasia Barrino and Antwaun Cook may have moved on, but it wasn't that long ago that the Season 3 American Idol winner and her lover were, to quote Lady Gaga, caught in a bad romance. The year was 2009, and Fantasia was, by all accounts, riding high with several Grammy nominations under her belt and a plum role on Broadway in The Color Purple when she started seeing Cook, who lived in Charlotte, North Carolina. 
There was just one small problem: Cook was already married with two kids and, as you might imagine, his wife, Paula, was not too thrilled about his new relationship. According to ABC News in 2010, Paula was so incensed that in her court filing for custody of her kids, that she considered suing Fantasia under an "alienation of affection" law, which essentially allows a spouse to sue a third party for "diminishing" a marriage. It's not legal in every state, but it is in North Carolina, and with Paula claiming that Fantasia and Antwaun were going to "bars, restaurants, nightclubs and the like," it sure looked like she had grounds. 
The ordeal could have cost Fantasia millions, and her lawyer noted that the lawsuit had "frayed" the singer's mental and emotional state. Paula ultimately dropped both the suit and the divorce filing, and while Fantasia continued to maintain that she thought Cook and Paula were separated, the heartbreak was far from over.  
The relationship "frayed" Fantasia's mental health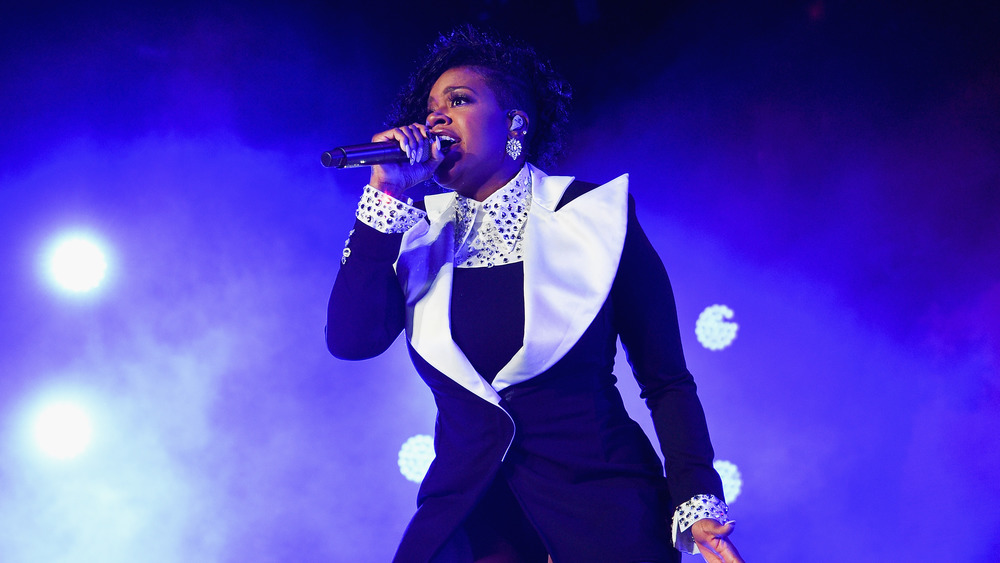 Erika Goldring/Getty Images
Fantasia Barrino reportedly kept seeing Antwaun Cook, even as the relationship continued to strain everyone involved. Things took a turn for the worst in 2010, when Radar claimed that Fantasia terminated a pregnancy that was the result of her and Cook's affair. Later that same year, the then-26-year-old attempted suicide. Fantasia admitted in a VH1 Behind the Music (via People) special that she overdosed on aspirin and a sleeping aid. "I just sat in the closet and looked at the mirror and took all the pills in the bottle," the singer revealed. "I knew exactly what I was doing. You can't accidentally take a whole bottle of pills." 
As Fantasia recovered, she remained connected to Cook, and not just because his name is tattooed on her collarbone. In 2011, Fantasia welcomed a son, Dallas Xavier, and, as CNN noted at the time, she didn't reveal who the father is. She's still super private about her kids' lives, but with Cook frequently posting pics of his son Dallas on Instagram, there seems to be little doubt who the tyke's dad is. Thankfully, the worst seems to be behind everybody: Fantasia is now married to Kendall Taylor, and, as noted in the Christian Post, she even seems to have a peaceful relationship with her ex and his wife, who all agree to focus on what's best for the kids. Man, we love a happy ending. 
If you or someone you know is having suicidal thoughts, please call the National Suicide Prevention Lifeline at 1-800-273-TALK (8255) or text HOME to the Crisis Text Line at 741741.