Why Taylor Swift's New Look Is Causing A Stir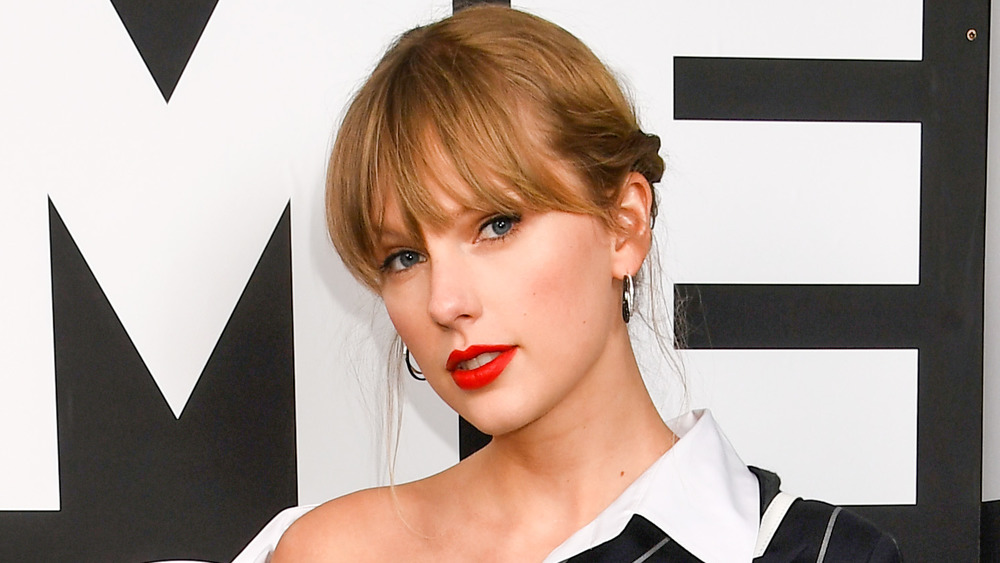 Dave J Hogan/Getty Images
Even though Taylor Swift seemingly prefers to steer clear of drama, she has been very transparent about her uphill battle to own her music. In June 2019, she posted a long message to her Tumblr that detailed her disappointment with a deal between Big Machine Label Group founder Scott Borchetta and Scooter Braun's Ithaca Holdings, which placed the ownership of her first six studio albums under Braun's control. "Now Scooter has stripped me of my life's work, that I wasn't given an opportunity to buy. Essentially, my musical legacy is about to lie in the hands of someone who tried to dismantle it," she slammed.
In November 2020, a new wave of drama with Braun emerged when Swift posted a public message to her Twitter, explaining that her music had once again traded hands without her knowledge and without a chance for her to purchase her music. Confirming plans she announced on Good Morning America in 2019, she tweeted that she had begun re-recording her first six albums, which she noted had "already proven to be both exciting and creatively fulfilling."
With that huge update, Swifties are keeping an even closer eye on their favorite singer-songwriter. Now, a fresh announcement paired with a new hairdo from the Folklore singer has fans going ballistic yet again. Here's why Taylor Swift's new look is causing a stir.
Fans think Taylor Swift's hair is an Easter egg
In November 2020, Taylor Swift was named Apple Music's Songwriter of the Year. In her video acceptance speech, she rocked a look reminiscent of a younger T-Swift. Unlike the curly hair and ruffled bangs of Folklore era Swift, the Grammy winner popped up with straightened hair and tinted lips, a possible nod to her style during her Red album era.
"Winning Songwriter of the Year in any capacity in any year would be so exciting, but I think it's really special because this particular year was a year where I really feel like songwriting was the one thing that was able to keep me connected to fans that I wasn't able to see in concert," Swift said in her acceptance speech. "It means a lot to me because my songwriting, and the way that fans respond to the songs I write, and the kind of dialogue back and forth and that kind of emotional exchange is what I feel like has really kept me going this year."
Shortly after the video was posted, fans flooded Twitter with guesses that the look might have been Swift telling fans that she was in the process of re-recording Red. "She straightened her hair with bangs! Again, she straightened her hair with bangs! When was the last time she did that? RED ERA!" one fan tweeted. Swift is known for leaving Easter eggs everywhere for her fans to find, so this very well could be a clue. Let's face it, her fans just know her "All Too Well."