The Meaning Behind Shawn Mendes And Justin Bieber's Monster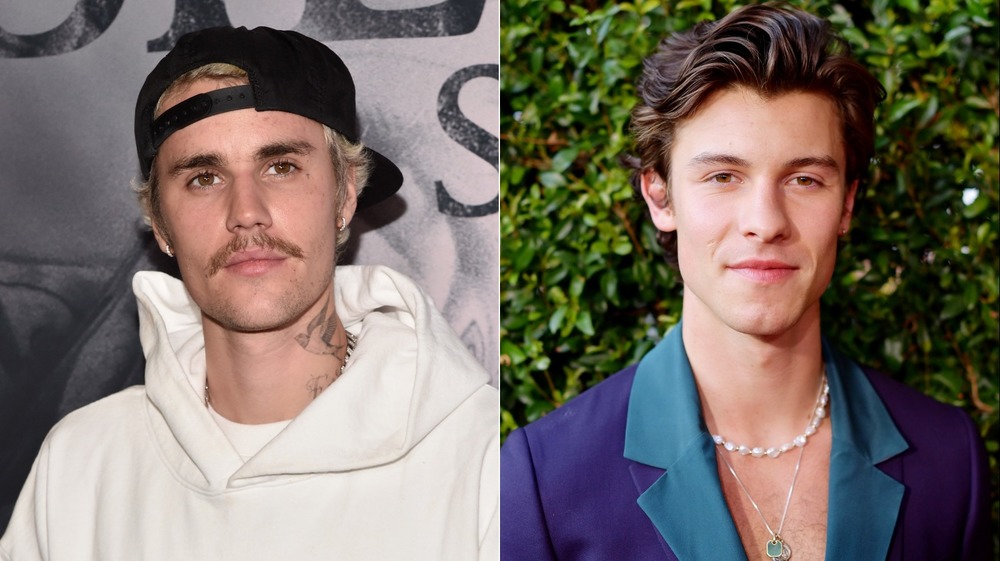 Alberto E. Rodriguez, Matt Winkelmeyer/Getty Images
Shawn Mendes and Justin Bieber have a great relationship today, but it wasn't always that way. Bieber infamously became aware of his fellow Canadian singer while being interviewed on New York's 95.5 PLJ radio show in 2015. In response to the interviewer bringing up the "Stitches" singer, Bieber asked, "Who's Shawn Mendes?" After a quick briefing, Bieber said he would check him out. He followed through and posted a screenshot of Mendes' hit on Instagram, captioning it, "Shawn I checked out the music and I'm so proud! So glad to see another boy from Canada crushin it."
Things were cool between the two singers, but drama arose when just a month after Mendes attended the 2018 Met Gala with Hailey Baldwin, the model rekindled her romance with Bieber and got engaged to him shortly after. While fans were going crazy, Mendes seemed to always keep his cool about his highly-questioned relationship with Baldwin. He even admitted to Rolling Stone that he texted her "congratulations" amidst the news, and called her "not just a beautiful person visually," but "one of the most beautiful hearts" he had ever met. 
Ever since their first interaction, fans had a Bieber-Mendes collaboration in mind, but were uncertain if one would ever see the light of given the circumstances of their relationship. Fans, however, were elated in November 2020 when Mendes announced they had finally created a song together. The single, titled "Monster" has arrived, and it has a deep meaning.
Shawn Mendes and Justin Bieber's Monster addresses the pressure of fame
Kevin Mazur, Jon Kopaloff/Getty Images
Leaving out any mention of a love triangle, "Monster" addresses the pressures of being put on a pedestal and the enormous expectations that come with superstardom. Shawn Mendes begins the song, with the lyrics (via Genius) "You put me on a pedestal and tell me I'm the best, raise up into the sky until I'm short of breath."
Justin Bieber takes the second verse, admitting his past wrongdoings, but says the backlash still hasn't stopped. Bieber has come clean about his past issues, which included relationship struggles, a stint in jail, and drug problems, which he fleshed out in a heartfelt Instagram post in 2019. The song's chorus reflects the anxiety Mendes and Bieber have as they worry about making the wrong move and disappointing their millions of fans. "But what if I, what if I trip? What if I, what if I fall? Then am I the monster? Just let me know," they sing. The song's music video is simple, letting the lyrics do the talking. It features both singers on a raised platform in stormy weather, visibly worried about their next move.
"Monster" clearly resonates with both talented singers, but for Mendes, the song has an extra special meaning.
Shawn Mendes says Monster brings him "full circle"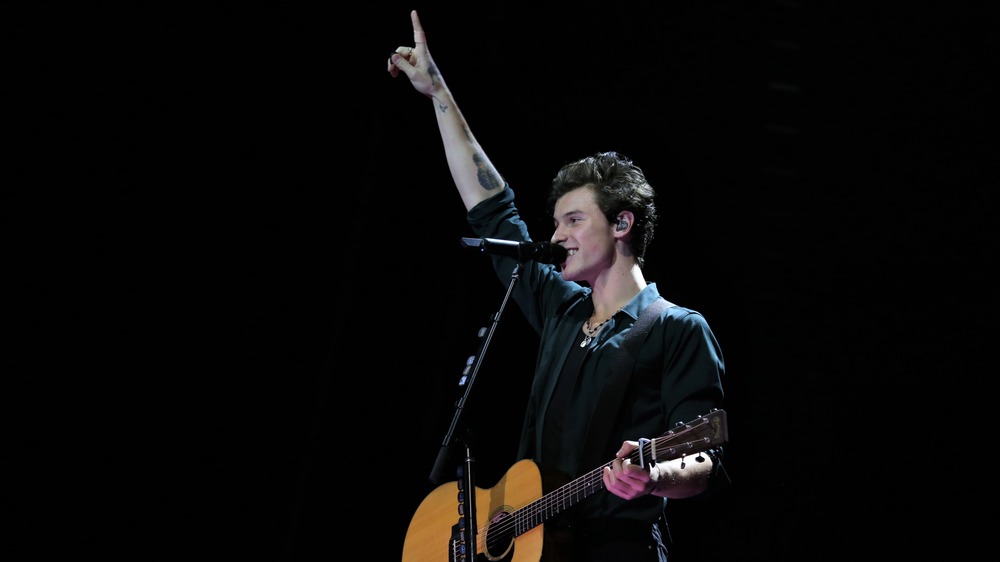 Medios Y Media/Getty Images
When addressing "Monster" with Apple Music's Zane Lowe in a 2020 interview, Shawn Mendes said while the concept of the song was his idea, Justin Bieber immediately understood its meaning when he joined the project. "His heart fell deep into it," the Grammy-nominated singer reminisced. 
Mendes called the song a "full circle moment" with Bieber, explaining that he's been a fan of the artist since the release of "One Time" in 2010. "To come back around and to have this very human to human conversation with him and his truth to come into that song and my truth to be there, it feels like one of the most special songs I've ever wrote," he explained. "And the more I listened to it and the deeper I get into it, this is not just about celebrities. This is the human experience." 
"Monster" is the second single off Mendes' fourth studio album, Wonder. If "Monster" is any indication, the album may just be Mendes' most personal yet.