Trump Jr.'s Quarantine Situation Is Turning Some Heads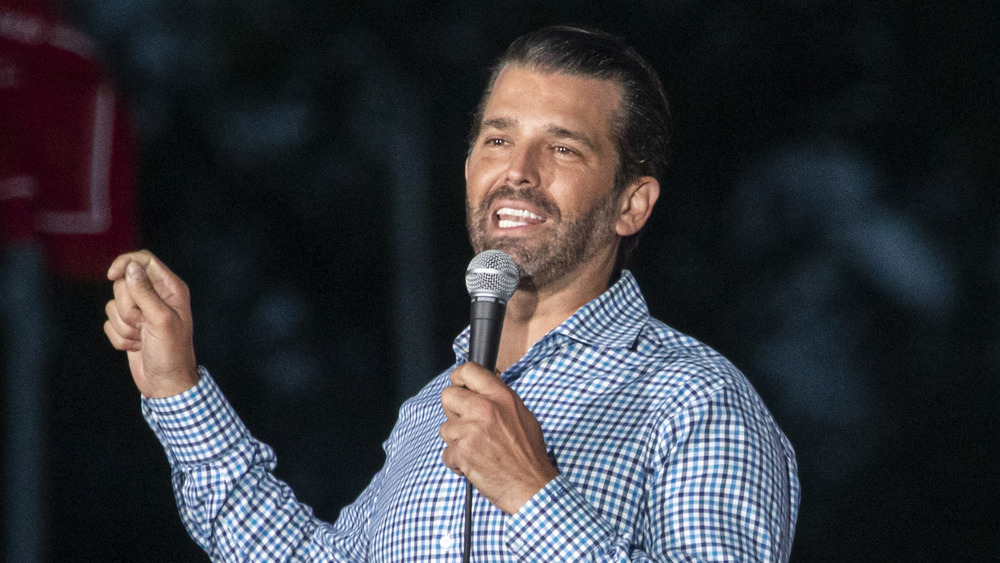 Scott Legato/Getty Images
Donald Trump Jr.'s quarantine situation is turning some heads! The president's son tested positive for COVID-19 and has since been quarantining in his upstate New York cabin (via TMZ). The eldest Trump son took to Instagram to update his followers about his diagnosis on Nov. 20, 2020, sharing, "Apparently I got the 'rona... Maybe it's a false positive, maybe not."
In his Instagram video, Don Jr. said he is "totally asymptomatic," and he took a shot at his critics: "I don't have the red eyes like they claimed I had for apparently using cocaine prior to my RNC speech. But that is the world of the internet. God knows I troll, and do my fair share of it, so I guess a lot of that's gonna come back to me in time as well. That's the game."
Like father, like son, Don Jr. has shunned masks in the past. Overall, White House staffers and President Trump's inner circle reportedly do not always follow CDC recommendations on the coronavirus. The WH's lax virus protocols have resulted in widespread infections among White House staff and the Trump family (via the Los Angeles Times).
The President, first lady, and their son Barron have previously tested positive for the virus, along with Don Jr.'s girlfriend, Kimberly Guilfoyle. Keep reading to find out why Don Jr.'s quarantine situation is catching so much attention.
Donald Trump Jr. is cleaning guns, watching Netflix
Donald Trump Jr. is gaining notice during his quarantine because of the way he's passing the time while in isolation. In his Instagram update about his COVID-19 diagnosis, the eldest Trump son said he was looking for e-book and Netflix recommendations: "There are only so many guns I can clean before I get bored." Some people eat chicken soup when they are sick, while some people clean their guns. Whatever makes the patient feel better!
The news about Don Jr.'s positive results coincided with news that multiple White House staffers — including Andrew Guiliani, son of the president's personal attorney Rudy Guiliani — were infected. TMZ noted, "the President has been downplaying the virus and saying the whole thing is overblown, yet much of his immediate family has been hit, and he may not have made it without the help of a dozen doctors and experimental therapies that were not available to the public."
One example of President Trump's inner circle receiving special treatment for the virus? Look no further than HUD Secretary Ben Carson, who's been battling COVID-19. According to the National Review, Carson received the same antibody therapy as President Trump and claimed this saved his life. He praised Trump and the medical team: "President Trump, the fabulous White House medical team, and the phenomenal doctors at Walter Reed have been paying very close attention to my health and I do believe I am out of the woods at this point."
Donald Trump Jr. adds to the list of infected people around President Trump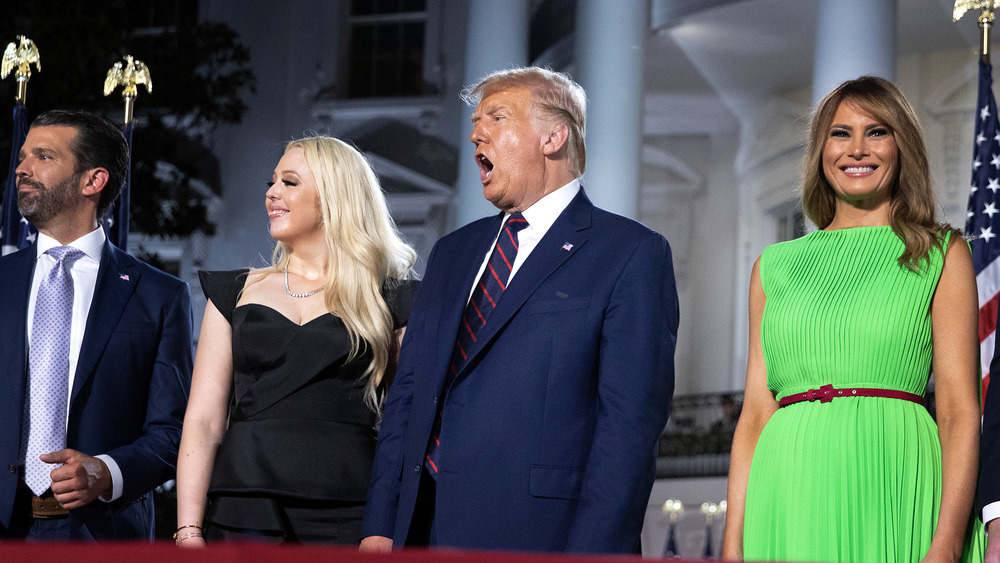 Chip Somodevilla/Getty Images
With his diagnosis, Donald Trump Jr. is the fourth member of the Trump family to contract COVID-19. In addition to Andrew Guiliani, two Republican senators who are close to President Trump tested positive for COVID-19 the same week — Rick Scott of Florida and Chuck Grassley of Iowa (via the New York Times).
On Nov. 13, 2020, The Guardian reported that "40 people in Trump's circle had tested positive for COVID-19 since September." Business Insider made a chart to keep track of all of the people in Trump's orbit that have been infected by the virus.
USA Today reported on Nov. 21, 2020 that the "United States passed its 12 millionth case of COVID-19, days after the nation surpassed 255,000 deaths from the coronavirus — by far the largest total in the world." It doesn't appear that America's high infection and death rates are going down anytime soon.