Ben Carson Gives Critical Update On His COVID-19 Status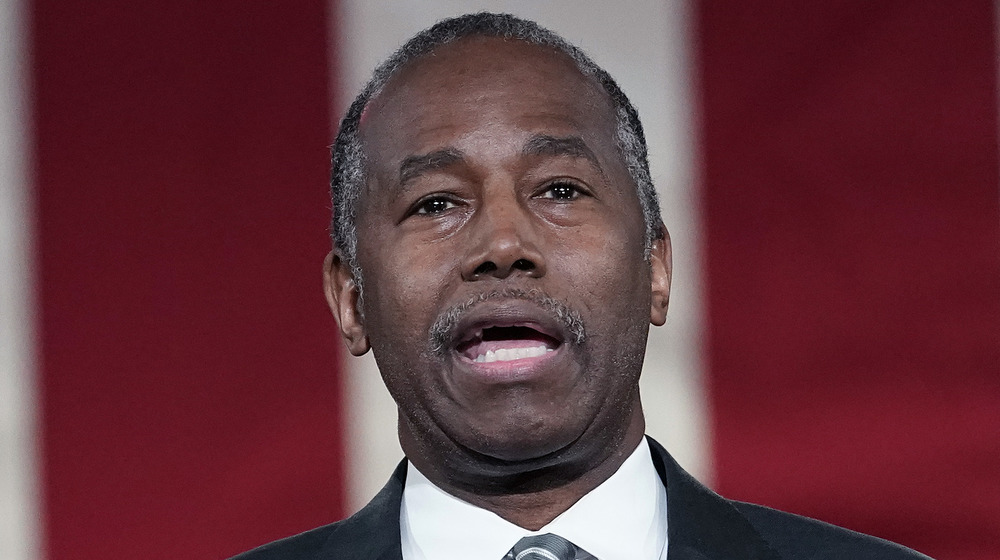 Drew Angerer/Getty Images
On Nov. 9, 2020, ABC News reported that Ben Carson, secretary of the Department of Housing and Urban Development, tested positive for COVID-19. Following his diagnosis, HUD deputy chief of staff Coalter Baker said in a statement of the 69-year-old Carson, he "is in good spirits and feels fortunate to have access to effective therapeutics which aid and markedly speed his recovery," per the outlet.
Carson attended an indoor election night party where White House chief of staff Mark Meadows later tested positive for coronavirus. Nearly every other attendee was not wearing a mask. Meadows and four others in Donald Trump's orbit subsequently tested positive the previous week. Carson was also spotted mask-less at a Trump campaign rally in Waterford Township, Mich. on Oct. 30, 2020.
The new set of positive coronavirus diagnoses within the president's circle comes one month after the president's bout with the disease. On Nov. 20, 2020, Trump's son, Donald Trump Jr., was diagnosed with COVID-19, which made Trump Jr. the fourth member of his family to contract the virus.
Following Carson's weeks-long COVID-19 battle, the HUD secretary took to Facebook to give an update on his condition. Keep scrolling for more details to find out how Carson's health is faring.
Ben Carson reveals he was desperately ill with COVID-19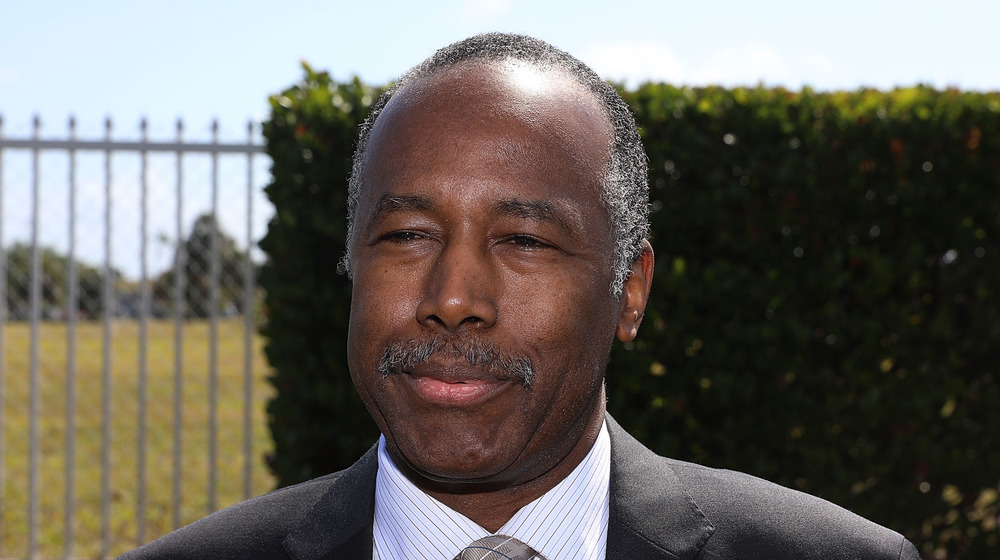 Aaron Davidson/Getty Images
Ben Carson took to Facebook on Nov. 20, 2020 to reveal he was "extremely sick" with coronavirus. Carson said his initial symptoms were light, but then he became "desperately ill." He wrote, "President Trump was following my condition and cleared me for the monoclonal antibody therapy that he had previously received, which I am convinced saved my life." Carson said, "I do believe I am out of the woods at this point," and gave credit to the White House medical team and doctors at the Walter Reed military hospital.
Carson, who is a member of the White House coronavirus task force, stating, "There are a number of promising treatments that need to be tested, approved, and distributed (sooner rather than later) so that the economy can be re-opened and we can all return to a semblance of normalcy." He concluded his Facebook update by saying "people should recognize that there are a number of defined steps that legally have to be taken before vaccines are released to the public and trying to cause alarm by saying dangerous shortcuts were taken only serves to stoke fear. Together we will be victorious. God is still in charge."
As for the treatment that Carson did receive, continue reading for more information on that.
Ben Carson took COVID-19 treatment advice from the MyPillow guy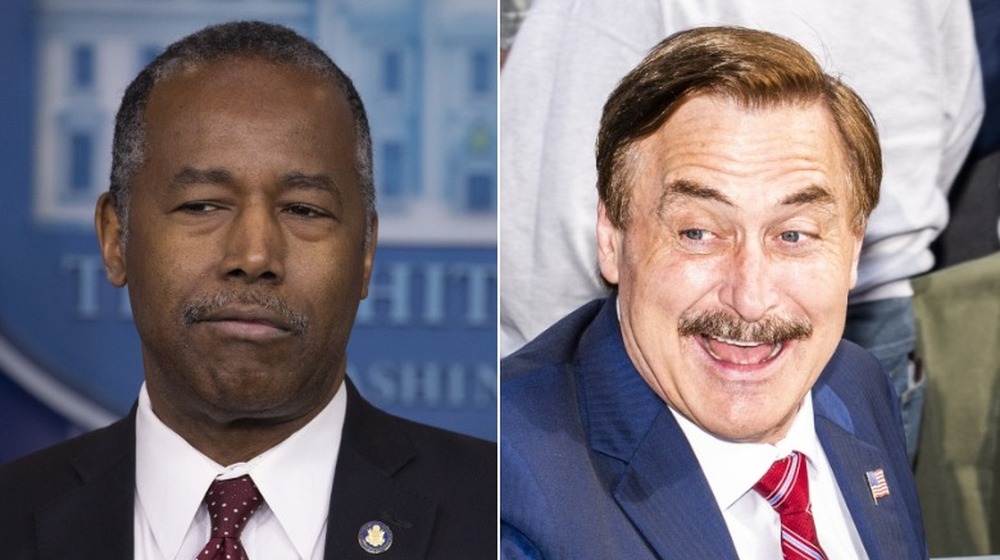 Tasos Katopodis, Stephen Maturen/Getty Images
Ben Carson revealed that he took oleander extract in an interview with the Washington Post. This unapproved herbal supplement has been promoted by MyPillow CEO, Mike Lindell, after contracting COVID-19. Carson, a former neurosurgeon, said he took the extract after Lindell recommended it. Lindell — who also served as President Trump's Minnesota campaign chairman — has a financial stake in the company that makes the extract, the article noted.
Carson told the newspaper his symptoms disappeared within hours after taking the supplement, also called oleandrin. "Anybody who has ever gotten COVID and taken it, they are fine in five hours, and the next day are running around playing floor hockey in the hallway," Lindell told The Post, despite the lack of scientific evidence to suggest oleander extract is useful in treating COVID-19.
Of the treatment, Forbes reported the U.S. Army Institute of Infectious Diseases discontinued testing oleandrin in August. Spokesperson Lori Salvatore told the outlet the supplement went through "multiple iterations" of a test to see if it was effective at treating the virus, and the tests were "inconclusive."
Two pharmaceutical companies announced promising results from coronavirus vaccines are in the works, according to NPR. As of this writing, the coronavirus has infected more than 12 million Americans, according to data compiled by Johns Hopkins University. Of that, more than 255,000 people have died from the disease. Luckily for Carson, the treatment he received was able to save his life.