The Reason Soulja Boy Doesn't Like Ariana Grande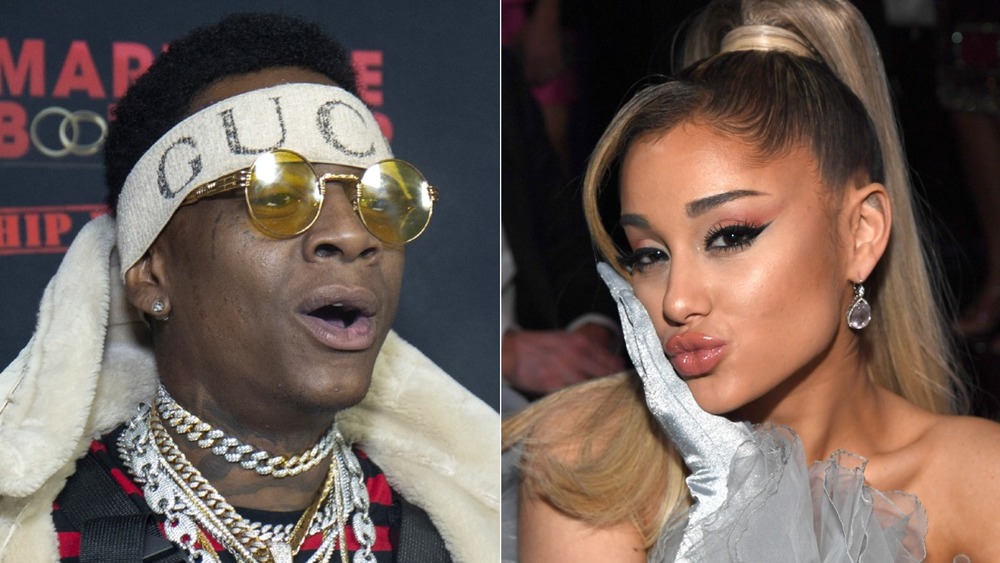 Santiago Felipe, Kevin Mazur/Getty Images
If the adage "you can't make an omelette without breaking eggs" is true, then Ariana Grande's career is an entire quiche. Though the megastar has gone through a lot of hardship given her years, she has certainly left some haters in her rearview. Her former Sam & Cat co-star Jennette McCurdy apparently can't stand Grande, and once implied online that Grande made her feel like the "worst version" of herself. Meanwhile, reporter Giuliana Rancic was apparently enraged by Grande's "diva" behavior on an AMAs red carpet (via the Daily Mail). But what can you expect from a singer who went from a Nickelodeon co-star to an international sensation faster than she can lick a doughnut? 
Clearly, the petite popstar has grown up a lot since hitting superstardom. She rocked the 2020 MTV Video Music Awards alongside Lady Gaga for a performance of "Rain on Me" that was Covid-19 friendly, with face-masks galore and absolutely dripping with talent. And she rocked our respective quarantines with a surprise album that rivals Taylor Swift's Folklore in maturity and ... general excellence. 2020's Positions delighted fans with its quality and its features, including a duet with Doja Cat, and much more. Grande is crushing it — even if she's also crushed a few friendships on the way.
Another star who has sour grapes is Soulja Boy. The "Crank That" rapper may not be huge these days, but he emerged from obscurity with a copyright-related claim. Scroll down to learn more about the rapper's beef with Ariana Grande.
Soulja Boy didn't have a 'ringing' endorsement of this Ariana Grande song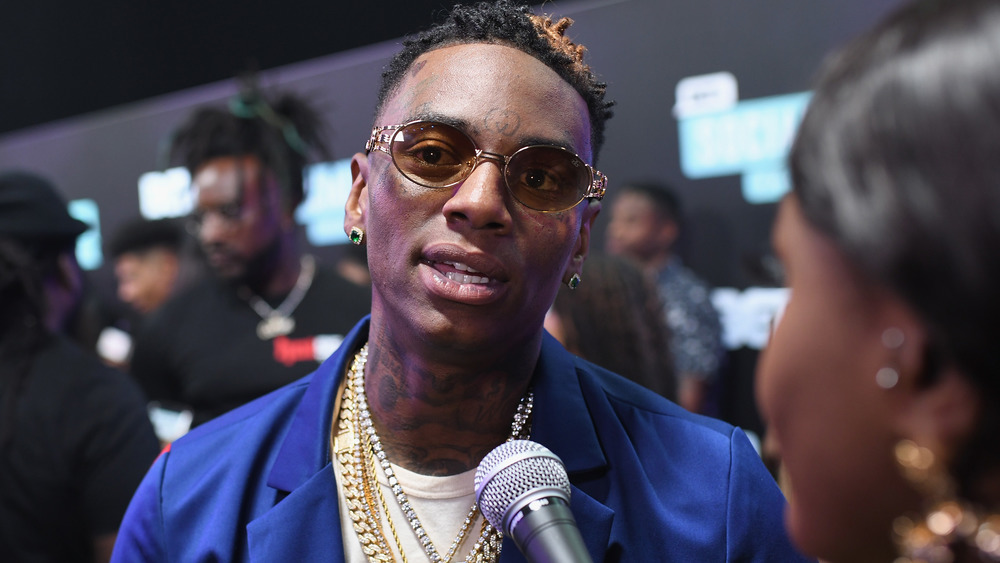 Marcus Ingram/Getty Images
So what's Soulja Boy's issue with Ariana Grande? It has to do with Grande's 2019 single "7 rings." The song, off her album Thank U, Next, was a smash. As of this writing, the music video for the track has racked up more than 800 millions views. Yet some music sleuths felt the track, which paid homage to "My Favorite Things" from The Sound of Music, sounded familiar for even more reasons. 
While some said the song sounded like 2 Chainz's "Spend It" or like Princess Nokia's "Mine," it seemed the biggest comparison to a peer was to Soulja Boy's classic, "Pretty Boy Swag." And the once-popular rapper agreed. "You're a thief," the rapper tweeted. "Lol stop stealing my swag. Word" he added, quoting Grande as she celebrated its release. The rapper then quoted Grande's tweet praising the song's co-writers, writing, "Give me my credit. Period". 
"It's devastating," Soulja Boy told Billboard in Febuary 2019, a month after his tweets. "I just feel like she should have reached out and we coulda did this song." No legal claims were formally filed, and Soulja Boy seems more than willing to fly the white flag. "She could have got a feature, know what I'm saying? She coulda called me. We could've got into the studio and done something ten-times as dope, you know." The rapper added, "Next time just hit me up Ariana, we can get into the studio. We can make a song together."