The Truth About Prince Philip And Princess Diana's Relationship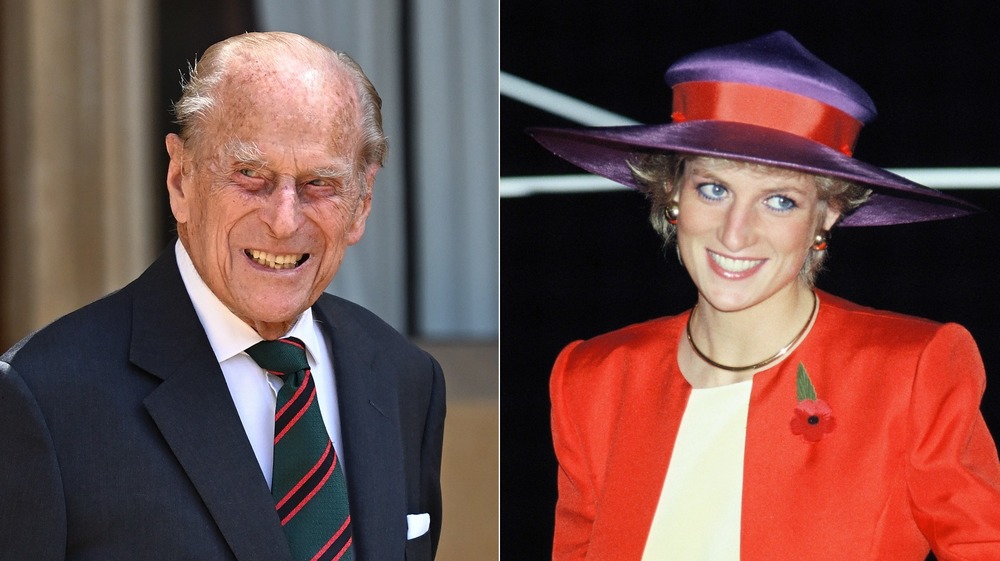 Pool/max Mumby/Getty Images, Georges De Keerle/Getty Images
Princess Diana seemed to struggle with almost all of the relationships in her life, besides of course, her connection with the public, who adored her and nicknamed her "The People's Princess." However, internally, Princess Diana was lacking healthy relationships with those closest to her.
Even before she married Prince Charles — son of Prince Philip and Queen Elizabeth II and heir to the British throne — the relationship was an emotional roller coaster for the Princess of Wales. During her engagement to Charles, she reportedly overheard him telling his former girlfriend and current wife, Camilla Parker Bowles, "Whatever happens, I will always love you" (per Diana: Her True Story). The pre-marital heartache continued for Diana when in a 1981 interview to announce their engagement, her fiancé replied to a question asking if they are in love with "whatever in love means." She later reflected on the moment in a private recording with her voice coach that the answer "absolutely traumatized" her, per Today.
And even her mother-in-law had no interest in making her feel like family. In footage from the 2017 documentary Diana: In Her Own Words, Diana recalled asking Queen Elizabeth for guidance in dealing with Charles' ongoing affair with Camilla. The only words the queen had to offer were, "I don't know what you should do... it's hopeless."
However, there was one person in the royal family who understood Diana, and that was Queen Elizabeth's husband. Here is the truth about Prince Philip and Princess Diana's relationship.
Prince Philip identified with Princess Diana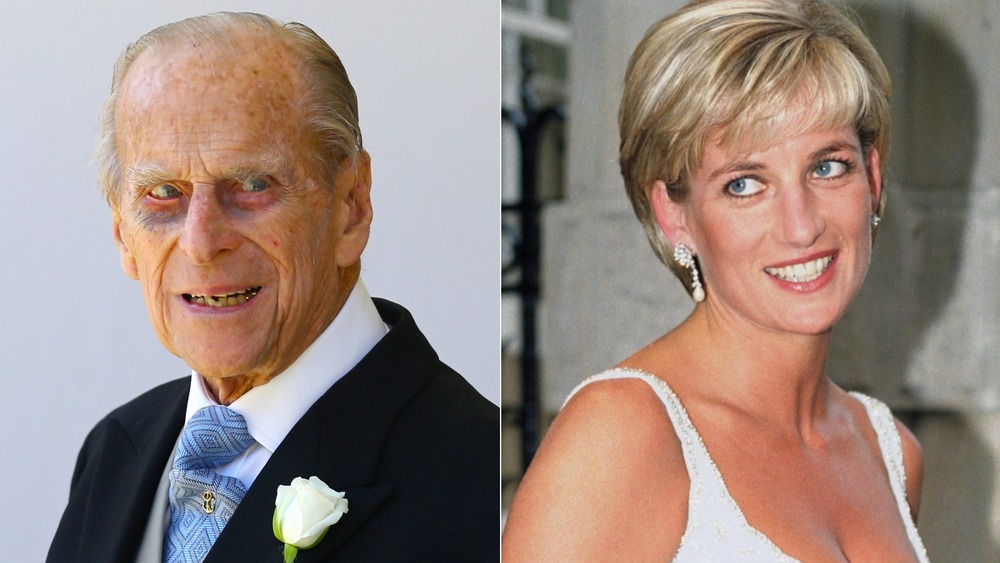 Wpa Pool, Antony Jones/GettyImages
In an October 2020 virtual panel with the cast of The Crown, Tobias Menzies, who portrays Prince Philip in Season 4, opened up about his character's relationship with Princess Diana. "There are some similarities in that, you know, it's another outsider, a position that he obviously has been in. Maybe he has some kind of appreciation for the challenges that she's going through," Menzies said (per People).
"I think on a very basic level, he just thinks it's a good fit. In a slightly old-fashioned way, I think he also just liked her femininity, her beauty. He was sort of very seduced by her as well," he added. Prince Philip often felt like an outcast when he married into the royal family, as he was not allowed to pass on his surname to his two eldest children and had to accept the fact that he would always come second to his wife in their marriage, as reported by The International Business Times. 
Menzies also mentioned that while he liked Diana, Prince Philip had to keep in mind what was best for the royal family in general. "There's this weird mixture of they're in the business of both making sure their son is happy but also needing to keep half an eye on what is required of the role and trying to find someone who could help his son." While Prince Philip liked her, Queen Elizabeth notoriously didn't think Diana was fit for the part.