RHOC Star Shares First Photo With Girlfriend After Coming Out
The Real Housewives of Orange County star Braunwyn Windham-Burke made history after becoming the first housewife to publicly come out as a lesbian. In December 2020, the Bravo star and married mother of seven sat down with GLAAD to speak her truth about her sexual identity. "I like women. I'm gay," she proudly declared. "I'm a member of the LGBTQ+ community. It has taken me 42 years to say that but I am so proud of where I am right now." She added, "I'm so happy where I am. To be able to be comfortable in my own skin after so long is just so nice." 
Of course, her revelation left many fans wondering about the state of her marriage with Sean Burke. The reveal came after the couple dodged divorce rumors and admitted to "redefining" their marriage by living separately, as People noted. "Do we fall into the social norms? No," she admitted to ET Online in October 2020.
Speaking of bucking norms, Braunwyn also revealed that she no plans of divorcing her hubby. "I love Sean. I love him dearly, he is my person, he is my family. But I'm not attracted to men and I never have been," she clarified to GLAAD. Not only is the couple still living 'in the same house," but Sean also "knows the girl" Brauwyn is "dating." So who is the reality star's lady? As it turns out, Braunwyn debuted her new girlfriend on social media on Dec. 3, 2020 — keep on scrolling to see the pic.
Braunwyn Windham-Burke and Kris are Instagram official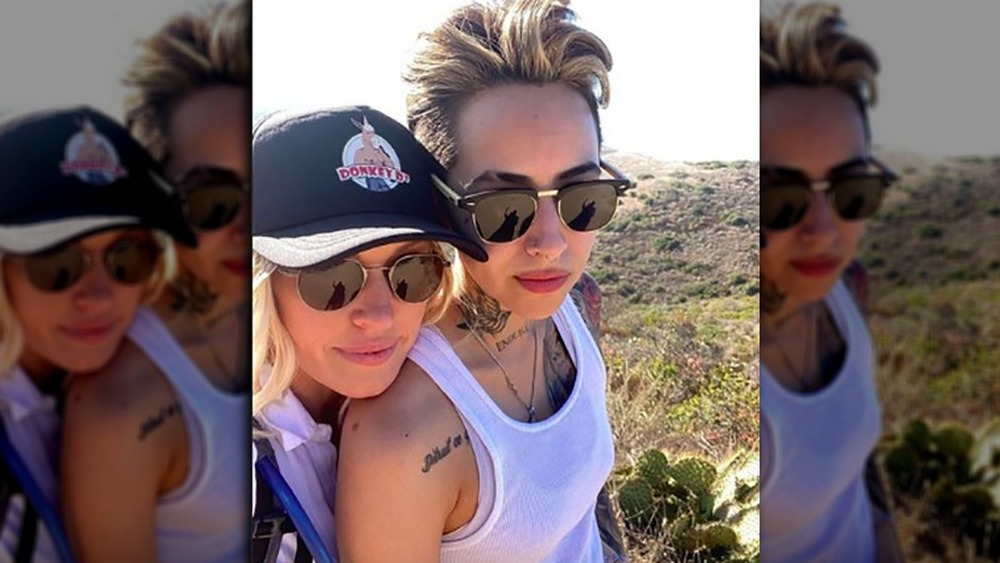 Braunwyn Windham-Burke/Instagram Stories
Just one day after Braunwyn Windham-Burke publicly came out as a lesbian, she took to her Instagram Story to share a photo with her girlfriend, Kris. Although she didn't identify Kris as her GF, she added a rainbow flag and hearts around the pic, per Page Six. It sounds like Braunwyn might be prepared to share more info about her lady in the future, as she told GLAAD, "This became something that I didn't want to hide anymore and I didn't want to keep secret anymore."
It also sounds like Kris has helped Braunwyn move forward, with a source sharing with People, "Kris has proven to be a key person in helping guide Braunwyn through some of those really complicated emotions." The insider added, "She's a great support to Braunwyn, especially in Braunwyn's sobriety." (FYI: The RHOC star admitted during an October 2020 episode of the show that she has issues with drinking, per People.) As for Kris' background, that's unclear for now — but Braunwyn did reveal to GLAAD that she a lot of great qualities, gushing, "I love her eyes, I just love staring into them ... she has the sweetest disposition. She just listens."
Interestingly enough, it doesn't sound like — at least for now — that Braunwyn's relationship with Kris will change her marital status. "We are [and] we will be married forever," she told ET Online in October 2020 about sticking it out with Sean. "We have one hundred percent faith we are going to raise our kids and grandkids together." Whatever works, right?
Braunwyn's girlfriend is a ray of light in her life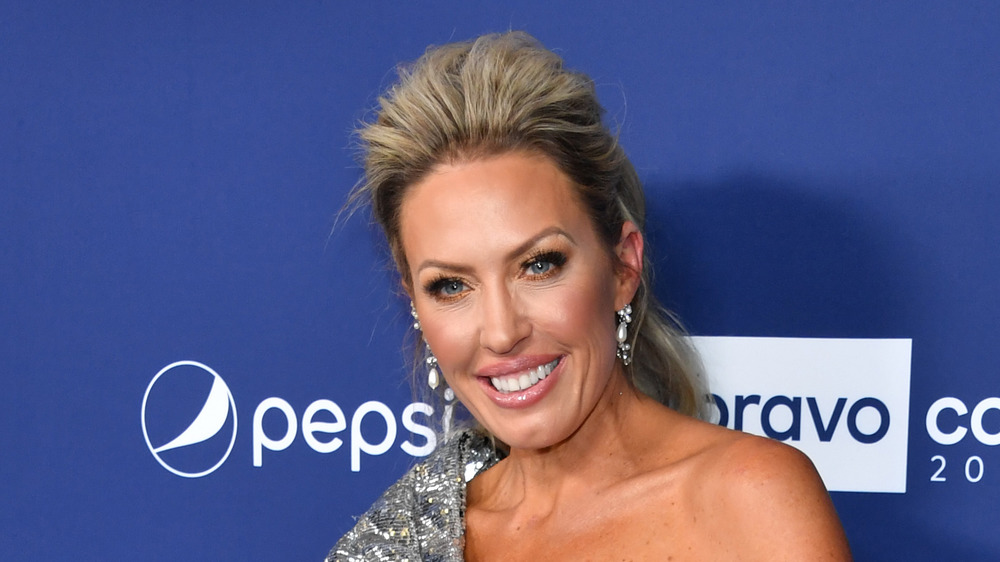 Dimitrios Kambouris/Getty Images
Although some might find it hard to come out as gay while staring on a hit reality television show, Braunwyn Windham-Burke credits The Real Housewives of Orange County for helping her find her truth. Fans of the show might remember her first season on the show when she shared an on-screen kiss with former housewife Tamra Judge, and this moment helped her come to a big realization about her life. "I had a scene with Tamra [Judge] that everyone kind of talked about," she explained to GLAAD. "When we were getting ready for the reunion I was talking to a producer that I trust a lot, his name was James, and he said, 'How do you feel about this? Was it a drunken mistake or is this part of who you are?' And I said, 'This is who I am.'"
She continued, "When I went to the reunion last year I kind of started baby-stepping into, 'This is who I am. I like women.' I was testing the waters with my friends, my cast, my family."
All of that hard work paid off, as Braunwyn has found a wonderful partner in Kris. "When they're together, Braunwyn has a lightness and happiness about her that's lovely to see. Kris is a very sweet, kind person," a source told People. "Kris has also met the kids and Sean. It's an untraditional arrangement, but Braunwyn's family has never been typical. They're all making it work."