Why Lady Gaga Can't Stand Katy Perry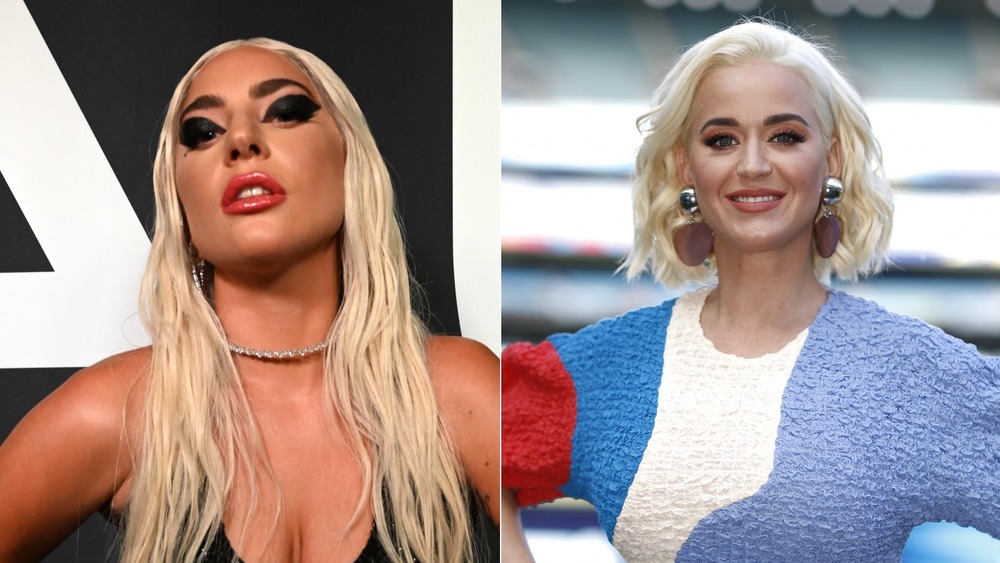 Kevin Mazur, Ryan Pierse/Getty Images
Katy Perry may sing about being one's teenage dream, but unfortunately, a few in Hollywood would disagree. In showbiz, it's easy for something as simple as a tweet to be misconstrued and to pit celebrities against one another. In the California girl's case, she's managed to upset a few of her celebrity peers, including Miley Cyrus and Calvin Harris. Out of all the enemies that she's made throughout her career, the one that sticks out the most is fellow pop star Lady Gaga. 
It's without a doubt that the two award-winning artists are talented in their own ways. Though it's possible for the two to co-exist in the pop genre, the two seem to have bad blood after a red carpet appearance garnered some buzz. Between comparisons, subliminal tweets, and a mechanical horse, it's safe to say their beef is anything but ordinary. Read on to find out why Lady Gaga has a bad romance with Katy Perry.
Lady Gaga wants Katy Perry to hold her horses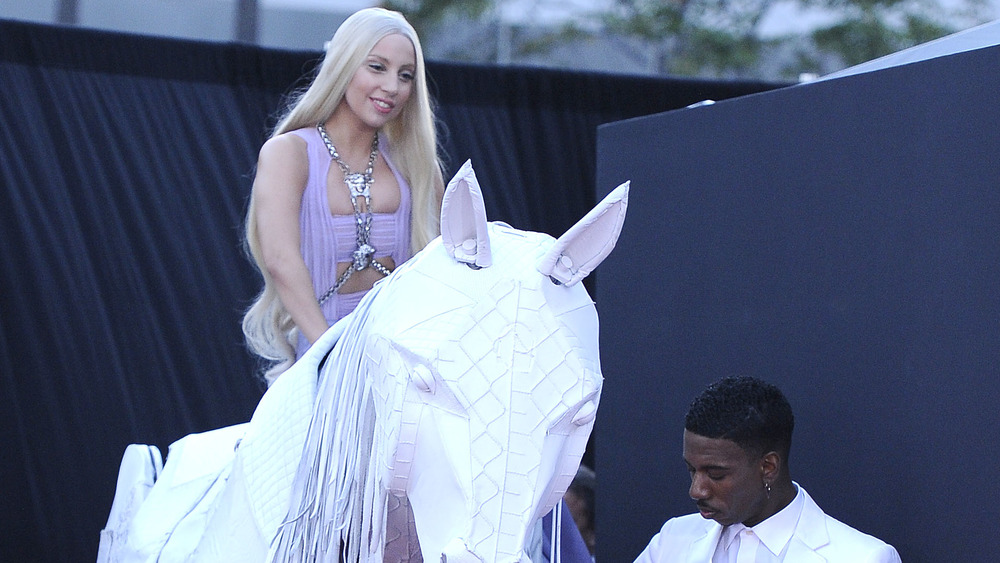 C Flanigan/Getty Images
Lady Gaga is known for over-the-top outfits and appearances. If you remember the "Born This Way" singer's meaty ensemble at the 2010 MTV Video Music Awards, then you're aware that Gaga can go to extremes with her looks. Unfortunately for Katy Perry, Gaga's not interested in having her looks imitated. When Perry shocked her crowd with a mechanical horse and green tresses for her Prismatic World tour, Gaga was not feeling the look. In a casually shady tweet, Gaga wrote, "It looks like green hair and mechanical horses are the thing now." Apparently, Gaga referred to the similarities of her entrance on a mechanical horse at the 2013 American Music Awards red carpet (pictured above), just a year prior to Perry's tour.
Perry's mechanical horse stunt seemed to be the last straw. Gaga had already voiced her frustrations of being compared to the "E.T." singer after the two artists dropped songs on the same day — Gaga releasing "Applause" and Perry releasing "Roar." Speaking about the comparisons at 2014 South By Southwest, per Billboard, Gaga said, "I don't know what the f***-all I have to do with Katy Perry. Our music is so completely different. I couldn't be more different, really. I really don't fit in pop music in a way, but I came through it and I'd like to think I changed it in some way so you can feel like you don't have to fit into a mold."
Looks like Katy Perry should hold her horses next time — pun intended.