The Truth About Steve Jobs' Daughter Eve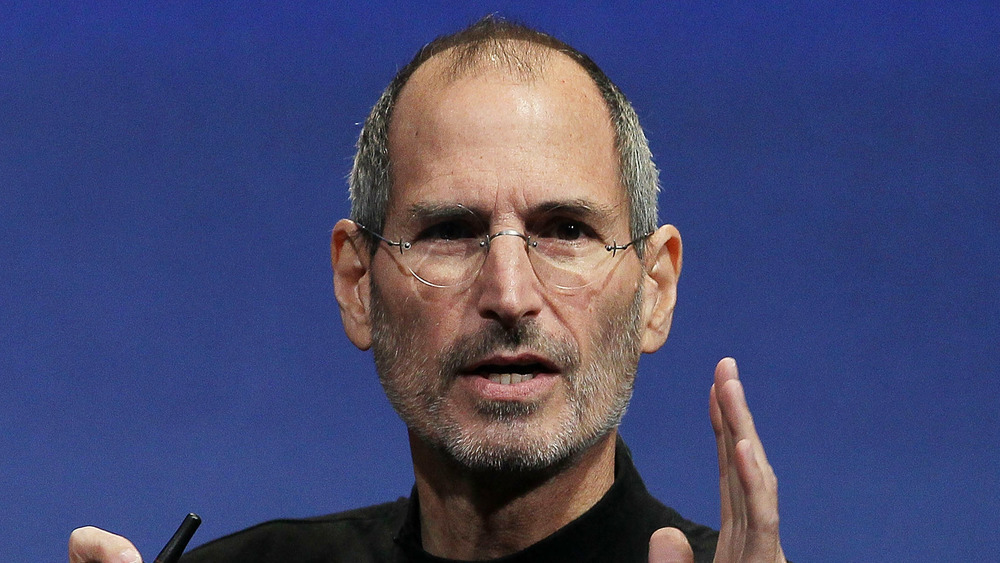 Justin Sullivan/Getty Images
The iPhone, the iPad, and now, the iDaughter? Steve Jobs' youngest daughter Eve has grown up, and she looks absolutely stunning in her modeling debut! 
The late Steve Jobs, co-founder of Apple and its visionary CEO when he sadly passed in 2011 to pancreatic cancer, arguably changed the way we use technology forever. But his daughter, Eve Jobs, is quite the inspiration as well. She may not be following in her fathers' big tech footsteps, but she has already done a lot in her life — including now becoming the "apple" of the internet's eye.
Eve, one of four children shared by the Apple icon and philanthropist Laurene Powell Jobs, made her fashion debut in Glossier's 2020 holiday campaign. In one of her two self-photographed images, per Page Six, Eve is chilling out in a bubble bath with a glass of wine, rocking the makeup line's "signature dewy look." In another, she can be seen, per Harper's Bazaar, applying red Glossier lip gloss along with some under-eye masks. "Biggest thanks to @emilyweiss & everyone at @glossier ! Go check out the collection," Eve Jobs captioned the photos on Instagram on Dec. 7, 2020 (none depict her in a black turtleneck and sneakers). According to Page Six, Eve appeared in the campaign alongside Euphoria rising star Sydney Sweeney and RuPaul's Drag Race queen Naomi Smalls. Can you name a more iconic... trio? 
Scroll down for the other impressive interests you probably didn't know Steve Jobs' daughter Eve Jobs had!
Steve Jobs' daughter Eve is accomplished for her age
What else should you know about Eve Jobs? With gorgeous blonde tresses, it's no wonder she's found herself in the fashion world. But modeling is far from Eve's first impressive venture. She is in Stanford University's class of 2021, per Yahoo! News, which may ring a bell because that's where her father and mother, Laurene Powell Jobs, first met in 1990. But that's pretty much where the similarities stop. 
While Steve may have been a computer genius, Eve is an accomplished equestrian. Step aside, technology! She has been horseback riding since she was six, according to US Equestrian. She's competed in competitions around the world and, per Business Insider, won hundreds of thousands of dollars in prize money. Not that she needs it; she apparently trains at a $15 million ranch in Wellington, Fla. that her mother bought in 2016. But the investment paid off, as she's been ranked one of the world's top riders under age 25, according to Horse Sport. George Morris, the President of the Show Jumping Hall of Fame, once gushed to Equ News, "Eve is an excellent rider and we wish her continued success." 
It's also worth noting Eve Jobs is in good company. Michael Bloomberg's daughter Georgina, Bruce Springsteen's daughter Jessica, and Bill Gates' daughter Jennifer all compete in horse jumping as well (it's Mac Vs. PC all over again)! Not only is Eve Jobs gorgeous, but she is charting her own course in life.