Here's What Dionne Warwick Really Thinks About Wendy Williams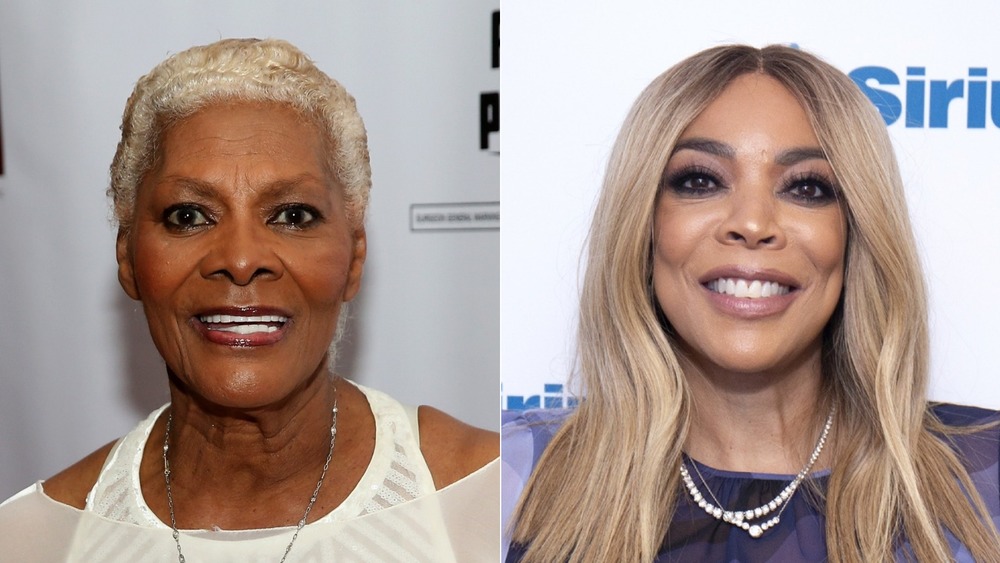 Terry Wyatt, Santiago Felipe/Getty Images
Wendy Williams' success as a talk show host can be attributed to her affinity for both good and bad gossip. Controversy is the former radio DJ's middle name, and she's never been afraid to tell it like it is — even if it does offend a few folks along the way. It's no question that Williams' slick comments and daily (over)dose of shade has resulted in the media mogul gaining enemies throughout her career's ascent. From crudely stating that Beyoncé sounds like she "has a fifth-grade education" to making comments about Paris Jackson's racial identity, you never know what you'll get from Williams, except her brutally honest opinion.
Wendy Williams' hate train is quite impressive, considering how many high-profile celebs she's managed to insult. Joining the list of anti-Williams enthusiasts that includes Ariana Grande, Whitney Houston, Method Man, and countless others is award-winning soul artist Dionne Warwick.
Though fairly new to the Twitter, Dionne Warwick has made it quite clear that she's not afraid to use her Twitter fingers to call people out. In December 2020, the singer called out Chance The Rapper and The Weeknd via Twitter to ask about their stage names. Many Twitter users have been enjoying Warwick's diva-like tweets. However, Wendy Williams wouldn't be Wendy Williams if she didn't have anything to say. After Warwick became the subject of an unwarranted critique on an episode of The Wendy Williams Show, the "If You Can Dream" singer has a few choice words for Williams.
Dionne Warwick doesn't want Wendy Williams to even say her name
Getty Images, Santiago Felipe/Getty Images
In a lengthy segment on The Wendy Williams Show, Wendy Williams took a dig at Dionne Warwick's catchy tweets and a video of the singer confirming she sends her own tweets. In a previous interview, Warwick told Andy Cohen that her niece, Brittani, helps draft some of her tweets. In the segment, Williams brought up Warwick's 2002 marijuana charge and alleged the singer still smokes today. "I totally believe that she is doing her own tweeting, but I think that Brittani is her right hand," Williams commented. "After Aunt Dionne does what she wants, after midnight, maybe after some bud."
Warwick took to Twitter to respond to Williams' comments, writing, "I tuned in to [Williams'] show to catch the last few minutes of her speaking about me and as in the past, she seems not to be able to speak without maliciously made comments." She continued, "My hope is my name will refrain from being spoken or thought of by her as this conversation was held a few years ago letting her know there was, nor would be any need, for her to say the name Dionne Warwick for any reason."
Warwick followed up with one final tweet: "There's an old saying, 'You can catch more flies with honey than with vinegar!' Try it Wendy you might like it." It's safe to say if Wendy Williams sees Dionne Warwick in public... she'd better "Walk On By."