The Real Meaning Behind Taylor Swift's Happiness Lyrics
Andrew H. Walker/Getty Images
Some of the only good news we've heard in 2020 came on Dec. 10, when Taylor Swift announced she would be dropping her ninth studio album, Evermore, at midnight on Dec. 11. Evermore comes on the heels of Swift's eighth album, Folklore, which was also a surprise quarantine drop in July 2020. Folklore represented a thematic departure for Swift, who made her mark by writing deeply personal ballads about her life. In Folklore, however, Swift wrote about fictional characters or relationships based on films and books. "It was really, really freeing to be able to just be inspired by worlds created by the films you watch or books you've read or places you've dreamed of or people that you've wondered about, not just being inspired by your own experience," Swift told Entertainment Weekly in 2020.
Swift so enjoyed the process so much that she used it again when writing Folklore's sister album, Evermore. Writing songs that are pure fantasy is a little confusing for Swift's fans, as decoding easter eggs about her famous exes in her lyrics is a time-honored tradition among Swifties. Even if the songs on Evermore are probably not about Calvin Harris or John Mayer — though one may be about Tom Hiddleston — the tracks still have stories behind them.
Since the album dropped, fans have wondered what the breakout song "Happiness" is all about. Let's investigate.
Taylor Swift's Happiness may have been inspired by a famous novel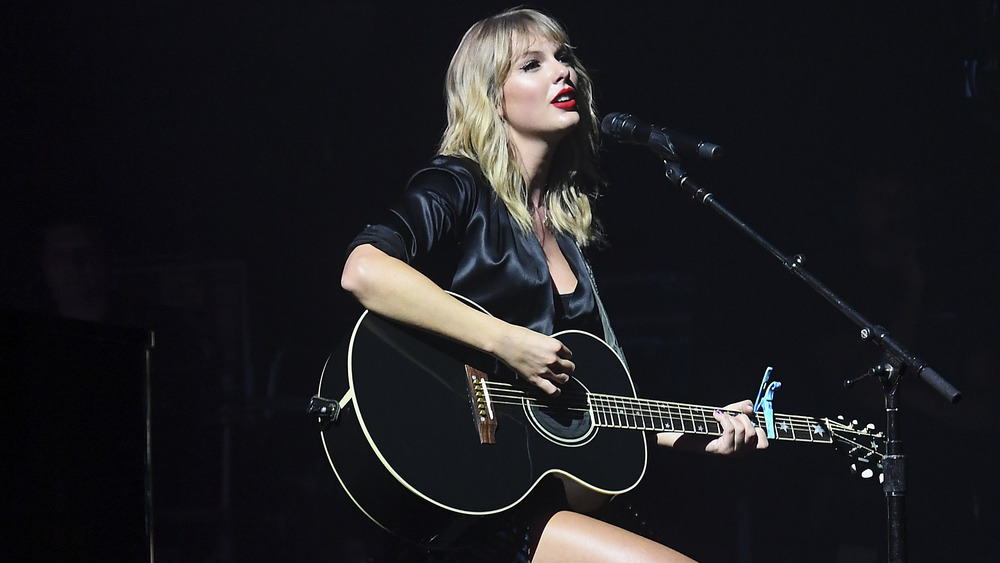 Dave Hogan/Getty Images
"Happiness," a breakout track from Taylor Swift's ninth album, Evermore, is anything but happy. It wouldn't be a Swift album without a couple of breakup ballads, after all. "There'll be happiness after you / But there was happiness because of you / Both of these things can be true / There is happiness," Swift croons in the chorus of "Happiness."
Evermore's seventh song, "Happiness," is about overcoming a breakup by learning to be happy for someone else. It is unlikely that "Happiness" is about any of Swift's exes, though. Instead, critics theorized that The Great Gatsby probably inspired it. "Seemingly named for Daisy's first words in the F. Scott Fitzgerald novel ('I'm p-paralyzed with happiness'), the soothing ballad finds Swift stepping into the character's lovelorn shoes," Patrick Ryan wrote in USA Today, hours after the album dropped.
Swift even paraphrases one of Daisy's most famous lines: "I hope she'll be a fool — that's the best thing a girl can be in this world, a beautiful little fool." Swift, in turn, sings, "I hope she'll be your beautiful fool. Who takes my spot next to you." Perhaps the most overt Gatsby reference, Swift describes a "green light" and a failed romance. "All you want from me now is the green light of forgiveness."
So there you have it, this one isn't about Joe Jonas. It's (probably) about Jay Gatsby.