The Real Reason Why Lil Nas X Dresses Like A Cowboy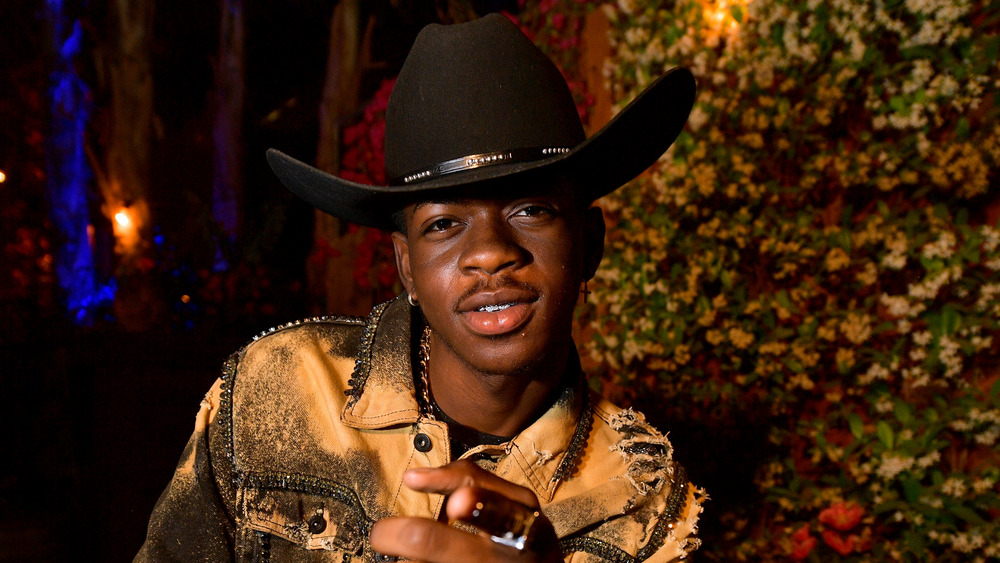 Matt Winkelmeyer/Getty Images
From Katy Perry's futuristic pixie chop during her Witness era to The Weeknd's 2020 face bandage ... situation, it's common these days for pop stars to take on a whole new look and persona to complement an album rollout. And doing so makes perfect sense when you think about it — a bold reinvention for the awards show and or late night circuit can really stick an artist's image in fans' minds. Case in point is America's favorite cowboy rapper, Lil Nas X. 
The story of how Lil Nas X concocted "Old Town Road" is now a legend the likes of Billy The Kid. The Atlanta-born rapper was living with his family and had dropped out of college, hungry to break into the music business when he discovered a $30 country-trap beat online that would change everything, according to GQ. That beat turned into "Old Town Road", which is now the longest-running Billboard No. 1 of all time. But Lil Nas X did a few things right; he blended genres seamlessly over some hilarious Wrangler denim-referencing lyrics, and wisely remixed the track adding country veteran Billy Ray Cyrus. He also led the "Yeehaw agenda," turning his glammed-up country hat and boots into an all-out trend.
From Miley Cyrus to Megan Thee Stallion, more artists are rocking cowboy hats in his shadow. So since the look is clearly here to stay, scroll down for why Lil Nas X has said he likes dressing why a cowboy. 
Lil Nas X likes the 'headstrong' mentality of cowboys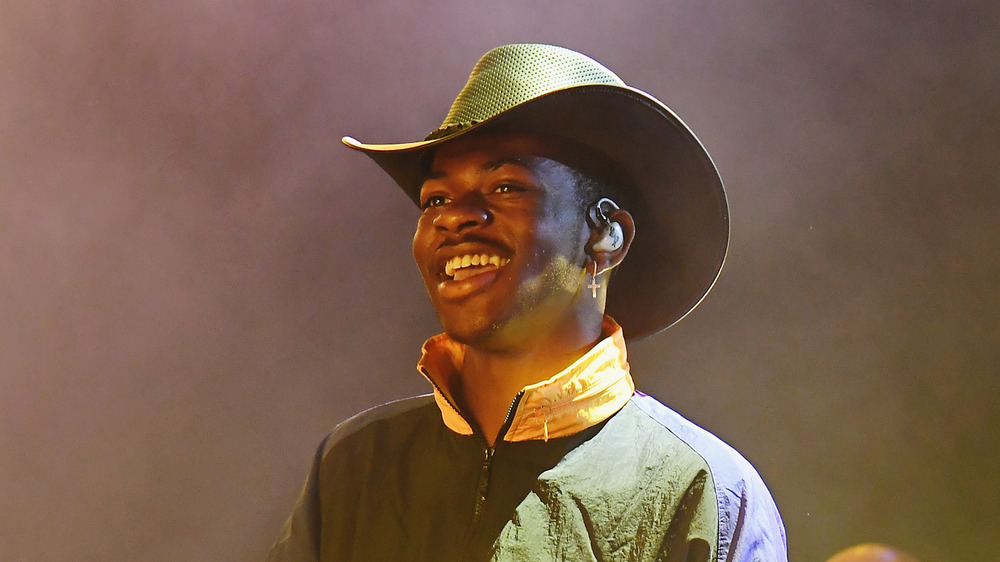 Nicholas Hunt/Getty Images
So why does Lil Nas X enjoy keeping his cowboy persona going, even well after the release of "Old Town Road"? The star elaborated on his Spaghetti Western-meets-Las Vegas look on the YouTube series Hot Ones on Nov. 26, 2020, explaining he has been able to identify with the frame of mind cowboy couture gives him. "With my career, it's guess it's like, how cowboys don't give too many f***s about what other people are gonna say about what they're gonna do...or whatever," Lil Nas X told Hot Ones. "And having to be super headstrong about that."
On another cultural level, it's empowering and refreshing how, per USA Today, Lil Nas "highlights Black cowboy culture throughout the U.S." Seeing Black musicians embrace a country look in music, in hip-hop, and in show business generally, is arguably overdue. Seeing Megan Thee Stallion twerk it up in cowboy getup, reflecting her Texas roots, feels deeply authentic. "Growing up here, off Almeda [Texas], you're just going to see black cowboys on the street," Solange Knowles said at a screening of her visual album When I Get Home in 2020, per USA Today. "I don't know who John Wayne is."
Meanwhile, Lil Nas X is releasing (yes) an illustrated children's book, C is For Country, in 2021. So the star is spreading his yeehaw gospel in even more ways than just his music, and it seems like his cowboy style is here to stay.