Miley Cyrus Reveals How Lil Nas X Was Inspired By Hannah Montana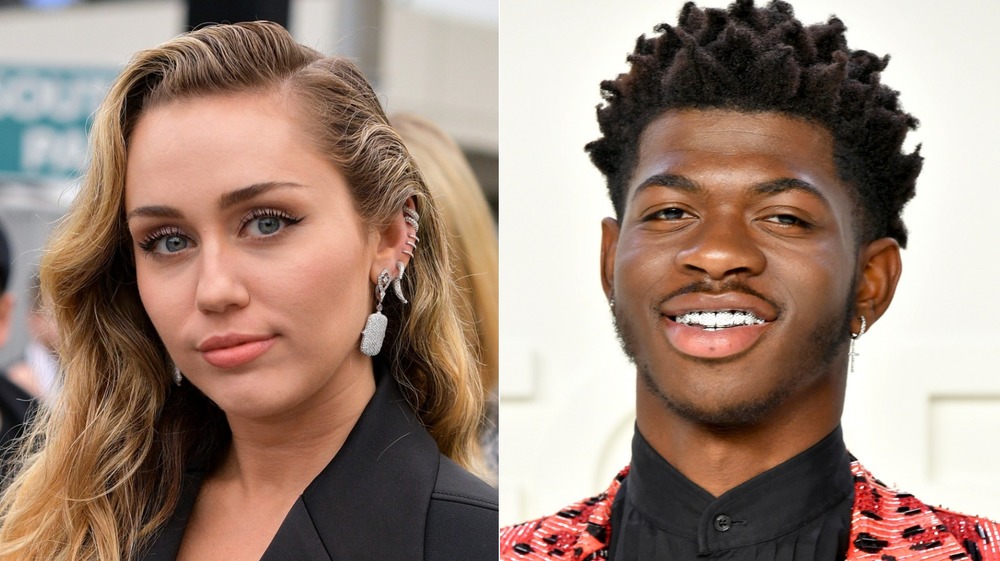 Matt Winkelmeyer, Amy Sussman/Getty Images
On Dec. 7, 2020, Miley Cyrus was hit by a "Wrecking Ball" of emotion when her glorious, hard-rocking album Plastic Hearts debuted at No. 1 on the Billboard Rock chart. "It's official," the superstar wrote on Instagram. "My mind is blown and my heart is overwhelmed with gratitude." And it's easy to see why. Whether she's working towards sobriety or just taking years of flack for that VMAs moment, it hasn't been easy "just being Miley." That being said, it feels like she's come out of 2020 stronger than ever, and amazingly reinvented.
Take Plastic Hearts' lead single, "Midnight Sky," which purposefully nods to '80s icons like Stevie Nicks (the two have even collaborated since). Miley wearing her influences on her sleeve is clearly a good look and sound, which reminds us of a little tune from 2019 called "Old Town Road." With a $30 beat found online, per GQ, and some humorous cowboy-inspired bars, Lil Nas X rode the single all the way to the top. In July 2019, the LGBTQ-identifying rapper's genre-bending debut track "broke the record for longest consecutive run in the No. 1 spot on the Billboard Hot 100 chart," per NBC News.
But aside from a beat that swung harder than a saloon door, Lil Nas X wisely collaborated with country great Billy Ray Cyrus, arguably giving it that extra country gravitas and something special. Here's the (Disney Channel-related) reason Lil Nas X wanted to work with Miley Cyrus' dad.
Miley Cyrus was an 'idol' for Lil Nas X as Hannah Montana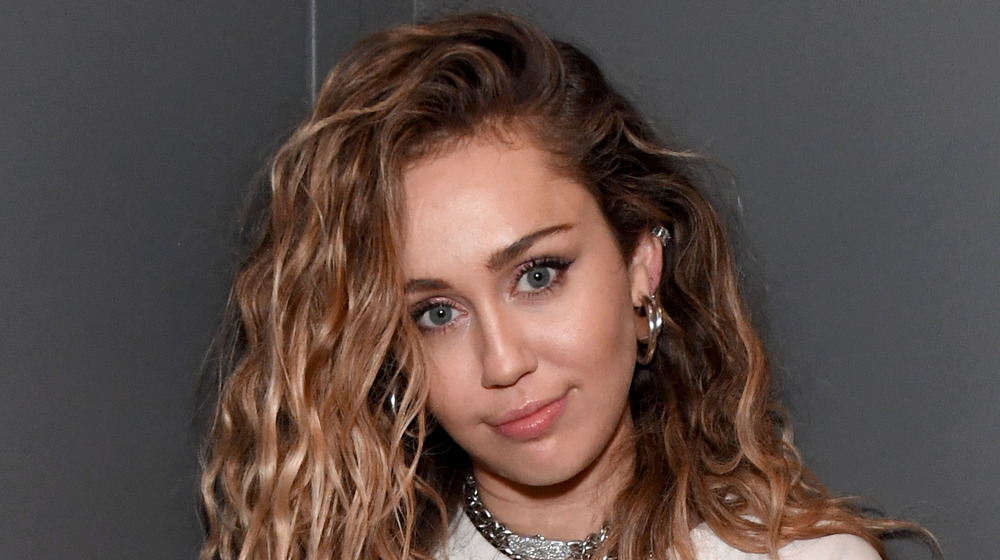 Kevin Mazur/Getty Images
So what's the connection between Lil Nas X, Miley Cyrus and dad Billy Ray Cyrus? It all traces back to Hannah Montana. Apparently, the "Old Town Road" rapper loved the show growing up, and that's why he reached out to Billy Ray for their now record-breaking track. "That's how Lil Nas X actually knew of my dad," Miley told Rolling Stone in a December 2020 interview. "He grew up watching Hannah Montana and said, 'I want to do a song with Robby Ray.' That's literally what happened." 
Hannah Montana was apparently an early "idol" for Lil Nas X. "I felt like I was never going to amount to the success of Hannah Montana," Cyrus told the outlet. However, she clearly surpassed the success of her Disney alter ego, inspiring people all over the world. "Being a young queer kid's idol that could turn out to be a Lil Nas X and create a whole identity for themselves off being inspired from watching me growing up." Apparently, Lil Nas X isn't the only LGBTQ artist who Miley felt she inspired. "...I hear artists like Troye Sivan say he felt more comfortable with his sexuality when I came out with [the song] 'My Heart Beats for Love'," she added. 
Meanwhile, Lil Nas X apparently loves kid shows in general. He acknowledged that his second hit song, "Panini," was based on a cartoon character. Well, without Miley Cyrus or her Disney Channel series, who knows where that "Old Town Road" would've led!