The Truth About Cher And Tom Cruise's Relationship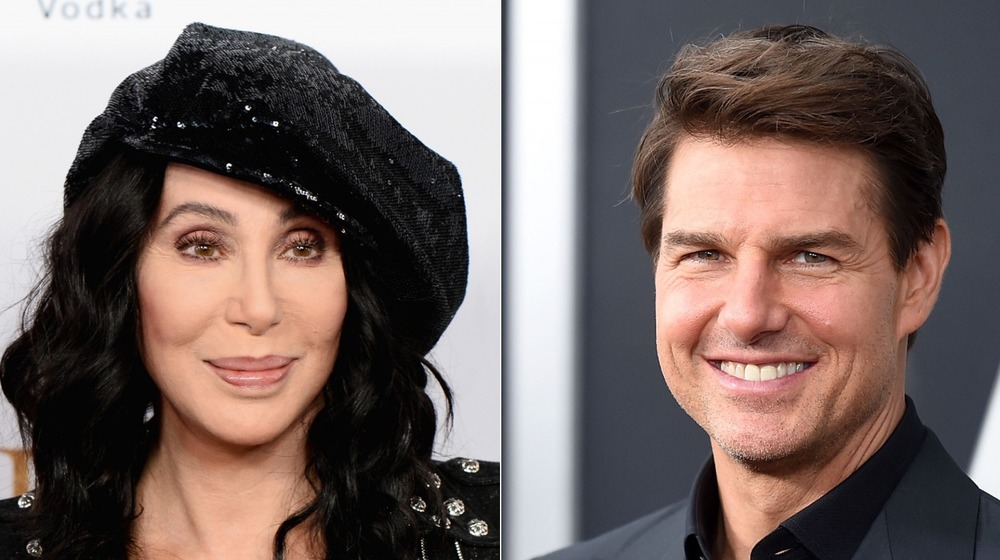 Tara Ziemba, Jamie Mccarthy/Getty Images
The legend that is Cher has arguably led one of the most fascinating lives. The singer and actress' career has spanned over five decades, and began when she burst onto the music scene as half of the musical duo Sonny & Cher. When you've been in show business for as long as Cher has, her personal life, and specifically the men she's dated, became tabloid fodder throughout the years.
Cher has been married twice, first to her Sonny & Cher partner, Sonny Bono, and then to Southern Rock legend Gregg Allman. Her dating history has become almost as legendary as her music. Cher dated her share of rock and pop stars such as Tommy Lee, Richie Sambora, Michael Bolton, Eric Clapton, and Gene Simmons. The "Believe" singer was romantically involved with numerous actors as well, including Warren Beatty, Paul Michael Glaser, Eric Stolz (who played her son in Mask), and Val Kilmer. As for Kilmer, Cher bragged to The Daily Mail, "[W]hen we kissed, I thought my head would shoot right off my body."
During a November 2010 interview on Watch What Happens Live, Cher revealed that she almost slept with Elvis Presley, but regretfully declined an invitation for a date. One famous actor who Cher did not turn down, though, was Tom Cruise. Continue reading to learn more about Cher and Tom Cruise's liaison.
Cher and Tom Cruise first bonded at The White House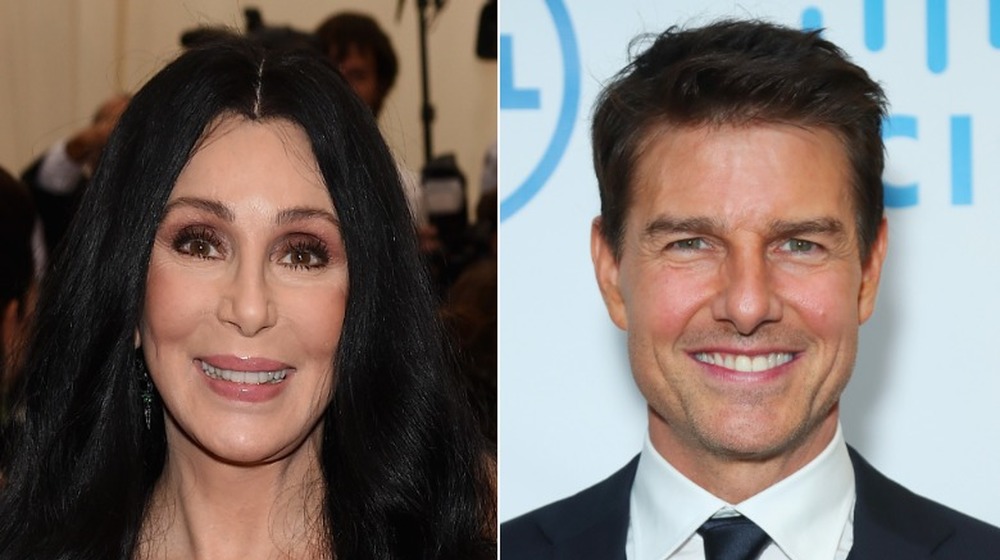 Dimitrios Kambouris, Leon Bennett/Getty Images
Cher, who is 16 years older than Tom Cruise, was introduced to the actor at Madonna and Sean Penn's 1985 wedding. The two reunited when they both attended an event at the White House. The pair found themselves bonding over something they had in common. "A bunch of people who were dyslexic were invited to the White House, and Tom and I are both dyslexic," she told The Daily Mail in 2018. "We didn't go out till way later, but there definitely was a connection there." While the former couple are still friends, she noted, "Though I don't get what he does, that whole Scientology thing. I can't understand it so I just... don't."
Cher first revealed she had dated Cruise during a May 2008 interview with Oprah Winfrey, per People. Cher told Oprah that she and Cruise shared more than a one night stand, revealing they had a "long date," adding, "I lived in his apartment." During the interview, Cher gushed over Cruise, telling Oprah, "I was so crazy about him. He was so wonderful ... And he was so, like, different. He was a shy boy. He didn't have any money."
During an interview with Good Morning America in February 2008, she said Cruise was "just the most adorable man you can imagine," but noted, per The Daily Mail, that he was not a Scientologist when they were dating. Keep scrolling to find out what Cher later revealed about Tom's "skills."
Cher reveals how Tom Cruise was in bed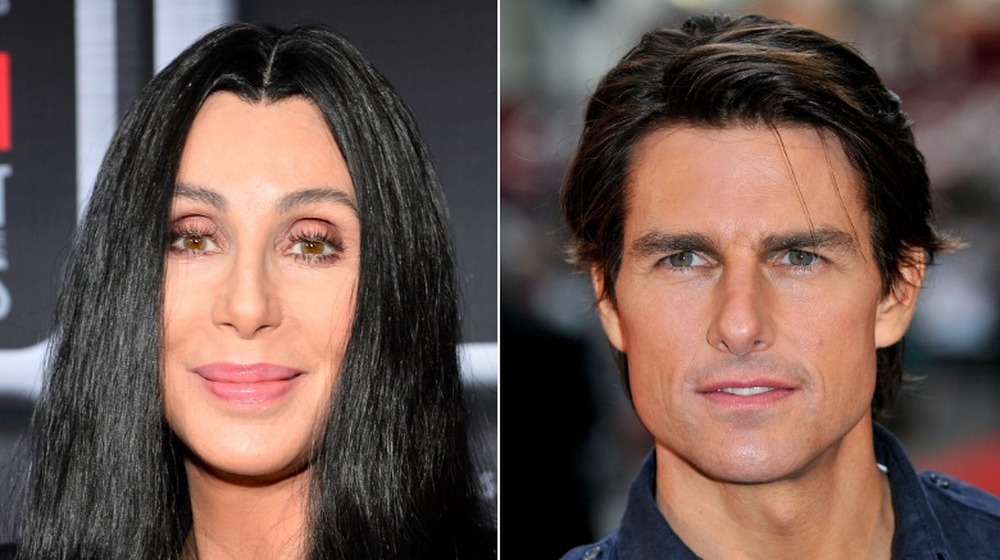 Frazer Harrison, Gareth Cattermole/Getty Images
During a 2013 appearance on Watch What Happens Live, while playing a game called "Truth or Cher," Cohen asked Cher where Tom Cruise fell on her best lovers' list. She then revealed, "he was in the top five. It's not a long list. It's just a good list." With sexual chemistry like that, you have to wonder what caused the pair to split up in 1985? It turns out their break up happened because of scheduling. Cher revealed to Entertainment Tonight (via HuffPost) "It was after Risky Business and right before The Color of Money. I couldn't go to Chicago and that was kind of the straw that broke the camel's back."
In 2018, Cher shared the news on Twitter that she was working on her autobiography, tweeting, "Writing Life Story Book Due Out First Part Of 2020 Bio Pic To Follow." Apparently, when Tom Cruise got word that Cher would be writing a tell-all book, he became a little worried. 
A source on the set of Tom's new film Top Gun 2 told the Daily Mirror that the 56-year-old actor wasn't exactly jumping on the couch with joy over Cher's new memoir, Honest. "Everyone knew he [Tom] wasn't happy," the source told the outlet, adding, "It seemed like a bit of a touchy subject." While Tom Cruise may not be thrilled about the yet to be released Cher memoir, we are waiting with anticipation for all the secrets that Cher may end up spilling!