Meryl Streep Almost Lost Her First Oscar Statue In A Strange Place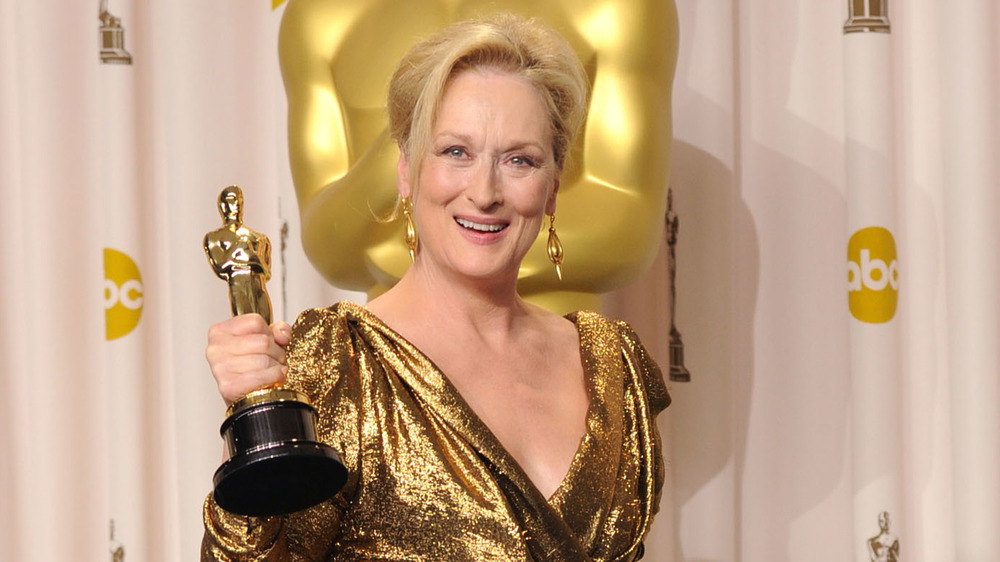 Jason Merritt/term/Getty Images
We may receive a commission on purchases made from links.
Actress Meryl Streep has enjoyed an acting career that is literally one for the record books. Streep has the most Oscar nominations of any actor or actress in history, with a whopping total of 21 as of 2020, per Variety. The late Katherine Hepburn has the second most nominations for an actress with 12, while actor Jack Nicholson has received 12 nominations as well.
Streep received her first Oscar nomination for her second film, 1978's The Deer Hunter, for actress in a supporting role. The 1982 film Sophie's Choice gave Streep her first actress in a leading role nomination and second win, and she won a third Oscar for her work as Margaret Thatcher in the 2011 film The Iron Lady. On the Oscar-winning totals front, Katherine Hepburn leads Streep with four wins, while Streep has three Oscar wins to her name. 
Two years after landing her first acting role in the 1977 TV movie, The Deadliest Season, Streep received her second Academy Award nomination for Kramer vs. Kramer. That's where she won her first-ever Oscar, in the actress in a supporting role category, for her performance as Joanna, who battles her husband (played by Dustin Hoffman) for custody of their son in the epic divorce courtroom drama. After receiving her trophy, the most unfortunate thing almost took place involving Meryl Streep's Oscar statue. Keep scrolling to find out what almost happened to her little golden man.
Meryl Streep left her Oscar on the bathroom floor at the Academy Awards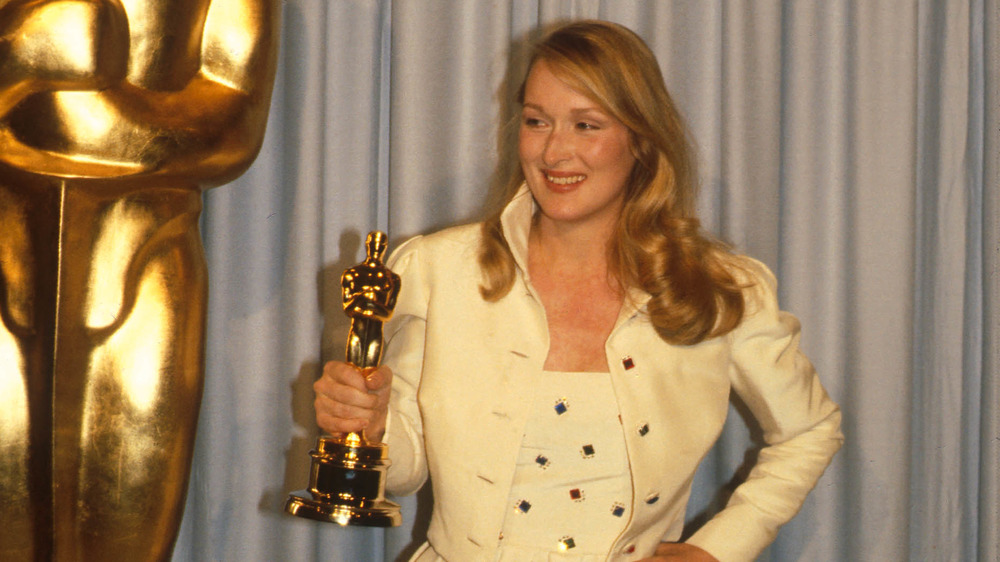 John T. Barr/Getty Images
Winning an Oscar must be a truly surreal experience, so much so that one probably doesn't have all their wits about them. That may have been just what happened to Meryl Streep in 1980, after winning her first Oscar for Kramer vs. Kramer. In a 2016 NPR interview, Michael Schulman, who wrote the Streep biography Her Again: Becoming Meryl Streep, revealed the actress almost lost her statue shortly after receiving the award. 
Following her win, Streep snuck into the ladies room and, well, forgot her statue as she exited. Of the moment, Shulman said, "As she was leaving the ladies room she heard someone say, 'Hey, someone left an Oscar in here,' and she realized she had left her statuette on the bathroom floor." 
Oops! It could happen to anyone, right? Well, anyone who has won an Oscar. No word on where Meryl Streep keeps her Oscars today, but we're guessing it is most likely not in her bathroom.