The Hilarious Encounter Felicity Jones Had With Stephen Hawking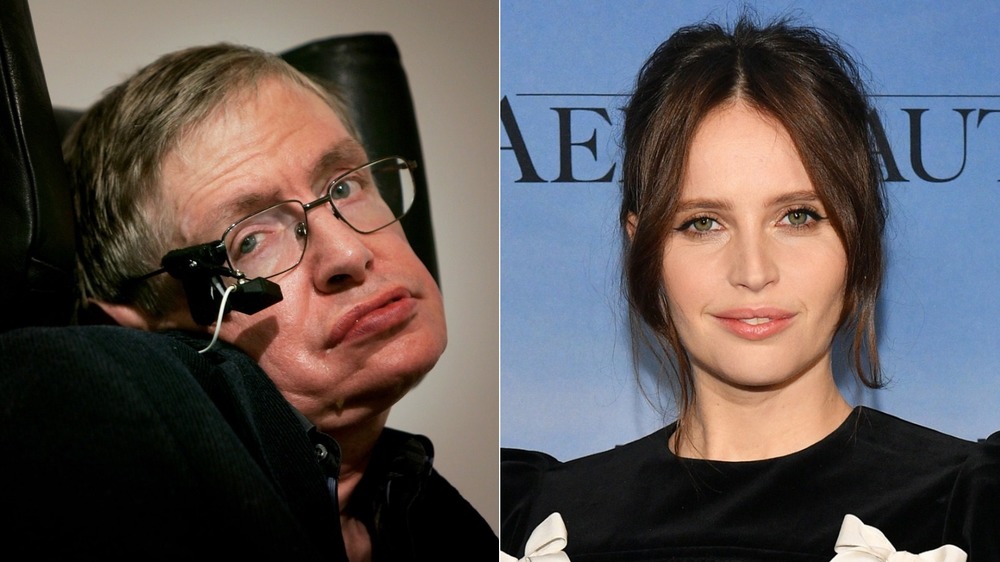 Bruno Vincent, Dia Dipasupil/Getty Images
Oscar-winning actress Felicity Jones has been acting since 1996, but it was her work in 2014's The Theory of Everything that garnered her international acclaim. The biopic tells the story of famed scientist Stephen Hawking (played by Eddie Redmayne) and his wife Jane Hawking (Jones), as the pair navigate the challenges of Stephen's motor neuron disease. With her husband's health rapidly deteriorating, it's up to Jane to register the physical and emotional strain of caring for him and their children, which she does at the expense of her own dreams. Based on Jane's 2007 memoir, Traveling to Infinity: My Life with Stephen, the film garnered rave reviews and had critics buzzing over both Jones' and Redmayne's respective performances.
Perhaps the authenticity the actors brought to the big screen was helped along by the fact that the real-life Hawkings were involved in the filming process. Jones describes meeting Jane for a cup of tea, whom she called "very, very open," and who would visit the set in Cambridge and restyle Redmayne's hair, insisting that "it wasn't like that" (via The Guardian). What, though, was the brilliant Mr. Hawking like I.R.L.? As Jones tells it, he was "a rock star" with charisma practically oozing from his pores, who charmed her from their very first encounter, maybe even a little too much.
Stephen Hawking asked Felicity Jones for a kiss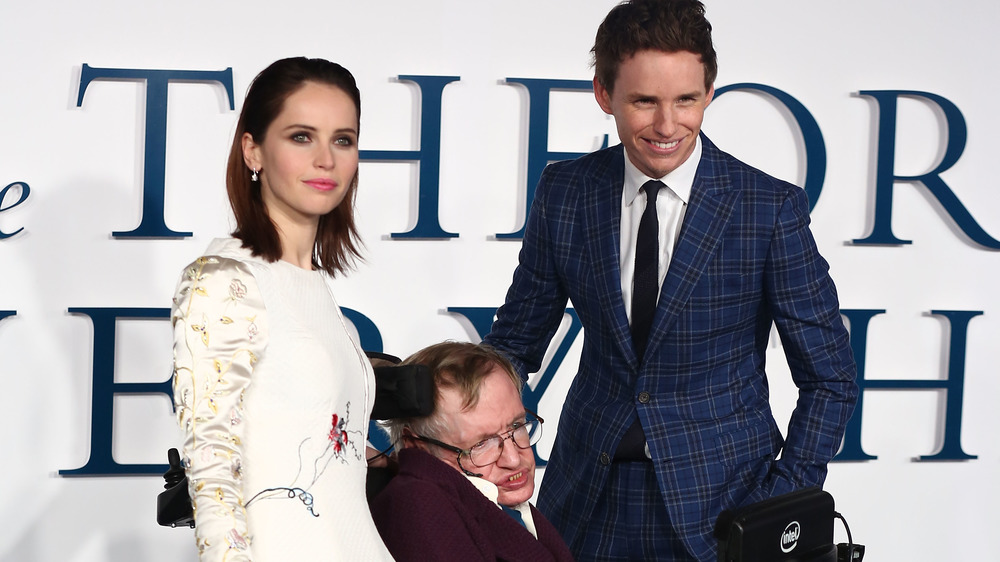 Tim P. Whitby/Getty Images
According to The Guardian, Felicity Jones first met Stephen Hawking when she and Eddie Redmayne shot the fireworks scene at the university ball, where Stephen and Jane kissed. The actress recounted her "amazing" vision of him, as he appeared backlit by the dramatic light display, with four nurses alongside him; quantum physics might be Hawking's forte, but he clearly knows a thing or two about making an entrance! It also looks like fireworks weren't the only sparks flying that day, as Hawking actually asked Jones for a kiss!
"He has a very flirtatious nature," Jones told Ryan Seacrest on the Oscars red carpet in 2015 (via People). "He's very, very charismatic; he has this ability to just command a room effortlessly." She admitted she could "hardly refuse" Hawking (per The Guardian), so we're left wondering what really happened that day. "When you first meet him you're really nervous and speaking too much and making a fool of yourself," she added, speaking with The Guardian, "and he's got an incredibly dry sense of humor and doesn't suffer fools. But he's everything you'd expect." Based on this encounter, it sounds like Hawking knew how to command a room just as well as Jones does!