Why Anne Hathaway's Dad Almost Got In A Fight With Zach Braff
John Shearer, George Pimentel/Getty Images
Zach Braff almost learned this lesson the hard way: Don't mess with Gerald Hathaway.
During an April 2020 conversation with his Scrubs costar Donald Faison on their podcast Fake Doctors, Real Friends, Braff shared the (now) funny story of the almost-confrontation between him and Anne Hathaway's dad at the 2012 Les Misérables premiere. It turns out, Gerald thought the Emmy nominee was Hathaway's ex Raffaello Follieri, and he was about to give him a piece of his mind before realizing the actor wasn't the disgraced real estate developer.
"I know Anne Hathaway as an acquaintance. I'm walking towards her to say congratulations," Braff said on the podcast, according to People. "Her father stands up and gives me this look like: 'I'm going to kill this motherf***er. He's got the balls to crash my daughter's premiere? I'm going to strangle him!'"
Fortunately, as the two men got closer to each other, Gerald realized Braff wasn't Follieri. "I got within 10 feet of [Hathaway's father] and his face just f***ing broke, sighed with a breath of relief realizing it was me and not the ex-boyfriend," Braff said on the podcast, according to People.
The situation gave Braff a fun story to share at parties, at least. And it wasn't the only time he's been mistaken for Follieri. People noted that Braff also shared on the podcast that Eddie Murphy once pointed out his doppelgänger status with Follieri, too. Now we wonder if Follieri was ever mistaken for Braff in prison!
Raffaello Follieri was sentenced to prison for four and a half years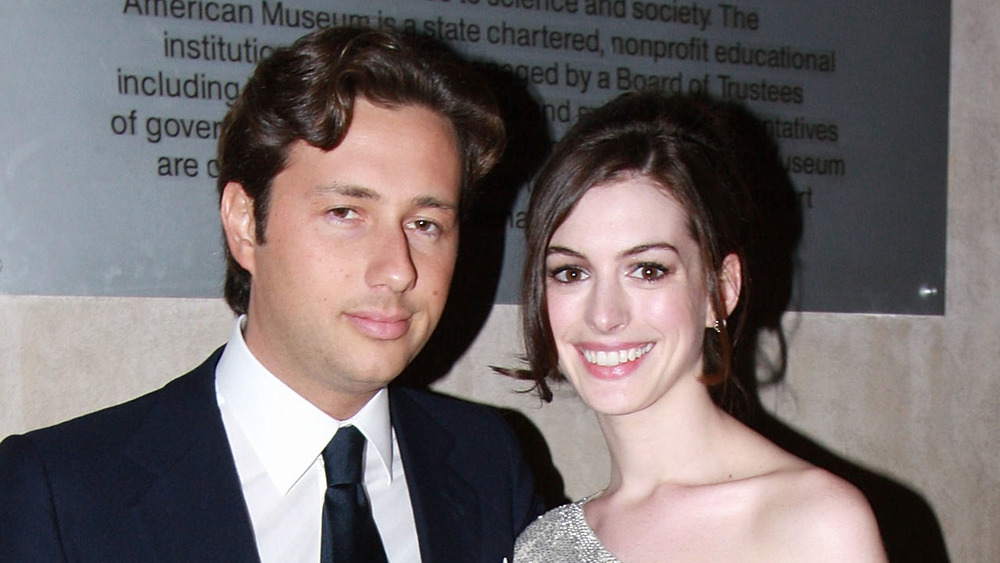 Will Ragozzino/Getty Images
Anne Hathaway dated Raffaello Follieri from 2004 to 2008. That same year, the Italian real estate developer was sentenced to 4.5 years in prison for "14 counts of wire fraud, money laundering, and conspiracy," People reported in October 2008. Follieri pleaded guilty. The magazine explained that the Oscar winner and Follieri had parted ways in June before he was arrested.
Follieri was released from prison in 2012, and he told RadarOnline in November 2019 that he's working on a memoir, which could include chapters on his time with Hathaway. For the actor's part, though, she's moved on. Hathaway married Adam Shulman in 2012, and they share two children, Jonathan and Jack.
"I hate talking about the breakup, because I don't want it to define me, but as is to be expected, there were a lot of lingering trust issues," Hathaway said to Vogue in 2010. But it sounds like that's all in the past, even if it was a pretty high-profile breakup. And Zach Braff will always have his odd connection to the former couple, too.