This Is What Donald Trump's Daily Diet Looks Like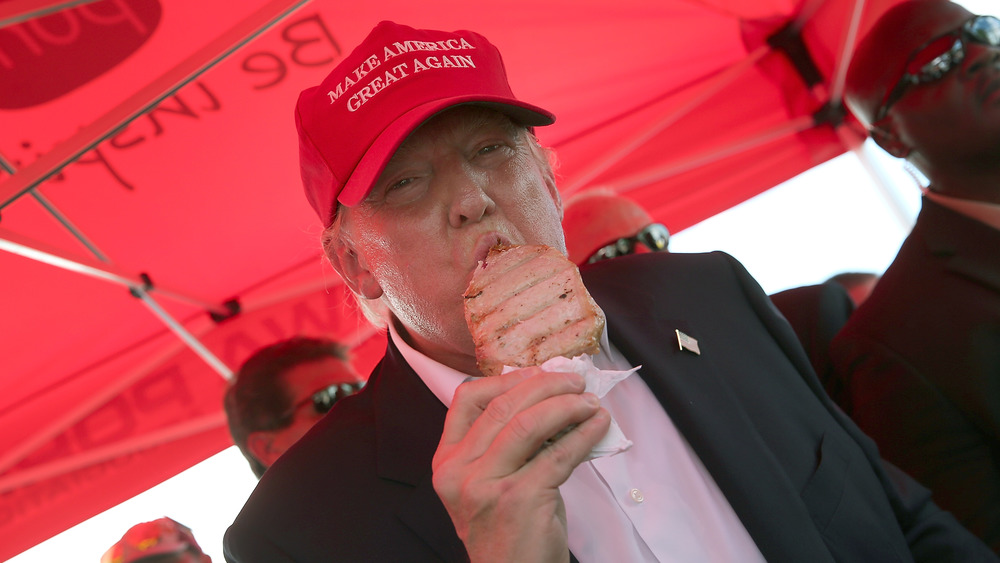 Win Mcnamee/Getty Images
Health and wellness are not exactly on President Donald Trump's list of priorities. The former real estate mogul has long been known for his love of fast food and anything hearty, despite being otherwise infatuated with luxury and opulence. Although drive thru doesn't always accommodate a limousine or a fleet of black SUVs, Trump has not lost his taste for the not-so-finer things in life.
In fact, his love for greasy and cheap cuisine goes all the way back to 2010, when he shared "25 Things You Don't Know About Me" with Us Weekly. He told the outlet he is a fan of hamburgers and he likes to eat lunch at his desk — a perfect recipe for fast food. Additionally, a great portion of Trump's list included some of his favorite treats, such as cherry-vanilla ice cream, See's Candy, and scraping the toppings off of pizza, telling the outlet, "I never eat the dough." [Insert New York's collective gasp here.] Keep scrolling for more details about Trump's interesting, yet tasty eating habits.
Donald Trump has an interesting take on fast food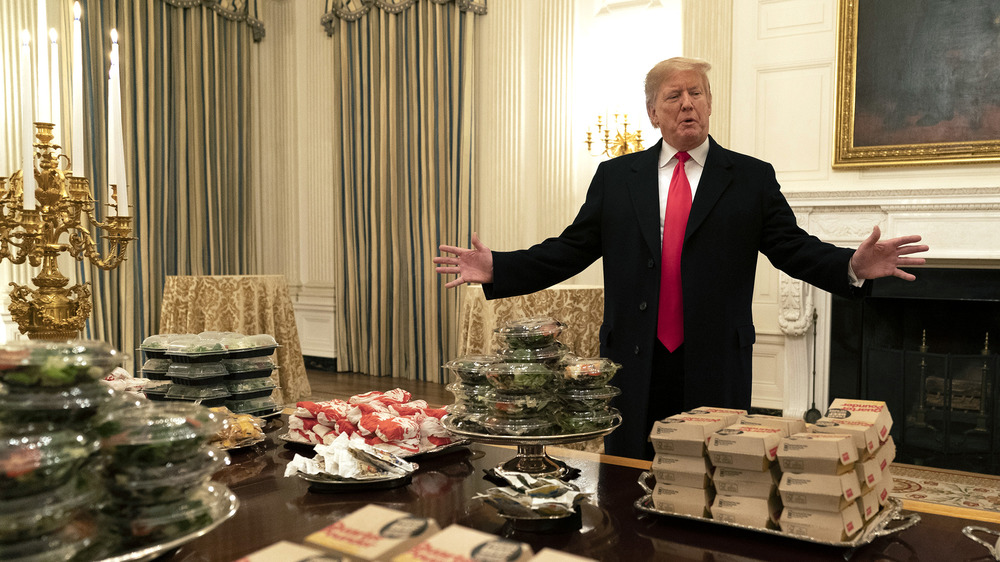 Pool/Getty Images
Many Americans have been deterred from indulging in fast food as we have learned more about the importance of nutrition, but Donald Trump actually finds comfort in the shocking, yet consistent calorie counts. During CNN's Republican presidential town hall back in 2016, he explained his appreciation for the mass-produced products. "It's great stuff," he told Anderson Cooper. "One bad hamburger, you can destroy McDonald's. One bad hamburger and you take Wendy's and all these other places and they're out of business," he said, explaining why fast food chains must produce quality food. "I like cleanliness, and I think you're better off going there than maybe some place that you have no idea where the food is coming from."
Although Trump does not have the healthiest taste buds, he also told Cooper, "I do as well as I can," when it comes to clean living. However, he might need to seek out a nutritionist since his idea of healthy eating involves fried chicken. He told the audience he had recently eaten KFC, adding that the delicacy is "not the worst thing in the world."
What does Donald Trump typically eat on any given day?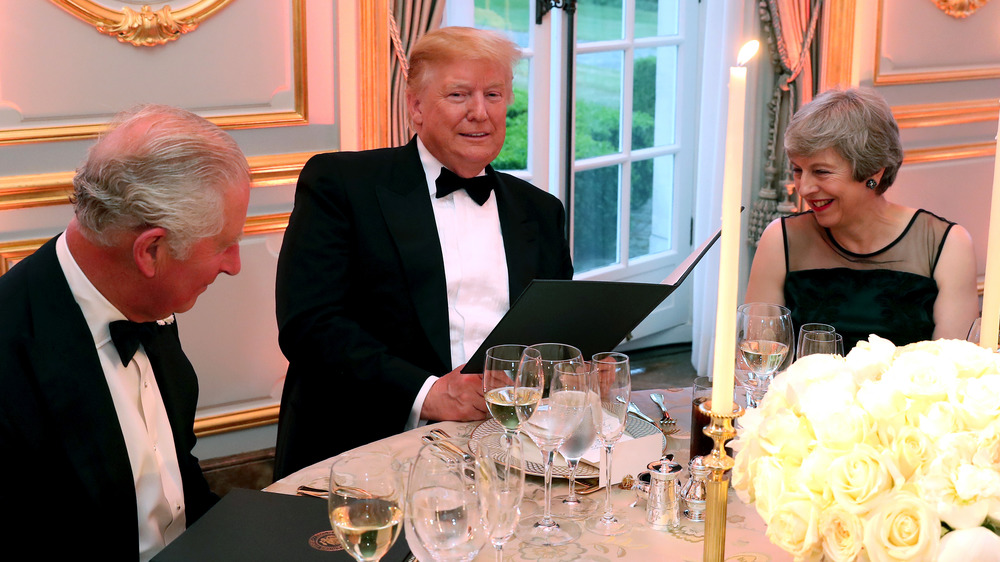 Chris Jackson/Getty Images
As for exactly what "The Don" eats in a day, he told People in 2016 that he usually skips breakfast, but if he does have the time for a morning bite, he prefers bacon and eggs. Donald Trump is not big on lunch either, but he does love the White House's meatloaf and often serves it to his guests who stop by for a midday snack, including former president Barack Obama and former New Jersey governor Chris Christie. When it comes to his favorite meal, Trump said, "my big thing is dinner," while speaking with Jesse Watters in 2016.
As for what's on the menu, the dinner he served Prince Charles and Camilla, Duchess of Cornwall, gives us a good idea of his typical weekday meal. According to InStyle, he served the royals "Grilled Filet of Beef" and "Pommes Anna," which basically translates to steak and potatoes. Of course, Trump is particular about his steak. A former butler of his told The New York Times that Trump likes his steak so well done that "it would rock on the plate." Mmm, sounds tasty.