What Happened To Lucy Aragon After The Bachelor?
Jesse Grant/Getty Images
Lucy Aragon appeared on Juan Pablo Galavis' season of The Bachelor in 2014. Of course, the season was quite memorable for a myriad of reasons, and many would agree that Lucy dodged a bullet by not making it too far into the battle for Juan Pablo's heart.
Lucy was not too heartbroken over her split from Juan Pablo, and even made up a silly song about his season when it aired for the world to see, per US Weekly. Dissing his frustrating "It's okay" comeback that Bachelor Nation grew to absolutely loathe, she named the tune "Ess Okay" and sang about each girl he sent home leading up to his final two, hair stylist Clare Crawley and nurse Nikki Ferrell. "Sent my a** home 'cause I was always in the nude. You ain't ready for this jelly, 'cause you're kind of a prude," she sang about her own breakup. 
Part of Lucy's "free spirit" persona was that she truly loves being free in every sense of the word: free to travel wherever, free to do as she feels, and free to embrace her naked body. It has been more than five years since Bachelor Nation saw Lucy on reality TV, so that begs the question: What happened to Lucy Aragon after The Bachelor?
Lucy Aragon has been living her best free like after The Bachelor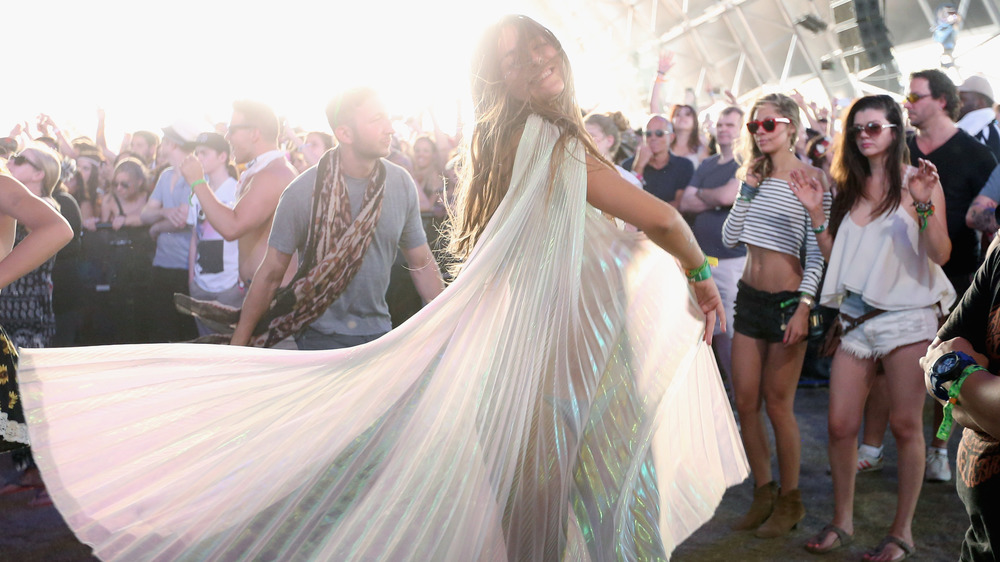 Mark Davis/Getty Images
Lucy Aragon, who now goes by Lucinda, is still the freest of free spirits. She is naked in her Instagram profile photo, and if that does not show how free she is, her biography will. Lucy claims she is "not an influencer," but an "adventurer," "citizen of the world" and, of course, a "free spirit." She has traveled to 92 countries and has attended 12 Burning Man events — and her photos truly show that her life is an adventurer's dream.
Lucy has also used her "not an influencer" platform to advocate for what she believes in, and suggests that she tries to "make everybody feel like a somebody (unless they're racist)." She puts her words into action by attending Pride parades, Black Lives Matter marches, and protests against Donald Trump. 
And last, but certainly not least, Lucy has found love. She announced her engagement to her boyfriend of several years, James Williams, founder of Floyd Mayweather's fitness brand, on Dec. 31, 2020. "Yes to every single thing about you, " she wrote on Instagram alongside photos of herself looking super shocked by the proposal. While Lucy likes being free, it seems she would rather be locked down when it comes to this area of her life. Congrats to the happy couple!