The Truth About Larry King's Children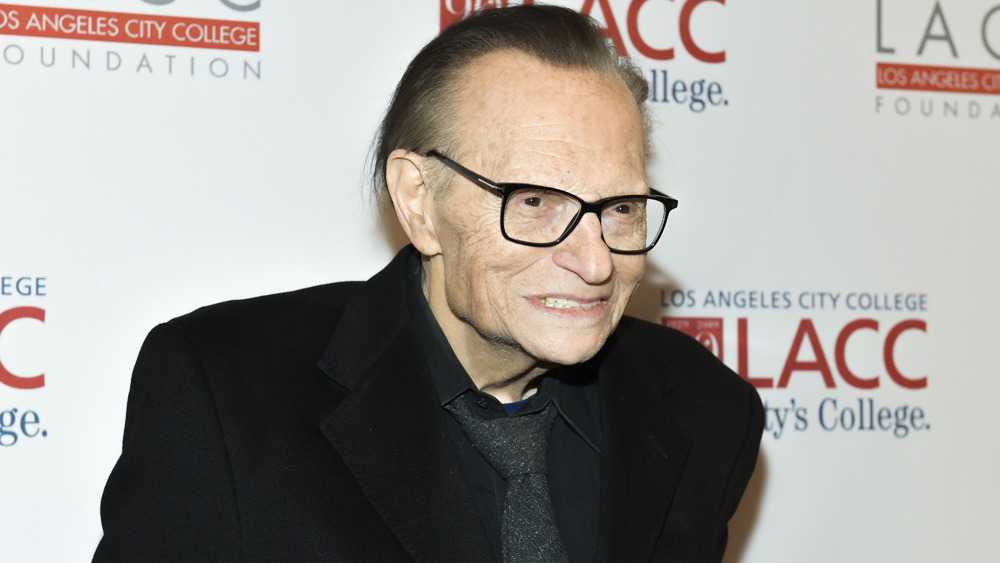 Rodin Eckenroth/Getty Images
Larry King is beloved across the nation for his long-running series Larry King Live, as well as his appearances in movies like Ghostbusters and Enemy of the State. King has been nominated for four Daytime Emmy Awards, as well as five News & Documentary Emmy Awards, two of which he won. And in 2011, King received the Emmys Lifetime Achievement Award. Yet, while fans are familiar with King's on-screen work, his personal life is more of a mystery. For instance, did you know that King had five children and has seven ex-wives?
After King was diagnosed with coronavirus in December 2020, fans may be curious about the star's personal life, including his family members. People reported on Jan. 2, 2020, that King had been hospitalized with the disease. In the magazine's report, People noted that two of King's children — 65-year-old Andy King and 51-year-old Chaia King — predeceased the famed talk show host in 2020.
Chaia, who died on Aug. 20, 2020, had suffered from lung cancer, while Andy suffered a heart attack and died on July 28, 2020. Chaia was the talk show host's daughter with his ex-wife Alene Akins, while Andy was Akins' son from an earlier relationship, whom the Emmy-winner adopted during the couple's marriage.
In addition to the two children he lost last year, Larry King has three more children: Larry King Jr., Cannon King, and Chance King. Here's what you need to know about the King children and what the talk show host has said about his tragic loss.
Two of Larry King's children passed away and two are in college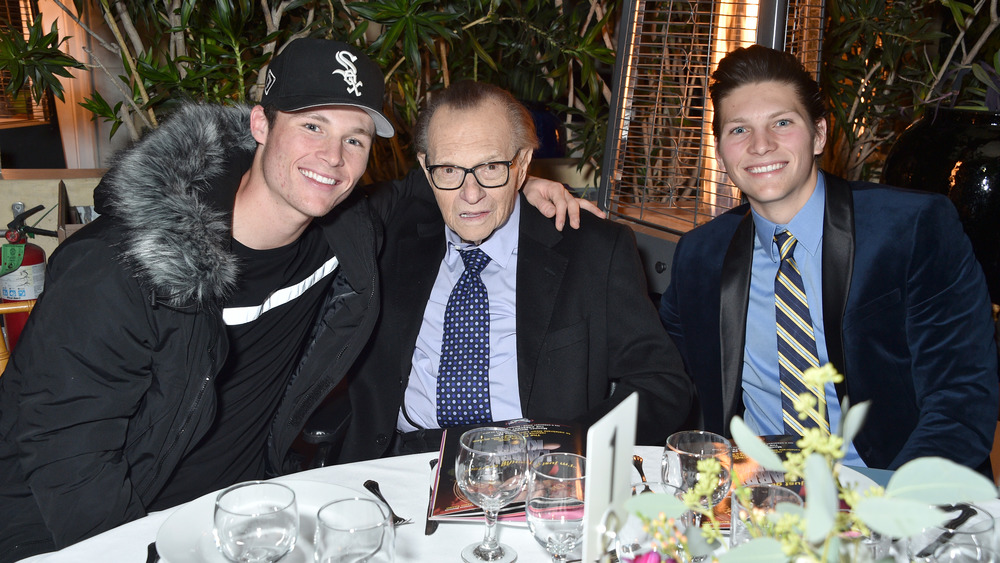 Gregg Deguire/Getty Images
In a Facebook post from Aug. 22, 2020, Larry King expressed grief for the loss of his children Andy King and Chaia King. "Losing them feels so out of order. No parent should have to bury a child," the talk show host wrote of his children's deaths.
As for Larry's three living children, Larry King Jr. is his son with ex-wife Annette Kaye, while Cannon and Chance King are his children with estranged wife Shawn Southwick. However, Larry did not acknowledge his eldest child, Larry King Jr., until 2009, when his son was 33, The New York Post reported at the time. "I knew there was a Larry King Jr. out there, I'd heard that, but I didn't know he was mine. The marriage was very short, and she told me, 'If it's a boy, I'm gonna name him Larry King Jr.,'" Larry told the newspaper. "Then I never heard again."
Cannon and Chance, meanwhile, are currently in college. Chance King is a student at the University of Southern California, while Cannon King attends West Los Angeles College. Larry King and Shawn Southwick announced they were divorcing in August 2019, just months after Larry suffered a stroke that March. Now, fans are rallying for Larry's recovery from the coronavirus, and it is safe to say that his three living children are doing the same.