Some People Aren't Happy With Joanna Gaines' New Cooking Show. Here's Why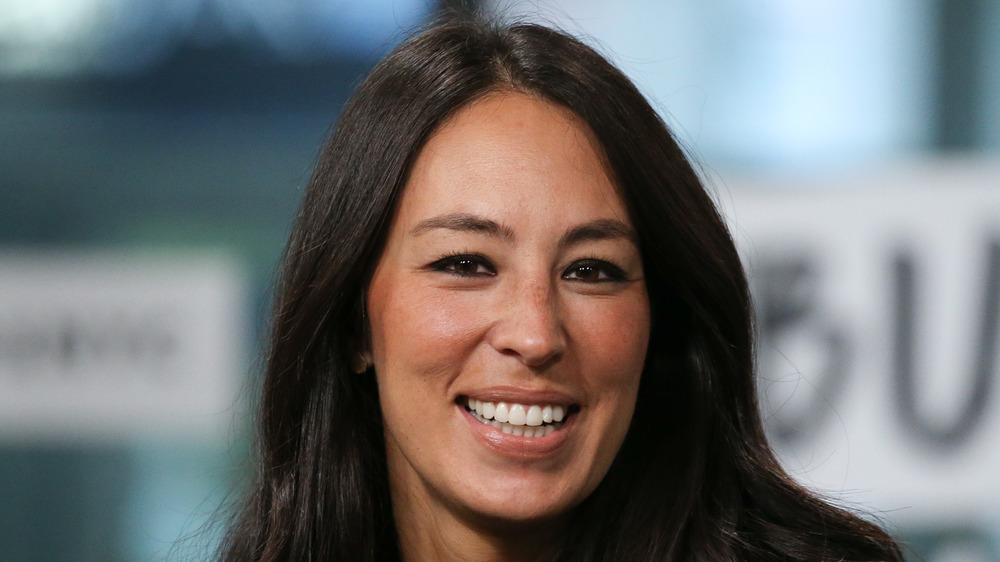 Rob Kim/Getty Images
Joanna Gaines' new cooking show, Magnolia Table, proves she may not be Martha Stewart just yet. Magnolia Table debuted on Food Network and Discovery+ on Jan. 4, 2021, and the internet is feeling that the star is better off sticking with shiplap, not shish kabobs. 
If you don't know about the home renovation superstar by now, you may be living under a rock, or a house without an open kitchen. Joanna Gaines first blew up on HGTV's record-breaking Fixer Upper, which features Joanna and her hubby Chip Gaines's house-flipping business in Waco, Texas. Who doesn't love seeing Chip Gaines kick down a wall during demo day, or Joanna turn a grandparents' heirloom into a dining room table? The Gaines couple, and especially Joanna, have a down-to-earth demeanor that clearly works for countless fans. Impressive! 
Since Gaines clearly knows how to host a show, what's the problem with Magnolia Table? Her kitchen skills, apparently. Some viewers feel her recipes aren't cutting it, either (no pun intended). Scroll down for what people are saying about Joanna Gaines' new show.
Viewers are roasting Joanna Gaines' cooking
Cooking may not be one of Joanna Gaines' biggest strengths. The Wrap pointed out her clumsy lemon-zesting technique, and Gaines even writes off her own knife skills in the Magnolia Table trailer. "If you're looking to learn how to cut things, this is not the show for you," she explains.
The internet is also finding Gaines' recipes to be a little too simplistic. One Redditor wrote, "Personally I loved her as a designer ... Flash forward to this cooking show and it's terrible. She's making to many adlib additions. It seems like she doesn't know what she's doing. It's honestly a hot mess." Ouch. 
In that Reddit user's defense, Gaines' Lebanese Salad recipe from Episode 1 is pretty bare-bones, involving mainly cucumber, tomato, salt, pepper, and lemon. And that's the main course of the episode. "If this Magnolia Table with Joanna Gaines show is an attempt to get me to subscribe to Discovery Plus, um, I'll pass @FoodNetwork. I'll take that kitchen though," wrote one Twitter user. "I can't watch the news anymore, but I still can't stomach Magnolia Table on Discovery+," wrote another. 
Meanwhile, other viewers are actually enjoying that Joanna Gaines' recipes are so beginner-friendly and think her famously bright demeanor works well in this new genre. "Tuning into @FoodNetwork right now to watch #MagnoliaTable episodes! Put @joannagaines on my TV anytime!" one Twitter user gushed. "real, relatable, sensible, achievable – words that ran through my head watching #MagnoliaTable @joannagaines last night," wrote another. 
Clearly Joanna Gaines is killing it, regardless of how nuanced her recipes are!