The Selling Sunset Star Who Was Inspired By Lady Gaga's Meat Dress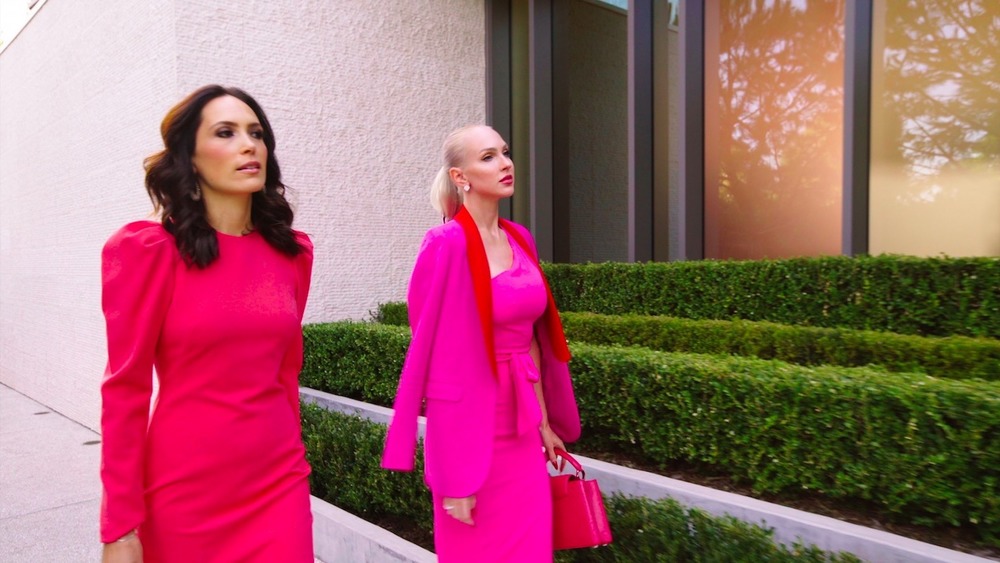 Netflix
Christine Quinn of Selling Sunset, the reality show's signature mean girl, is known for her love of over-the-top fashion. Her platinum blonde ponytails, stiletto heels, and head-to-toe designer looks have even landed the real estate agent an interview in Vogue, in which she revealed that her top three favorite labels are Louis Vuitton, Balenciaga, and Gucci. Also, she owns "around" 400 pairs of heels and "probably" 75 pairs of slippers, she told the outlet. The reality star also opened up about how she first started to get interested in fashion.
"When I was a teenager, my parents couldn't afford any clothes growing up, so I was always given my sister's clothes. I would go and make crop tops out of sweatshirts, and I would make my clothes tighter," Christine told Vogue. "Even though my clothes were from Kmart or Walmart, I was still having fun with making it look like it was always really cool and different. My style was always over-the-top in school."
Between working for the Oppenheim Group and becoming a Netflix reality star, Christine can now afford all the clothes of her dreams, and she's even working on a fashion line of her own. In a conversation with Fashionista, Christine said that her personal style is "very stripper chic," explaining that she no longer worries about a traditional real estate agent dress code. For the next season of Selling Sunset, Christine plans to push the envelope even more — and she even compared her own approach to Lady Gaga's meat dress.
Christine Quinn will never stop outdoing herself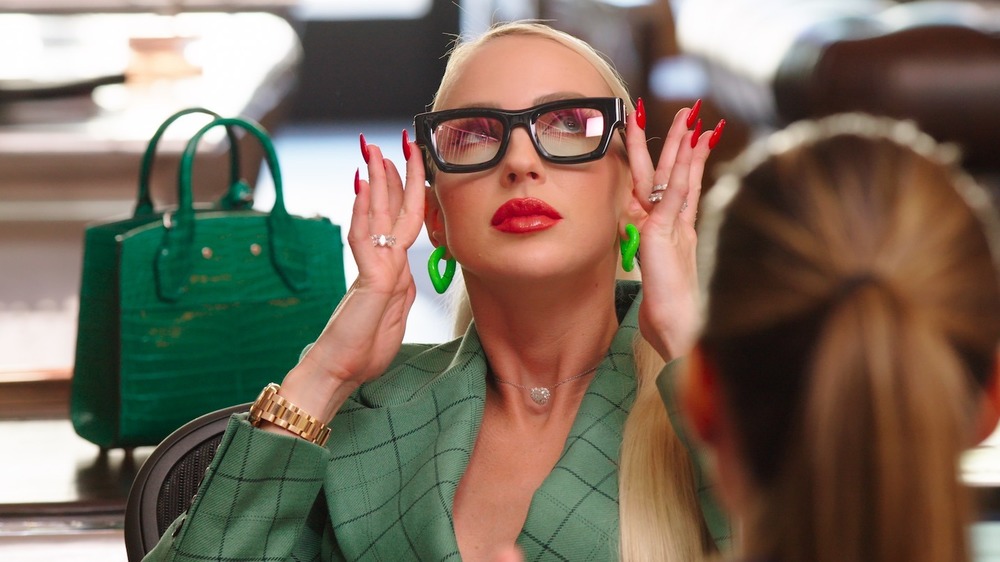 Netflix
During her first three seasons of Selling Sunset, Christine Quinn added a number of fashionably outrageous outfits to her resume, like that time she wore leather capris, a motorcycle jacket, and neon green heels to show a house to clients, or when she wore a rainbow fur jacket with a feathered felt hat.
In December 2020, Christine chatted with The Guardian about how she plans on "wowing fans with her wardrobe" on the next season of Selling Sunset in 2021. Christine explained, "It's like Lady Gaga and the meat dress, because I don't know what the hell I'm gonna do next – I feel like I set the bar so high!" Of course, Christine was referencing the unforgettable moment when Lady Gaga wore a dress made out of raw beef to the 2010 MTV Video Music Awards. While Christine has never worn anything quite so bizarre, she definitely shares Gaga's fearless desire to outdo herself time and time again.
Christine added that she wants to continue to be her own stylist, rather than hiring a pro. "I have so many people who are like, "I want to style you" but I'm like, no, that's not me," she said. Lastly, she plans to wear some designers that she loves that "aren't as popular," explaining, "I want to support designers that are doing dope s**t and need to be recognized. That's my goal for the next season."