The Truth About Liz Cheney And Donald Trump's Relationship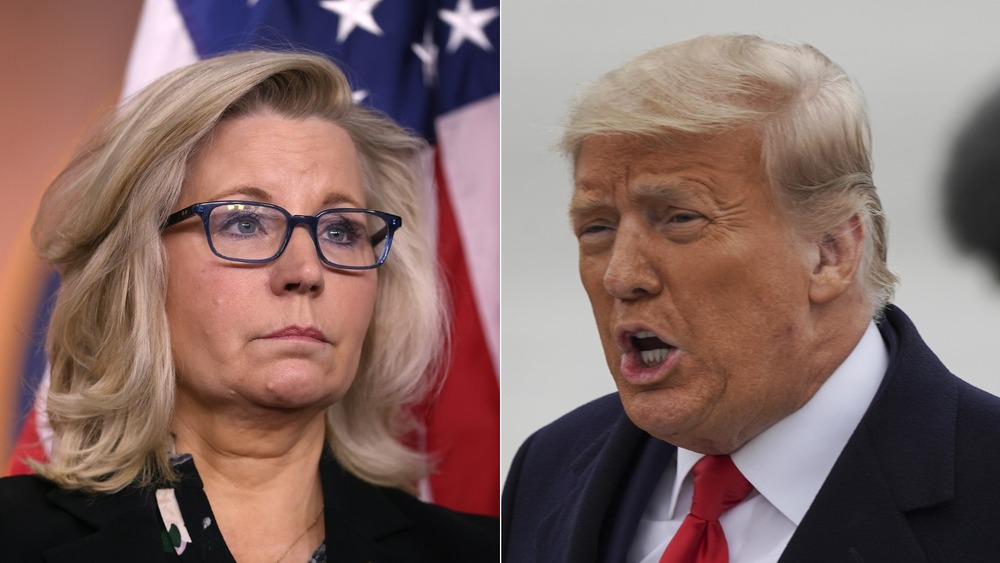 Chip Somodevilla, Go Nakamura/Getty Images
In a history-making move, the House of Representatives voted on Jan. 13, 2021 to impeach President Donald Trump for a second time, making him the only U.S. leader in history to be impeached twice.
The move to impeach Trump was made after Jan. 6, 2021, when right-wing insurrectionists breached security at the U.S. Capitol in an attempt to interrupt the final certification of President-elect Joe Biden's win of the 2020 election. Legislators in favor of impeachment contended that the riot was a direct response to speeches given by Trump, as well as his personal lawyer Rudy Giuliani, at a rally earlier that day. They say this makes Trump culpable of "willfully inciting violence against the government of the United States," according to the articles of impeachment, per MassLive.
The move to impeach Trump only days before Biden's inauguration was hardly a surprise coming from his opponents on the left. But the same can't be said about the amount of bipartisan support the impeachment has received overall. Even more shocking are the names of Republican lawmakers who have announced their support of the bill, among which is none other than House Representative Liz Cheney, the daughter of former Vice President Dick Cheney. So what's the story behind Cheney's sudden call to oust Trump from office?
Liz Cheney says Trump 'lit the flame of this attack'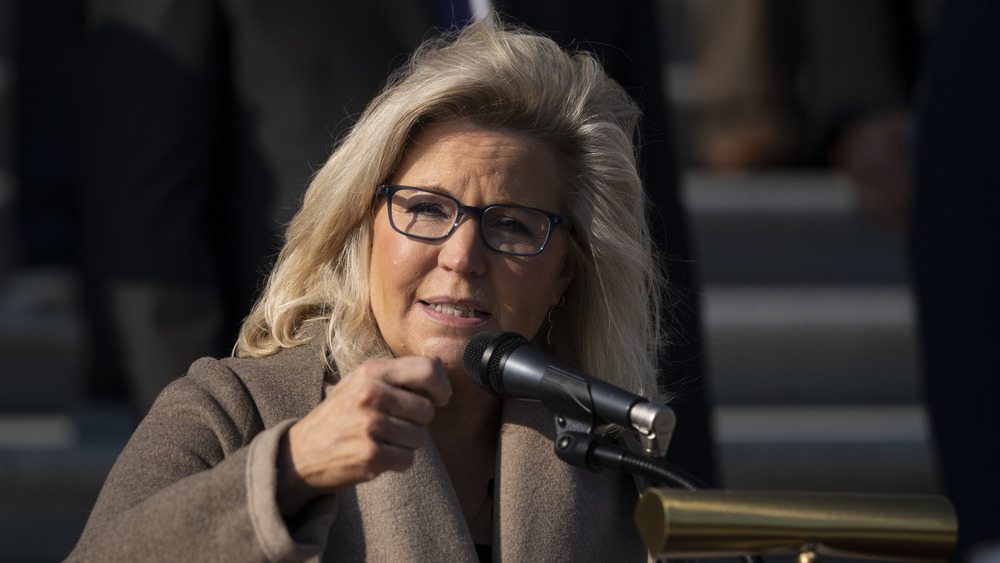 Drew Angerer/Getty Images
The New York Post shared Wyoming House Representative Liz Cheney's statement of intent to vote in favor of the impeachment, which was spearheaded by Democratic lawmakers Ilhan Omar and Ayanna Pressley.
"On January 6, 2021 a violent mob attacked the United States Capitol to obstruct the process of our democracy and stop the counting of presidential electoral votes," Cheney's statement reads. "This insurrection caused injury, death and destruction in the most sacred space in our Republic." She then added her own thoughts regarding Trump's role in the matter. "The President of the United States summoned this mob, assembled the mob, and lit the flame of this attack," Cheney continued. "Everything that followed was his doing."
Since Cheney's show of support for Trump's impeachment, however, Bloomberg noted that at least three of her fellow conservative party members have since called her to step down from office. One of Cheney's detractors, Representative Matt Rosendale, went as far as to accuse Cheney of "weakening" the Republican party. The reason? Per Rosendale, for "personal gain," as Bloomberg reported.
Trump talked about Liz Cheney at the rally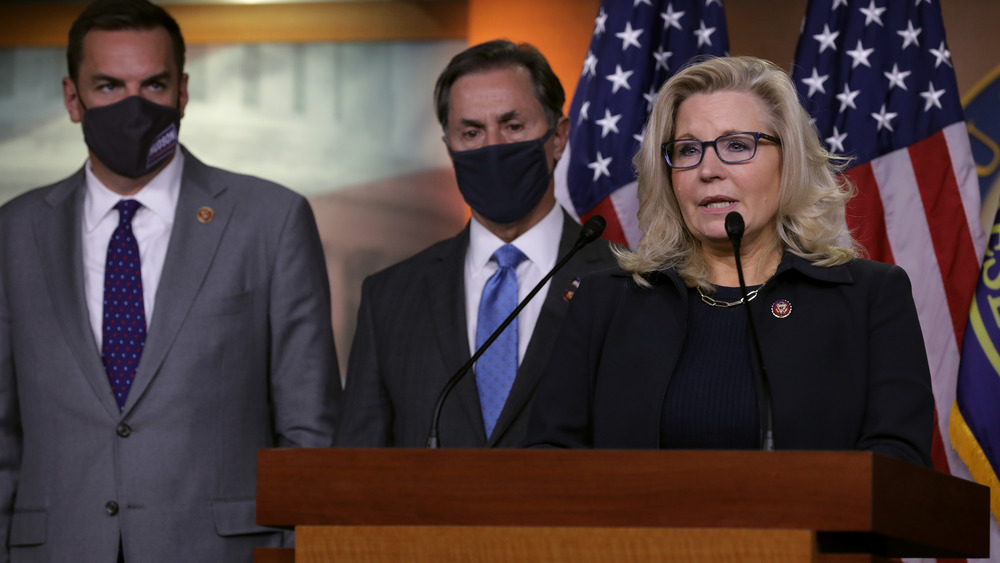 Chip Somodevilla/Getty Images
Adding to the controversy of Representative Liz Cheney's public backing of Donald Trump's second impeachment is her past relationship with Trump, which has frequently been rife with contention. Cheney, who Bloomberg noted has not been a stranger to breaking from Trump on issues of legislation and security, came under fire by Trump and his supporters after the president urged voters to "get rid" of Cheney and boot her from her House seat — during the very rally on Jan. 6 that purportedly spurred some attendees to mob the Capitol building, per The New York Post.
"We've got to get rid of the weak congresspeople, the ones that aren't any good, the Liz Cheney's of the world, we got to get rid of them," Trump said at the time, per the Post.
During Trump's first House impeachment in December 2019, no members of the Republican party voted in favor of impeachment. This time around, however, Cheney was one of 10 GOP legislators to vote in support of the measure less than a year after the Senate ultimately acquitted Trump in February 2020, per NPR.
As for calls to have Cheney resign office? According to Bloomberg, Cheney dismissed them outright, telling reporters that she's "not going anywhere."