Trevor Noah's Net Worth Is Higher Than You Think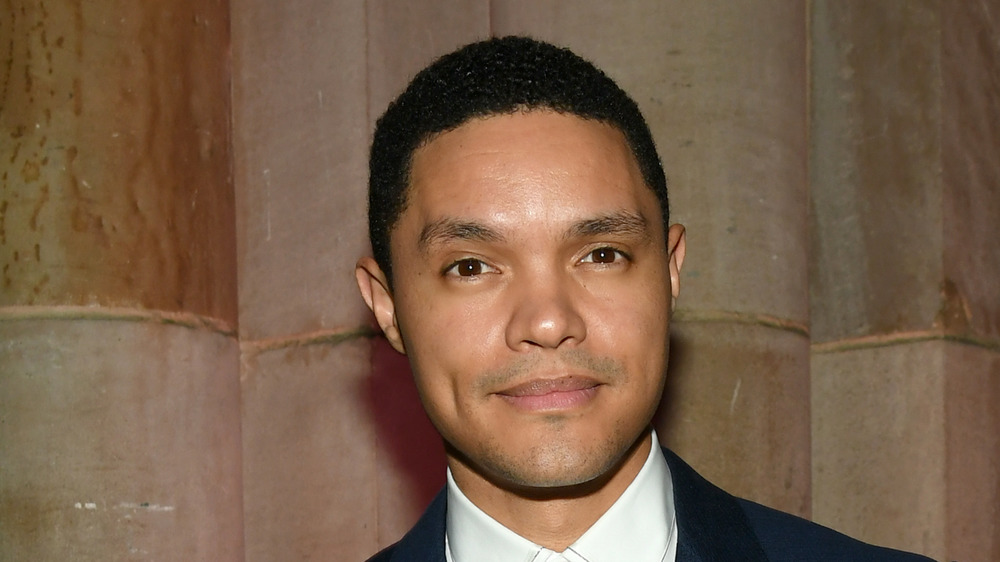 Mike Coppola/Getty Images
We may receive a commission on purchases made from links.
When the relatively unknown South African native and comedian Trevor Noah replaced Jon Stewart as host of Comedy Central's The Daily Show in 2015, he had big shoes to fill. Let's be honest: they were Shaq-sized. 
From 1999 until 2015, Stewart was a guiding light and trusted source of satire, becoming, pop-culture wise, as popular as some of the political figures he was poking fun at. From his gentle handling of the 9/11 attacks to his coverage of the controversial Iraq War, per NPR, Stewart was "satirist supreme." Alongside The Colbert Show, satirical news truly took on a new level of relevance during the 2000s, tapping into a need for Americans to laugh but also be informed. "Jon was the voice of the viewer," The Daily Show co-creator Lizz Winstead told NPR. "I think the viewer ... saw somebody who was speaking for them as they also observed the absurdity of the day."
When It can time for Trevor Noah's turn in 2012, fans were skeptical; he was only a correspondent at the time, and meanwhile, some of his troublesome early tweets were surfacing. But since then, the host has lived up to the hype. Trevor Noah is now Emmy Award-winning and a hugely popular and looked-to media figure. He's even a go-to award show host and is helming the 2021 Grammy Awards (whenever that may be). He also has the net worth to prove it, and then some. Scroll down to find out Trevor Noah's impressive net worth.
Trevor Noah makes so much money, it's not even funny
Amy Sussman/Getty Images
So what is Trevor Noah's net worth? It's not too shabby. 
According to Celebrity Net Worth, when he first began hosting The Daily Show, his salary was $5-8 million — low compared to Jon Stewart's yearly $25+ million — but in 2017, Noah signed a contract with Viacom that now brings him $16 million yearly. That's pretty amazing for a comedian who grew up in South Africa during dangerous times. Noah has also developed other TV shows, like The Opposition with Jordan Klepper, and appeared in films like Black Panther. He's also written a best-selling memoir about his upbringing. In other words, he's risen to expectations. His net worth today, per Celebrity Net Worth, is $100 million. Who's laughing now?
Real estate-wise, Trevor Noah knows how to spend his money. In 2017, according to Curbed New York, he paid $10 million for a Manhattan penthouse ranging two floors and featuring a stunning terrace. In 2019, he purchased a $20.5 million mansion in Bel-Air, Calif., which he later let go. Instead, in late 2020, he bought a new Bel-Air paid that spans 11,000 square feet. It includes six bedrooms, 11 bathrooms, a movie theater, rooftop terrace, a cabana with a bar, and an infinity pool, per Los Angeles Times. You may have once doubted him, but now, Trevor Noah is a huge name in the entertainment industry, and living large.