The Truth About Samantha And Meghan Markle's Childhood Together
Everyone has family drama, but Meghan Markle's family issues make headlines worldwide. Meghan and her half-sister Samantha Markle have not spoken in over eight years, as per InTouch Weekly. Samantha has been extremely critical of her younger sister for years, and now she is publishing a tell-all book, The Diary of Princess Pushy's Sister — Part 1. According to Marie Claire, the memoir will go on sale on Jan. 17, 2020.

The Diary of Princess Pushy's Sister — Part 1 will be published by Barnes & Noble, and, according to the Barnes & Noble website, the book's description will likely position The Duchess of Sussex in a less than flattering light: "Amidst a firestorm of fake news and media mayhem, Samantha Markle shares the truth about her life and family against all odds and ultimatums, as a royal fairy tale plummets from the tea towels. Sometimes the truth really is stranger than fiction." From the book's description, it sounds like it will not help the Markle sisters' estrangement. 
The poor relationship between the sisters made news before Meghan married Prince Harry in 2018, with Samantha first slamming her sister publicly (and rather viciously) in 2016, when Meghan and Harry began dating. Keep reading to learn the truth about Samantha and Meghan's childhood together — and what went wrong.
Meghan and Samantha Markle did not exactly share a childhood
Samantha Markle and Meghan Markle are half-sisters, but they are 17 years apart. The two sisters did not grow up at the same time. A 2018 Vanity Fair feature story told the story of how Meghan's family, and how her parents, Doria Ragland and Thomas Markle, "moved in together a couple of years before Meghan was born, along with Samantha and Thomas junior, who had relocated to L.A. after living with their mom." According to Vanity Fair, the family lived in the Woodland Hills in the Valley, and Samantha and Thomas junior were "unruly." Samantha had dreams of being an actress, while Thomas Junior allegedly smoked pot and hung out with friends.
According to Good Housekeeping, Ragland and Markle divorced when Meghan was 6. After the divorce, Meghan went back-and-forth between the two, living at times with her mother and at other times with her father. When she was a teenager, when she started living with her father full-time, as per VF.
The bitterness between Samantha and her little sister Meghan appears to have begun when Meghan was in elementary school. According to Business Insider, in 1990, their dad had a winning lottery ticket worth $750,000, and the winnings allowed Thomas to change his youngest daughter's life significantly.
How did Samantha Markle's feud with Meghan begin?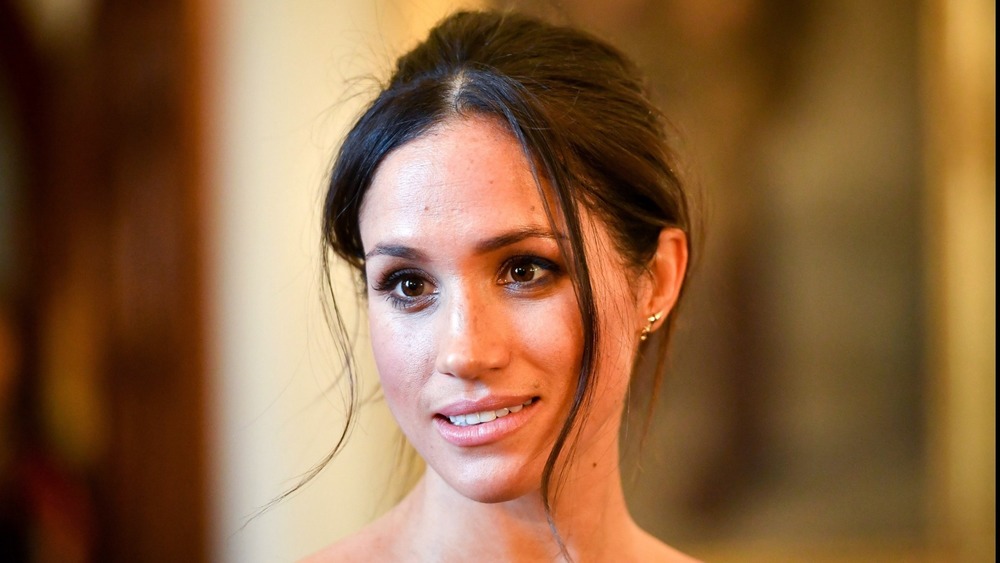 Ben Birchall - WPA Pool / Getty Images
Meghan Markle attended a private Catholic school and Northwestern University, becoming the first member of her family to go to college (via Vanity Fair). Meghan's educational opportunities were possible because her dad won $750,000 in the California lottery when she was in grade school.
It appears that Thomas Markle paying for his youngest daughter's private school and college may have lit the fuse that began the rift between the sisters. According to the 2018 Vanity Fair feature, big sister Samantha said that their dad paid for Meghan's college expenses at Northwestern and that "if Meghan worked at all, it was only for extra shoe money and party money."
After college, Meghan's life went one way, while her family financially went another direction. Thomas Markle allegedly made bad investments, eventually declaring bankruptcy in 2016. According to Cheat Sheet, Samantha Markle and Meghan's mother Doria Ragland have also declared bankruptcy.
Things got even worse between the sisters in May 2018, according to Us Weekly, when Samantha reportedly encouraged their dad to stage paparazzi photos of himself.
Based on the release of Samantha's tell-all, we can't imagine the two sisters will talk anytime soon.