What Trump Plans To Fill His Presidential Library With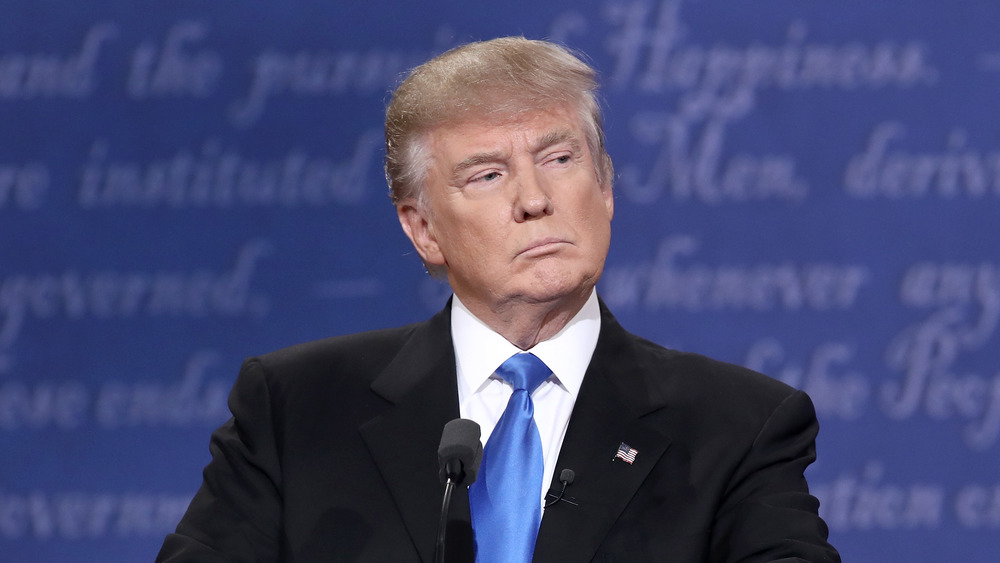 Win Mcnamee/Getty Images
Donald Trump's four years in office have been non-traditional, to say the least — and his presidential library appears to be following suit. Since 1939, the president leaving office usually creates a library or exhibition to add to the National Archives system. In fact, the past 13 presidents have done so, and it looks like Trump will as well. According to TMZ, boxes labeled "Presidential Library Gifts" were seen leaving the White House  on Jan. 15, 2021, with some interesting items peeking out of the clear storage containers.
Although this is the first time we've heard of his presidential library plans, several historians have (jokingly?) speculated about what we can expect to see in a Trump library. "I think what he'll do is he'll build a museum to himself and just say screw the library part of it," biographer Jonathan Alter told The Guardian. "It'll be a splashy museum that celebrates him, that whitewashes anything that went wrong, that doesn't mention being impeached except as a witch-hunt. And mostly it'll be an opportunity to monetize his legacy." 
As for where Trump will place his exhibition, author Michael D'Antonio said, "I could see him having a broadcast center somewhere in Florida and it would welcome visitors almost like a little Trump theme park where they could see programs being done, eat at Trump restaurants, stay in Trump hotels and there might be Trump carousels for the kiddies." Keep scrolling for more details about Trump's library plans.
What will be in Donald Trump's presidential library?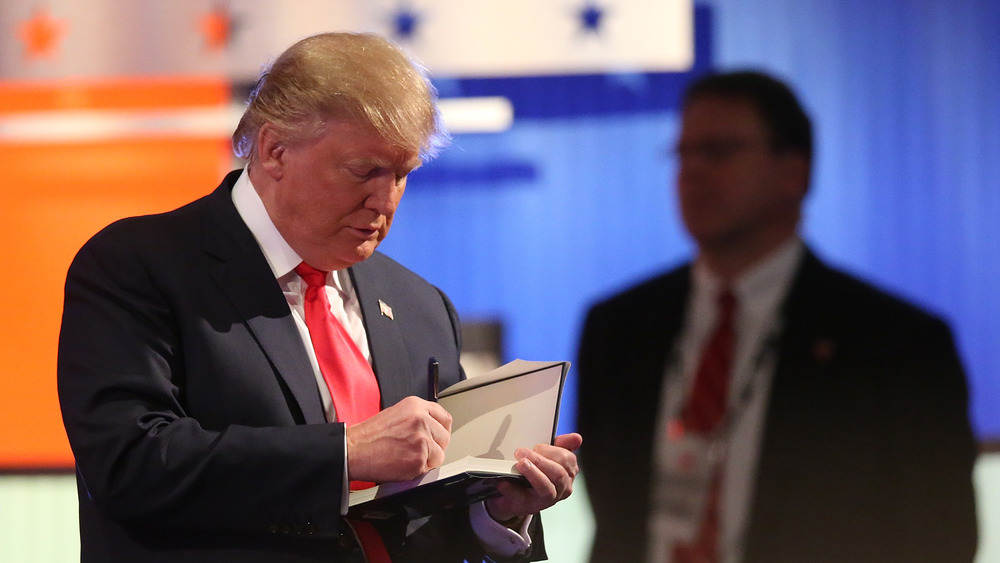 Scott Olson/Getty Images
Considering Donald Trump isn't much of a reader (The Atlantic reports that he has "an allergy to the written word"), his presidential library will probably have more memorabilia than it will have hardcover books — since not much reading material was spotted in the "Presidential Library Gifts" boxes leaving the White House. However, what was visible, as per TMZ, was a mini baseball bat. Additionally, other clear boxes were filled with newspapers, including a copy of the New York Post with the headline "Dawn of a new Middle East," according to photos obtained by the Daily Mail. 
Other odd items were seen leaving the White House on Jan. 15, 2021, including a stuffed bird and a bust of Abraham Lincoln, whom Trump previously compared himself to during the 2020 presidential debates. However, the White House Historical Association hasn't predicted any foul play regarding Trump's keepsakes. In fact, "everything is being handled appropriately," according to TMZ. There's no telling what Trump has planned for one of his last presidential duties.