The Real Reason Trump Met With MyPillow Guy Mike Lindell Again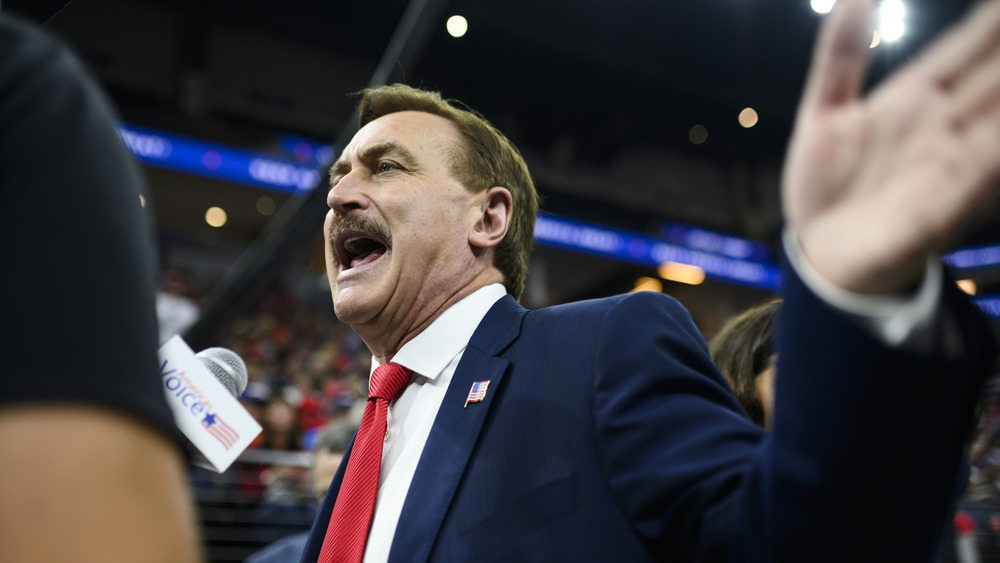 Stephen Maturen/Getty Images
While some of Donald Trump's closest allies have been breaking from his previously ironclad coterie since the Capitol Hill insurrection attempt on Jan. 6, 2021, one outspoken Trump pal has stayed loyal: Mike Lindell, otherwise known as "the MyPillow guy." Lindell, a public supporter of Trump, most recently made headlines as one of two B-list celebrities who fronted the money to get alleged Kenosha shooter Kyle Rittenhouse out on bail while awaiting trial. Now, it seems that Lindell, unlike Trump's personal lawyer Rudy Giuliani, is still in close confidences with the president — and this time, Lindell is taking on a role with seemingly alarming possible consequences. 
As The Washington Post reported, the lame-duck president purportedly met with the MyPillow founder to discuss ways to somehow retain power and launch into a second White House term, despite the fact that President-elect Joe Biden is set to assume office on Jan. 20, 2021. So what did Lindell, who has no political experience, suggest to the soon-to-be-former commander-in-chief during his final days in office? Scroll down to find out what the MyPillow guy reportedly advised. 
Mike Lindell gave Trump a surprising suggestion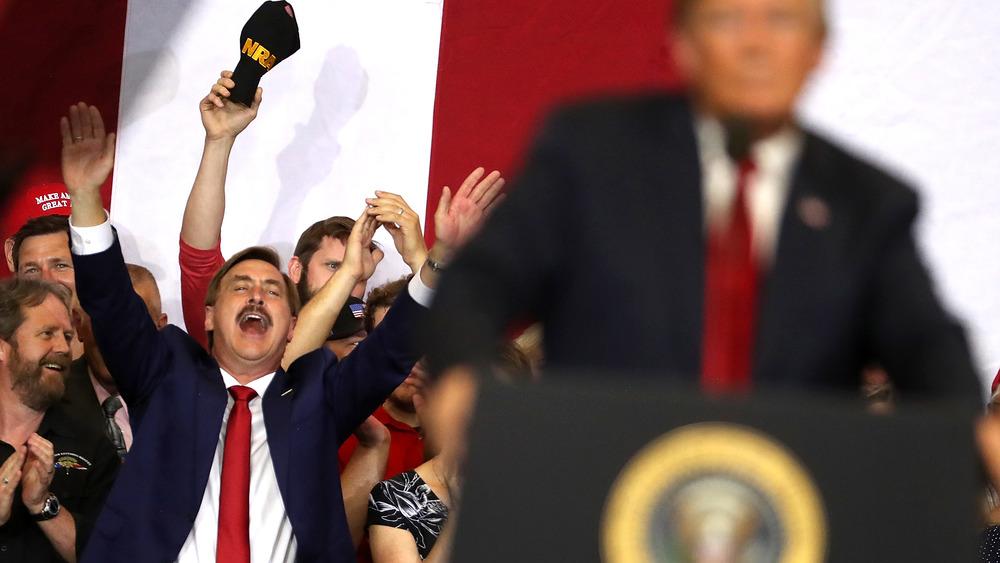 Justin Sullivan/Getty Images
As The Washington Post noted, MyPillow CEO Mike Lindell apparently met with Trump on Jan. 14, 2021, armed with a printed list that appeared to be an agenda of sorts. Photojournalist Jabin Botsford managed to photograph a snippet of the list as Lindell was on his way to his presidential confab, and it contained a number of phrases that seem to suggest a step-by-step plan centered around keeping Trump in office despite the election, per WaPo. 
Among the more unnerving lines WaPo was able to make out were the following: "Insurrection Act now as a result of the assault on the... martial law if necessary upon the first hint of any..." WaPo reported that Lindell seems to be suggesting that "the president should invoke the Insurrection Act, which would allow him to deploy military resources" to delay the presidential transition.
While Lindell's meeting with Trump was purportedly a short one — as little as a matter of minutes, according to Vox — did the soon-to-be ex-president take any of Lindell's points to heart? 
White House lawyers were 'very disinterested' in Mike Lindell's ideas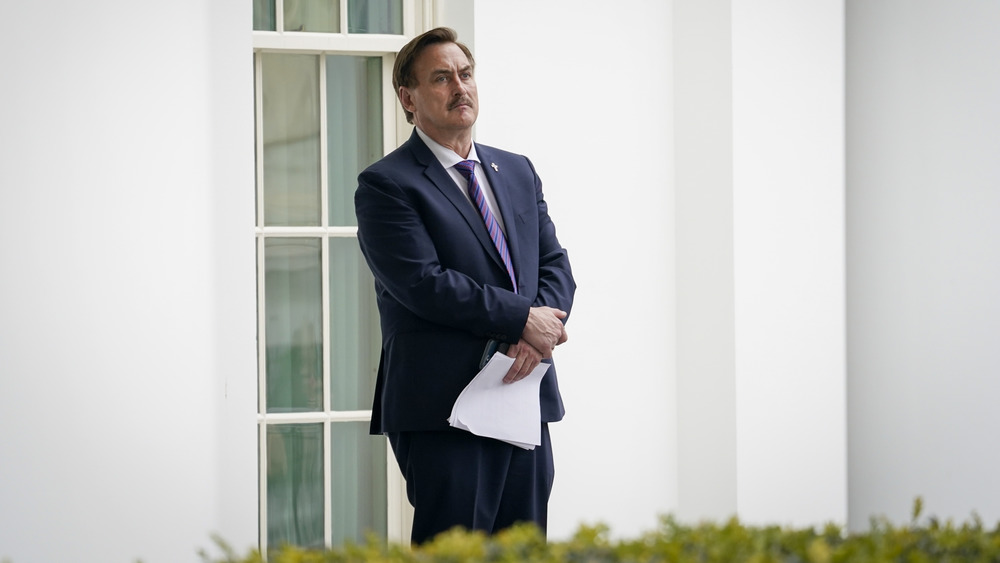 Drew Angerer/Getty Images
While Mike Lindell's apparent outline to keep Donald Trump in power might be unsettling to many, it looks like the MyPillow CEO was more or less dismissed out of hand, based on the briefness of the meeting. Per The Washington Post, the scheduling of the meeting itself may have simply been to humor Lindell, especially due to his status as a Republican donor and fervent Trump devotee. After Lindell's sit-down with Trump on Jan. 14, 2021, it seems that Lindell tried to downplay both the meeting and the list he was carrying.
In a series of tweets, WaPo reporter Josh Dawsey relayed that Lindell claimed over the phone that his "lawyer gave him notes to share with POTUS," though Lindell "repeatedly wouldn't say what lawyer." Per Dawsey, the MyPillow founder "said he met with Trump for 5-10 minutes and then was referred to counsel's office," and Lindell said the lawyers were "disinterested, very disinterested" in what he had to say. 
Additionally, Lindell told Dawsey he "gave POTUS this document" and that he "wasn't let back in to see POTUS." Only time will tell if Trump, too, will banish yet another one of his closest supporters from his circle.