Why You Won't See Mike Pence At Trump's Departure Ceremony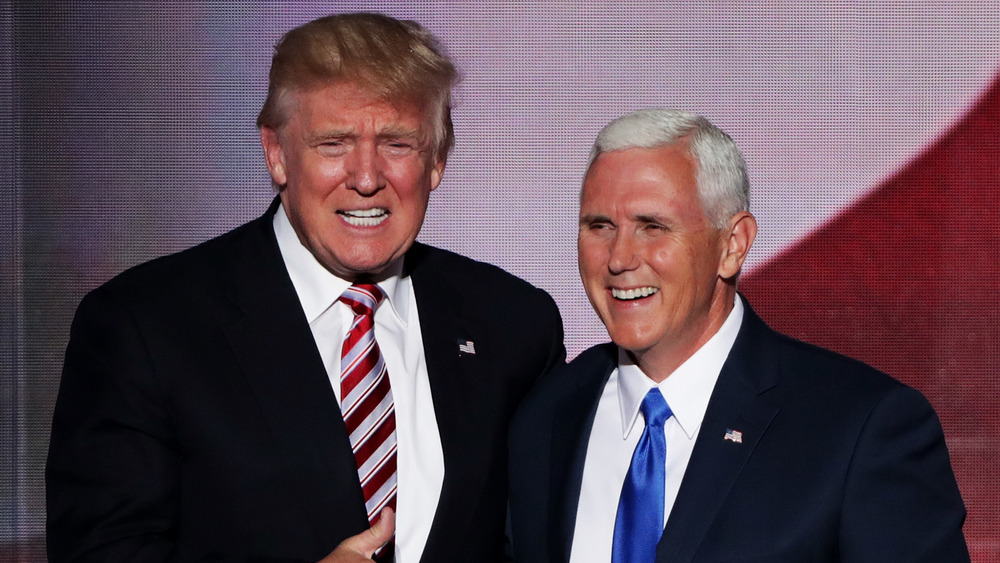 Alex Wong/Getty Images
Usually, the outgoing president of the United States welcomes the incoming president into the role. However, Donald Trump is not taking part in these traditions/protocols for Joe Biden. In addition to challenging the election results and making claims of election fraud, Trump still hasn't conceded the election or congratulated Biden on the win, per TMZ. 
He didn't invite Biden to the White House to facilitate a peaceful transfer of power. And, in addition to all of that, Trump will not be present at Biden's inauguration. This is the first time that an outgoing president has done this in over 150 years, according to HuffPost. Instead, Trump is holding a departure ceremony in Maryland that same morning of Biden's inauguration.
CNN reported that Trump's vice president, Mike Pence, will not take part in his departure ceremony, based on information from two different sources. Even if he wanted to pull double duty, attending the ceremony and the inauguration, it wouldn't make logistical sense for him to do. Even so, it's not very shocking for Pence to skip out on Trump's event since many Republicans have turned against Trump after he incited the riots at The Capitol in January 2021. 
Donald Trump said each attendee could bring 5 guests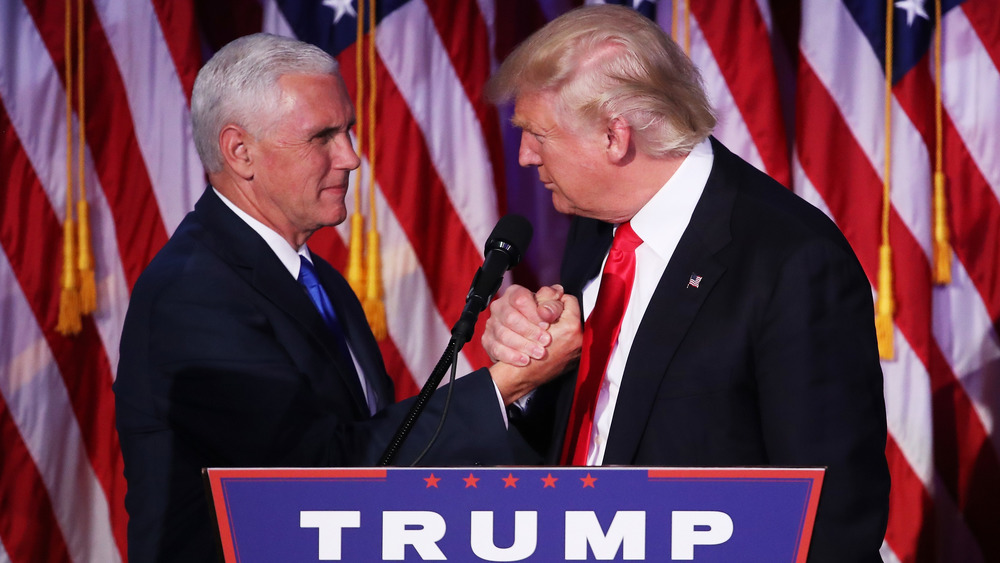 Mark Wilson/Getty Images
According to CNN, the invitations for Donald Trump's departure ceremony said that everyone invited was permitted to bring five people with them. That's a questionable move in regard to the ongoing coronavirus pandemic, in addition to pulling attention away from Joe Biden's inauguration, and it's just not the best look for the event, trying to amplify the turnout with random people in the mix. 
HuffPost reported that Republicans Senate Majority Leader Mitch McConnell and House Minority Leader Kevin McCarthy will go to church with Biden the morning of his inauguration instead of attending Trump's departure ceremony. CNN also reported that Trump's former Chief of Staff John Kelly declined an invitation to Trump's event as well.
It's unclear if Mike Pence will join Biden in church as well, but it seems like Pence and Trump's relationship has been tested recently. Trump wanted Pence to overturn the election results. Then, rioters stormed the Capitol, which prompted Trump to tweet, "Mike Pence didn't have the courage to do what should have been done to protect our Country and our Constitution." Trump's Twitter account has been permanently deleted in response to his role in encouraging the riots. 
Soon enough, the public will know which event(s) Pence attends, and perhaps, he will speak out himself to explain his decisions.