What Barack Obama Said To Kamala Harris At The Inauguration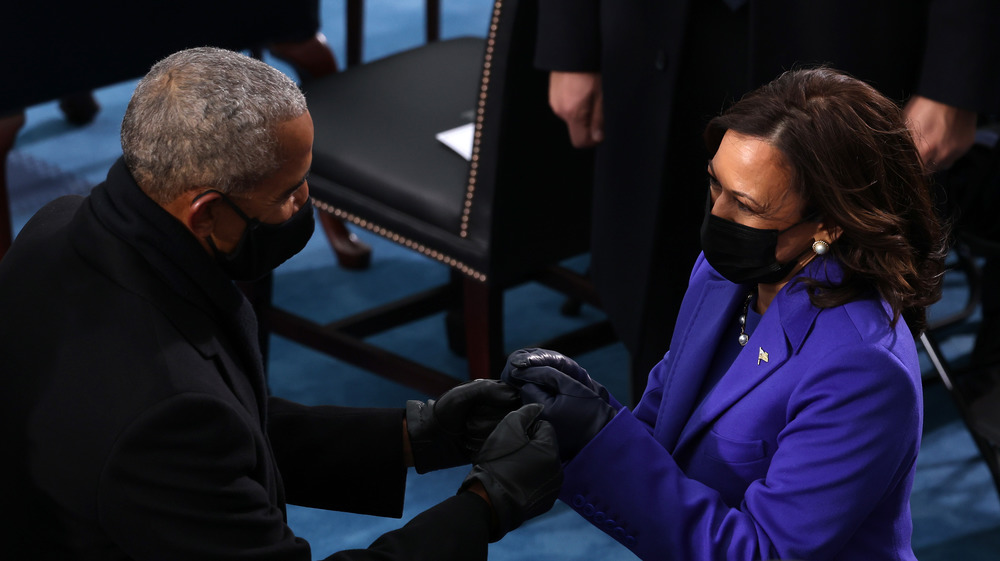 Tasos Katopodis/Getty Images
On Jan. 20, 2021, Joe Biden was sworn-in the 46th president of the United States of America, alongside Kamala Harris, the first Black woman and person of South Asian descent to hold the title of vice president. Many familiar faces watched proudly as the pair ascended the stage and as Biden made his inaugural address, during which he called for "national unity" and pledged to end a tumultuous chapter of "uncivil war," CNBC. Former Vice President Mike Pence was in attendance, as was Vermont Sen. Bernie Sanders (who got the meme treatment due to his hilarious, mitten-donning moment of solitude). And, of course, Barack and Michelle Obama were there, too. 
The 44th president — who, of course, Joe Biden served alongside as vice president — made his excitement known on Inauguration Day, posting a photo of himself and Biden standing arm-and-arm in the Oval Office. "Congratulations to my friend, President @JoeBiden! This is your time," Obama tweeted that morning. But believe it or not, that wasn't the sweetest interaction Barack Obama had on Inauguration Day. 
The former president also had words for the trailblazing Kamala Harris at the inauguration — four words, in fact. Yup, on a day that felt bright and full of hope to many Americans, this sweet interaction between Obama (the first Black president of the United States), and Harris, may have gone unnoticed to some. But it was truly something.
Inside Barack Obama and Kamala Harris' uplifting moment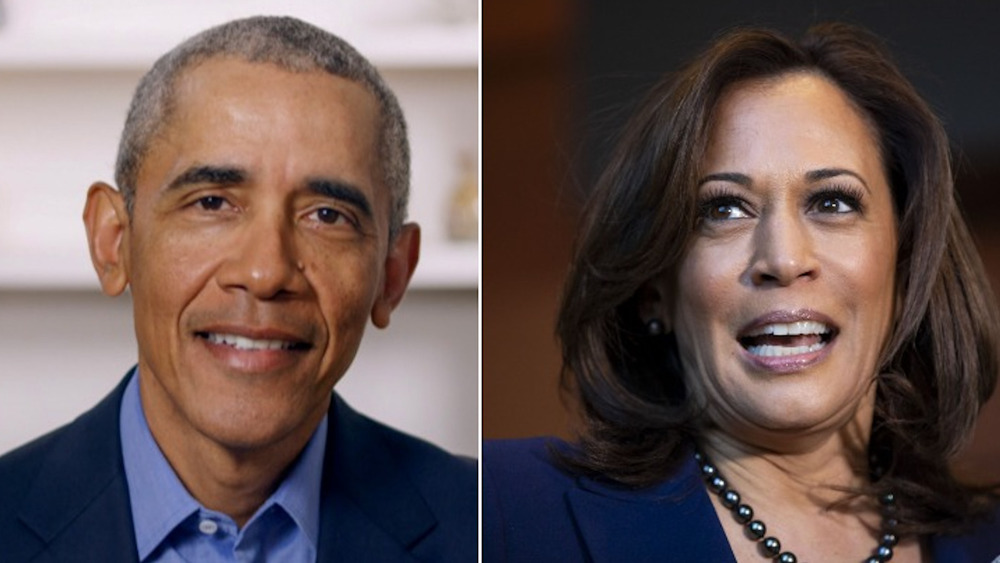 Getty Images, Al Drago/Getty Images
So what was the subtle yet inspiring moment between former President Barack Obama and Vice President Kamala Harris you may have missed? According to The Hill, it happened when former President Obama greeted Vice President-elect Kamala Harris before her swearing-in. As Barack and Michelle approached Kamala and her husband, Douglass Emhoff, he told her, "[I'm] so proud of you." Then, as Harris ascended the inauguration stage, Obama fist-bumped her and Emhoff.
"'So proud of you,' Obama, the first Black president, can be heard saying to Harris, the first Black vice president and the first woman to hold that role," The New York Times correspondent Annie Karni tweeted, noting the importance of the interaction. "I told myself I wasn't going to cry....and that was a lie," remarked another Twitter user. We imagine many Americans share that sentiment!
Although this moment might have flown under the radar, it doesn't make it any less inspirational to their supporters. Sometimes, it's the more subtle moments that really touch viewers' hearts!