Joe Biden's Pre-Inauguration Church Service Guest List Is Causing A Stir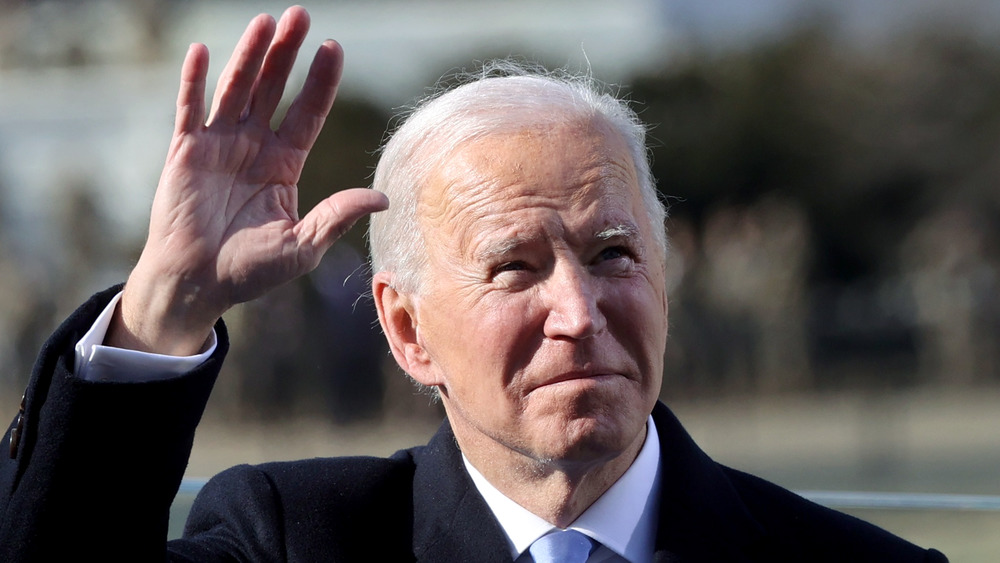 Pool/Getty Images
After John F. Kennedy, President Joe Biden became the second Catholic president, and he marked his inauguration day in a fitting way. Ahead of the swearing-in ceremony, the Bidens attended Catholic Mass at the Cathedral of St. Matthew the Apostle in Washington, D.C. Several prominent Republicans, including Kentucky Senator Mitch McConnell and Rep. Kevin McCarthy, joined Biden at the church service, per Axios.
Of course, the move isn't controversial in itself — though only the second Catholic president, many American politicians are Christians, and unity was a common theme of Inauguration Day speeches. What made McConnell and McCarthy's attendance at the Mass more surprising, however, is the fact that by going to church, the Republicans chose not to go to former President Trump's departure from the White House. The Trumps didn't attend Biden's inauguration, instead leaving in the morning before the ceremony took place.
In addition to McConnell and McCarthy, prominent Democrats including House Speaker Nancy Pelosi and New York Sen. Chuck Schumer also attended the Mass on inauguration morning. Vice President Kamala Harris and her husband, Doug Emhoff, were also at the church service, according to The Washington Post. However, there were also some notable absences. 
Other Republicans also chose not to see Trump out of D.C.
Pool/Getty Images
Sen. Mitch McConnell and Rep. Kevin McCarthy were the most prominent Republicans to attend Mass with President Biden on Wednesday morning, but there were plenty more Republicans who didn't still attend former President Trump's sending off, even if they weren't at the church service. Former Vice President Mike Pence attended Biden's inauguration, as did Senators Mitt Romney and Ted Cruz, but did not attend Trump's departure ceremony, per CNN. 
Meanwhile, former White House Communications Director Anthony Scaramucci said a few days before the inauguration that he was invited to Trump's goodbye ceremony but wouldn't be in attendance. Former Chief of Staff John Kelly and former National Security Adviser John Bolton were also invited to Trump's sendoff but declined to go, Bloomberg reported.
As Bloomberg explained, Trump is the first former president since the 1800s who didn't attend the swearing-in of his successor. He left a note for Biden, but his decision not to attend the inauguration is still the kind of break from tradition that has become common during Trump's term.