The Star Of Biden's Inauguration Special Wasn't Who You Think
Win Mcnamee/Getty Images
Joe Biden and Kamala Harris' inauguration celebration was very different from any other presidential inauguration in modern times, in large part in response to the ongoing coronavirus pandemic. 
The day's events were modified to comply with social distancing guidelines. People wore face masks unless they were giving speeches or performing, and a lot of the event was virtual, incorporating both private citizens and public figures in a special called Celebrating America. Tom Hanks hosted the special, which included performances from Justin Timberlake and Ant Clemons, Katy Perry, Demi Lovato, and John Legend, among others. Former presidents Barack Obama, George W. Bush, and Bill Clinton also united to share some remarks, and the night included commentary from celebrities like Eva Longoria and Kerry Washington. Even though the event was altered and technically "scaled back," it still packed a lot of star power. 
However, it wasn't actually one of those well known "names" that stole the show. Instead, Twitter users cannot get enough of the night's sign language interpreters, who were so engaging that people who don't even know sign language couldn't help but be enthralled. Here's what people had to say about the unexpected star of inauguration night. 
The sign language interpreters were impressive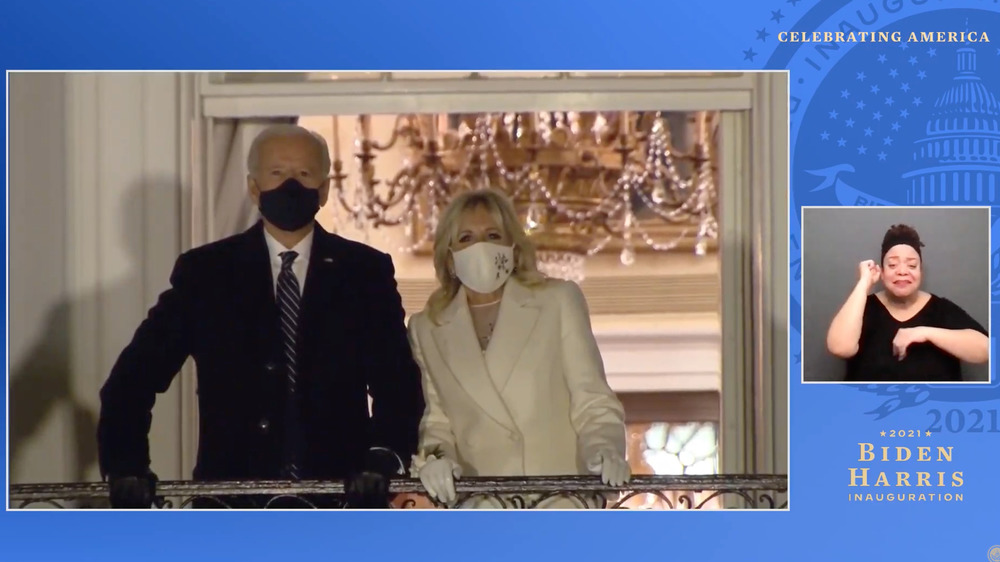 Handout/Getty Images
The musical performances during Celebrating America were all on point. The accompaniment from the sign language interpreters enhanced the experience for everyone watching, even those who were not hard of hearing. One viewer posted a clip from Katy Perry's performance of "Firework," writing, "Can we also acknowledge this sign language interpreter lady? So much energy. So fun watching her enjoying what she is doing! #representation #accessibility." Someone else tweeted, "Shout out to the women doing the sign language tonight. They looked like they were having more fun than anyone else."
Another person remarked, "I really hope that this accessible entertainment and events continue after the pandemic is over. This was a much more accessible event than ever before," pointing out, "And when you get good ASL sign language interpreters we *all* benefit!" It seemed that everyone wanted to know who was signing along to the music. One tweeter said, "Who was the Sign Language Interpreter? She was great!" Another asked, "Can we just recognize the sign language interpreter during 'Firework'?"
As of writing, the names of the sign language interpreters have not been made public, but they already have many enthusiastic fans, and possibly some people that they've influenced to learn sign language. Something tells us this won't be the last we see of these talented interpreters.