Inside Joe Biden's Friendship With Chrissy Teigen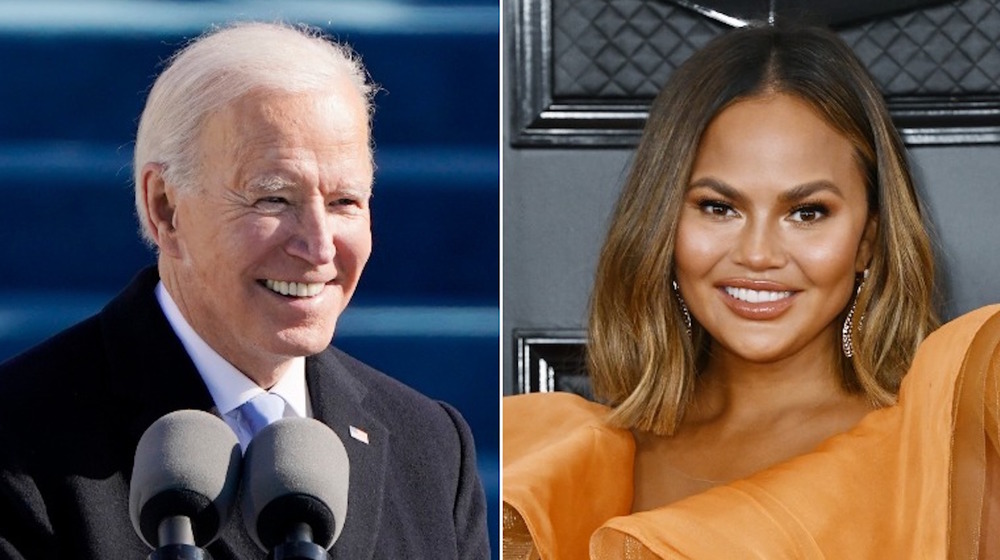 Pool, Frazer Harrison/Getty Images
Chrissy Teigen has always been a strong supporter of Joe Biden — but now their friendship has gone public. Teigen got the highest social media honor when the new president followed her on Twitter hours after being sworn into office on Jan. 20, 2021. This makes the television star and model the only celebrity Biden currently follows.
While it may come as a surprise, considering her husband John Legend didn't receive such an accolade despite being a performer at the Celebrating America inauguration event, Teigen actually requested for Biden to follow her. In a tweet that's been liked more than 630,000 times, Teigen jokingly wrote to the president, "hello Joe Biden I have been blocked by the president for four years can i get a follow plz." And Teigen's wish was certainly delivered, as just over 12 hours after her plea — the official POTUS account followed her. At the time of writing, Biden only follows 12 other accounts, all of which are his administration affiliates.
The 35-year-old Teigen is known for speaking her mind on social media, even on political matters, which saw the former president Donald Trump block her on Twitter four years ago.
Chrissy Teigen finally got a presidential follow after being blocked by Trump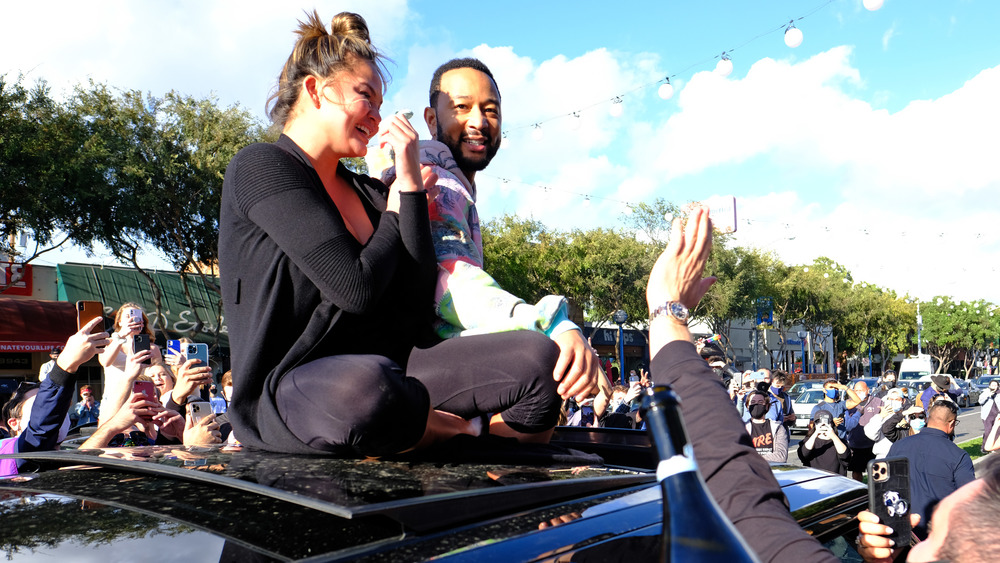 Amanda Edwards/Getty Images
The "Cravings" cookbook author has publicly criticized the former president Donald Trump on multiple occasions, but in 2017, he blocked Chrissy Teigen after she tweeted him, "lol no one likes you." Trump also called Teigen "filthy mouthed" on his now defunct Twitter account, after John Legend spoke up about criminal justice reform on MSNBC, as per The Washington Post. 
Despite not being a fan of the 45th president, both Teigen and her husband have been vocal advocates for the Biden-Harris administration. The couple followed Joe Biden during part of his campaign trail, rode through Los Angeles after his win, and then flew out with their two kids (Luna and Miles) to D.C. to celebrate the Inauguration. And after Teigen met Kamala Harris at a drive-in rally in Pennsylvania, she joked on Twitter that she was "not showering" after hugging her. 
But now that the model has been followed by Biden, perhaps she'll frame a picture of the presidential follow? Teigen ecstatically said, "oh my god," and shared a tweet showing confirmation of her follow. "My heart oh my god lmao I can finally see the president's tweets and they probably won't be unhinged," Teigen also tweeted. But after coming to the realization the president will be seeing her very active Twitter account (her bio reads "de-motivational speaker"), she also said, "I should prob never tweet again."