How Rihanna Really Feels About Donald Trump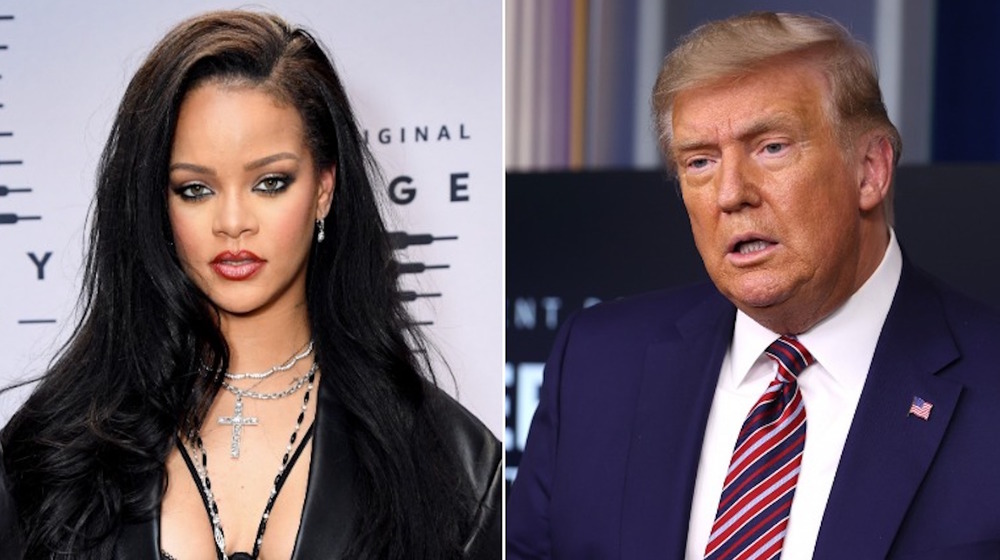 Kevin Mazur, Tasos Katopodis/Getty Images
Rihanna has marked the end of Donald Trump's four-year presidential reign ... by taking out the trash. The singer celebrated President Joe Biden's inauguration by posting a picture of her hauling two trash bags to both her Twitter and Instagram on Jan. 20, 2021 and captioned it: "I'm just here to help." 
The image, which was taken from her September cover shoot with Harper's Bazaar, sees the 32-year-old wear a t-shirt that reads "end racism by any means necessary." And in true Rihanna style, she also glamorously paired her trash bag walk ensemble with hot pink stilettos, big black sunglasses, and a diamond necklace. Rihanna also hashtagged the post with "#wediditjoe," in a nod to a viral video of Kamala Harris on the phone to Biden, telling him he had won the election.
Rihanna's move to dump Trump should come as no surprise, as the singer has previously been vocal about her disdain for the former president. Let's take a look back. 
Rihanna has trolled Trump several times before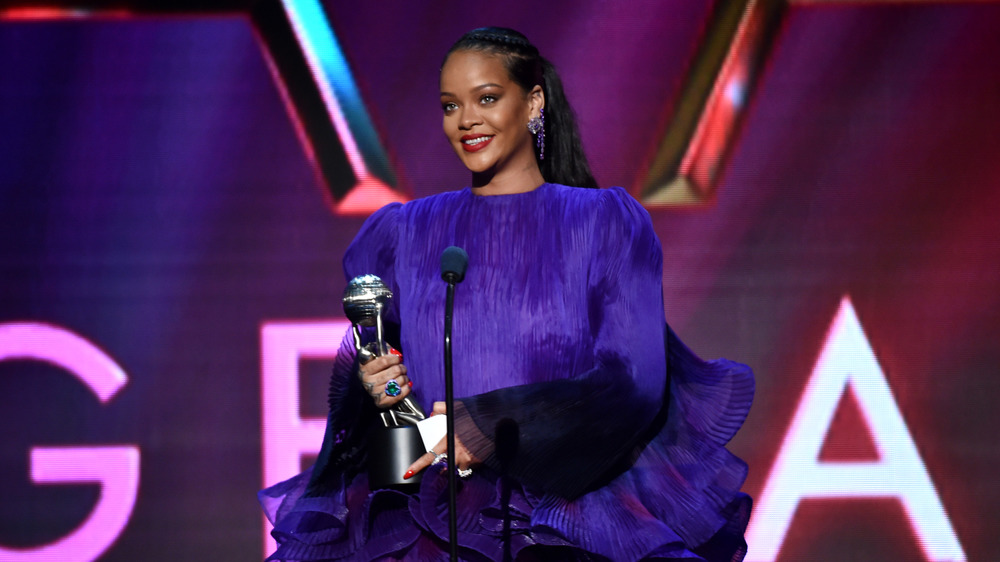 Aaron J. Thornton/Getty Images
Back in August 2020, in the lead up to the presidential election, Rihanna shared an image to her social media of her next to spray cans and graffiti which read, "F*** Trump." She bluntly captioned the picture "art" and hashtagged "#81days." Following this, after Donald Trump falsely claimed victory on election night, the Savage X Fenty founder completely changed her Instagram grid feed (via The Independent) to read: "count every vote, we'll wait,"  and also separately tweeted it. 
She previously dissed Trump's playing her song, "Don't Stop the Music," during one of his rallies back in 2018. She tweeted: "me nor my people would ever be at or around one of those tragic rallies." This led her to seek legal action, by sending a cease-and-desist letter to the former president for not gaining her approval prior to usage, per Rolling Stone. 
While the singer has made no secret of being anti-Trump, she's publicly shared her love for the Biden Harris administration on social media. After winning the election, Rihanna congratulated the pair by sharing a picture of them holding hands and said: "the faces of history makers" and then also wrote, "So much work to do." If her iconic song "Work" played at one of Biden's official appearances, there's no doubt it would get the RiRi seal of approval.