The Real Meaning Behind Best Friend By Saweetie And Doja Cat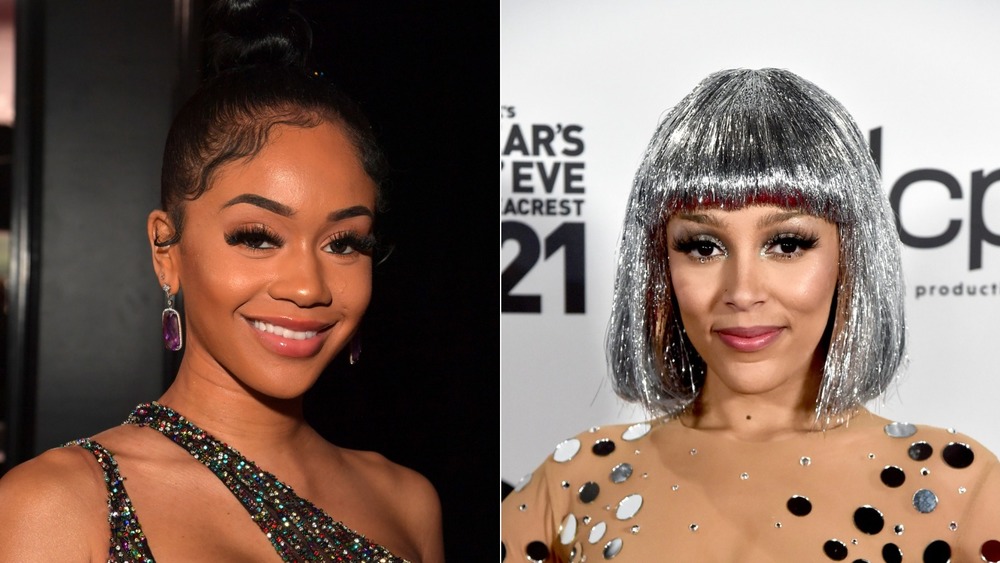 Lester Cohen, Alberto E. Rodriguez/Getty Images
Rappers Saweetie and Doja Cat are kicking off 2021 with a big dose of female empowerment with their collab, "Best Friend." The accompanying music video has amassed 35 million views in two weeks, but we'd forgive Saweetie if she has mixed feelings about the song's success given its botched release.
In December 2020, the song was leaked early and available to stream on several platforms. Saweetie slammed her record company, Warner Records, for the incident. "I am extremely disappointed in my label WBR for prematurely releasing a single I was so excited about," she tweeted. "I feel disrespected. I'm hands on with ALL of my creative & had such a dope rollout for 'best friends'. The thirst for clout & $ is real & it overrides the artists' art."
Regardless of its rollout, Saweetie and Doja Cat's girl-power anthem stands on its own. Let's dive into the lyrics to see what it's all about.
The comedic intro to the music video sets the tone for this feminist anthem
First things first: Are West Coast rappers Saweetie and Doja Cat best friends in real life? The "Best Friend" video shows some vintage photos that might lead viewers to think so, but that's not quite the case. They only met two years ago, according to The Sun. However, Saweetie did say, "I've always been a fan of her work, she works super hard, she's talented."
The music video has a funny vignette at the beginning that sets the tone for the song. Canadian comedian King Bach approaches the two women as they're sunbathing in bikinis and tries to hit on them. Saweetie and Doja instantly label him a "fake woke misogynist" and telepathically talk about how he'll try to sway them with "crass virtue signaling [that's] nothing but a less overtly nefarious form of toxic masculinity."
Clearly, this is a feminist anthem for a new generation—and the music video's introduction makes sure you know that.
Doja Cat and Saweetie sing each other's praises throughout the song
The bouncy song starts with the chorus: The two are hyping each other up, saying that they don't need men for money, they drive their own cars ("Don't need no Lyft"), and they can throw it down in the club ("Now she twerkin', she throw it out and come back in").
Saweetie's verse starts: "Beep beep, is that my bestie in a Tessie?" Genius users have pointed out that the rapper refers to Teslas this way on her social media; and, if you're still in doubt, the two are shown riding in (and twerking on) a bedazzled Tesla in the video—a sign that they're rich, modern, independent women.
In Doja's verse, she spits: "I ain't dumb, but motherf****r, she my Tweedledee," comparing their sisterhood (but not her intellect) to the twin brothers Tweedledum and Tweedledee from "Alice in Wonderland." They're so tight that, if someone messes with her, Saweetie will "protect and attack," a reference to the famous "he protec but he also attac" meme.
The outro wraps up with the duo talking about how good each other look ("Girl I think our booty growin'"), and the last line punctuates the love they're been showing each other throughout the song: "Best friend, you my motherf****n' soulmate."
Amen, ladies. Amen.